Warm weather means it's time to break out the smoker. These Smoked Pork Chops are super simple to make and done in less than 2 hours.
This post may contain affiliate links. For more information, please read my disclosure policy.
Do you have a smoker? We've had one for years and it brings us so much delicious joy. A lot of the times when we break it out it means there's people we're feeding or we're celebrating something.
Over the years too we've learned to make some easier dishes that can be a just because dinner too. These pork chops fall into that category. They are quick and simple and totally delicious.
Ingredients for Smoked Pork Chops
How to Prep the Pork Chops
Take the pork chops out of the refrigerator about 30 minutes before you are going to put them in the smoker. This allows the chill to come off of them which yields more even cooking.
While the chops are coming to room temperature, heat your smoker to 225 degrees and prepare your wood chips.
Sprinkle the pork chops generously with BBQ rub and press it into the chops so that they have a nice coating of the rub.
Best Wood for Pork
When I'm smoking pork, I prefer to use a fruit wood such as cherry or apple wood. Pecan is also a good option. The fruity, subtle flavors pair nicely with pork.
I personally wouldn't recommend hickory or mesquite. I find them too strong and overpowering.
How to Make Smoked Pork Chops
Once the chops are coated in the dry rub, it's time to put them in the preheated smoker.
Depending on your smoker, fill it with soaked wood chips or wood pellets. Smoke the pork chops until they reach the internal temperature of 145 degrees F. I love using this digital meat thermometer to ensure they are cooked perfectly.
They are great on their own or slathered with barbecue sauce after they have been smoked. Serve with your favorite barbecue sides to create the perfect summer meal.
More Perfect for Summer Main Dishes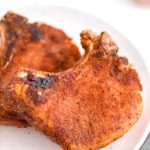 Print
Smoked Pork Chops
Warm weather means it's time to break out the smoker. These Smoked Pork Chops are super simple to make and done in less than 2 hours.
Ingredients
2

thick-cut

bone-in pork chops

1/4

cup

bbq rub

cherry, apple or pecan wood chips or pellets
Instructions
Heat smoker to 225 degrees F. Add wood chips or pellets according to your smoker directions. While smoker is heating, leave pork chops at room temperature to allow the chill to come off of them.

Rub both sides of the pork chops with the bbq rub. Add to smoker and insert a digital meat thermometer into the thickest part of the pork chop. Cook for 1.5 to 2 hours, until temperature reaches 145 degrees.
Processing…
Success! You're on the list.
Whoops! There was an error and we couldn't process your subscription. Please reload the page and try again.