Lighten things up this summer by transforming a classic cheeseburger into a delicious salad. This Cheeseburger Salad includes all the classic cheeseburger toppings and will keep you full all day.


I am all about the salads these days, especially with the extreme heat that we've all been withstanding. They are filled with veggies, are light and refreshing but still fill you up.
This Cheeseburger Salad is especially perfect this summer with all the barbecues and grill outs we're all invited to and hosting. Every flavor or topping that's typical on a cheeseburger is present in this salad, including the special sauce. Oh, you know I wouldn't let you down.
The base of the salad is romaine, because it's the best lettuce in my opinion. You can use whatever type of lettuce you prefer.

Sliced onions, juicy tomatoes, tart pickles, homemade croutons made out of hamburger buns and a grilled cheeseburger patty finish out the salad.
Now let's talk dressing. I was going for a thousand island, burger sauce kind of vibe and it was perfection with all the burger toppings. It contains mayo, ketchup, relish, garlic powder, salt and pepper. Super simple to make with things I'm guessing you already have at home.
If you have the time, make the dressing the night before so the flavors can have some time to mingle. If you don't get to it though, the dressing will still be delicious.

I don't want to get all bossy but I'm going to suggest that you get a little bit of everything in each bite. It's not as carby as a cheeseburger but I promise you'll get all the same vibes.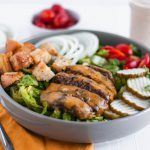 Print
Cheeseburger Salad
Lighten up your favorite summer main dish with this Cheeseburger Salad. All the delicious flavors from a cheeseburger atop a big bed of lettuce.
Ingredients
For the croutons:
2

hamburger buns, diced into bite size pieces

2

Tbsp.

olive oil

1/2

tsp.

garlic powder

1/2

tsp.

kosher salt

1/4

tsp.

black pepper
For the Dressing:
3/4

cup

mayo

2

Tbsp.

ketchup

2

Tbsp.

relish, sweet or dill

1/4

tsp.

kosher salt

1/8

tsp.

garlic powder

Pinch of black pepper
For the Salad:
4

burger patties

4

slices

sharp cheddar

3

romaine hearts, washed and chopped

1

pint

grape tomatoes, halved

1

small

sweet onion, thinly sliced

pickle slices
Instructions
For the croutons: preheat the oven to 375 degrees F. Spread the bread cubes onto a baking sheet. Drizzle with olive oil and toss with hands until coated. Sprinkle with garlic powder, salt and pepper. Toss again. Bake for 9 to 12 minutes, until toasted and golden.

For the dressing: mix everything in a bowl. Store in an airtight container (I use a mason jar) in the refrigerator.

Preheat your grill or a skillet over medium heat. Cook burger patties until no longer pink, about 5 minutes per side. Melt cheddar slices on the burgers. Meanwhile, prepare the salads. Evenly divide the romaine lettuce between 4 plates. Top with tomatoes, onions, croutons and pickles. Once burgers are cool to handle, slice them and top each salad with a burger. Drizzle with dressing and enjoy.