Whip up a batch of this Sweet and Spicy Pickle Dip for your next party and watch it disappear in a flash. It is flavorful, simple and filled with just a handful of common ingredients.


I am very into pickles and if you're with me this pickle dip is going to blow your mind. This dip was inspired by a local company that makes this incredible jarred pickle relish that you mix in with cream cheese to create the most addictive dip.
I grab it at the farmers market whenever I'm there but with that winding down soon, I'm going to go through major withdraws. In comes this homemade version of that glorious pickle dip.
This version is both sweet and spicy with a good hit of dill too. Never forget the dill.


The sweet part of the dip comes from sweet relish. There's also a good amount of dill relish to make sure that typical pickle taste shines through. And for the all important kick of spice, we add lots of chopped pickled jalapeno.
Cream cheese is the base of the recipe and creates a super creamy, delicious dip. The last kind of surprise ingredient in this dip dried beef. It may seem weird but it introduces a needed richness and new texture to the dip.
When it comes to serving this dip, my Midwestern-ness comes out. You must serve this with Ritz crackers. None of those fancy guys for this dip. Please promise me.


Sure you could serve this with veggies too. Fine. Whatever. But I'm telling you rich, buttery crackers are life with this one.
This pickle dip only takes a few minutes to put together. Literally chop some jalapeno and mix everything together. You can make it ahead of time to make life even easier too.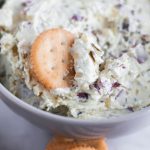 Print
Sweet and Spicy Pickle Dip
Whip up this Sweet and Spicy Pickle Dip for you next party and watch it disappear. Just a handful of ingredients bring this addictive dip together.
Ingredients
16

oz.

cream cheese, room temperature

1/2

cup

sweet relish

1/2

cup

dill relish

1/2

cup

chopped pickles jalapenos

1/2

cup

chopped dried beef (optional but recommended)
Instructions
Mix all ingredients together in a bowl. Store in an airtight container in the refrigerator. Serve with butter crackers.