Keep summer simple with these BBQ Sausage Foil Packs. Smoked sausage, potatoes, barbecue rub and BBQ sauce all wrapped up in foil and cooked 30 minutes to tender, saucy perfection.


How often do you all grill during the summer? I fire up the grill at least 3 to 4 times a week for dinner. Since we're grilling so often, I'm always coming up with new recipes so we don't get bored with the same old thing.
I love a good foil pack meal. Everything all in one pack means limited dishes, easy prep work and basically no clean up. I mean, if you eat it directly from the foil pack there will literally be just a cutting board to clean. I'm down with that.
For these BBQ Sausage Foil packs you are going to start with a barbecue rub. I used my favorite homemade BBQ rub. It's super simple to make and I'm betting you already have everything needed to make it. You can also use a store-bought rub if you don't want to make your own.


Next comes the sausage. You can be really flexible with the type of sausage you use. I went with a roasted garlic smoked sausage that I grabbed at Costco recently and it was delicious.
You could use any type of precooked or smoked sausage or kielbasa in this recipe.
Dice up some potatoes next and you're ready for assembly. If you want to dirty a bowl, toss everything together than close it up in foil packs and throw them on the grill.
If you like to avoid dishes at all cost, evenly divide the sausage and potatoes between four foil packs then sprinkle each with the BBQ rub.
Drizzle barbecue sauce over all the packs then mix together with a spoon so everything is coated. Seal up the packs and they are ready to go.
Another major bonus with this recipe is it only takes 30 minutes on the grill. Make sure to flip the foil packs every 10 minutes to avoid the contents from getting burned. Since there is brown sugar in the rub and most likely in your sauce, it can burn easily.
These sausage foil packs really can't get easier. If you're looking for a super simple but still flavorful dinner all in one, make sure to give these a try.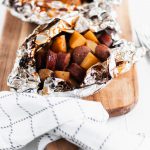 Print
BBQ Sausage Foil Packs
If you need a quick dinner with minimal clean up, these BBQ Sausage Foil Packs are just for you. Smoked sausage, diced potatoes, bbq rub and bbq sauce all grilled in a foil pack to tender, saucy perfection.
Ingredients
4

large

smoked sausage links, sliced into 1/2-inch coins

1 1/2

lbs.

yukon gold or red potatoes, diced into bite size pieces

2

Tbsp.

olive oil

1 1/2

Tbsp.

BBQ Rub

1/2

cup

BBQ sauce, divided
Instructions
Cut 4 12-inch pieces of heavy duty foil. Set aside. Preheat grill to 400 degrees F.

In a large bowl, mix together sliced sausage, diced potatoes, olive oil and BBQ rub. Divide evenly between the foil. Drizzle each foil pack with 2 tablespoons of barbecue sauce. Bring two opposite sides together and roll down to seal. Roll in the remaining sides and ensure the pack is completely sealed.

Place foil packs on grill. Cook for 30 minutes, flipping the packs every 10 minutes. Remove from grill with tongs carefully. There will be a lot of steam so use caution when opening.