Roasted Cauliflower Pasta combines whole wheat rotini, roasted cauliflower and Parmesan cheese to make a simple, healthy and hearty meal that is great for Meatless Monday or any day of the week.
Remember when you were a kid and you absolutely loved days off from school? It just ain't the same as a parent. I mean, maybe some of you are totally awesome and enjoy spending every waking second with your offspring but mine fight all the time and can't ever agree on a "fun" activity to all do together. So, you know, those days don't go so well for me.
The kids were off Friday and also today in preparation for upcoming conferences. Luckily, the weather has been nice and we kept busy with activities so everyone has survived. But I'll welcome Tuesday with open arms. Just saying.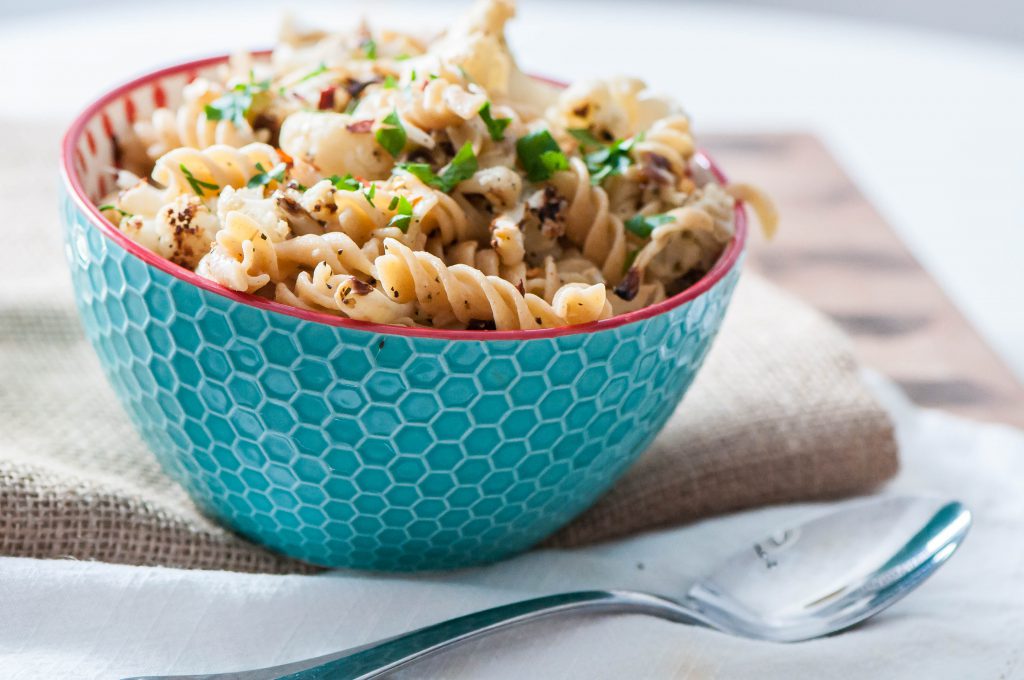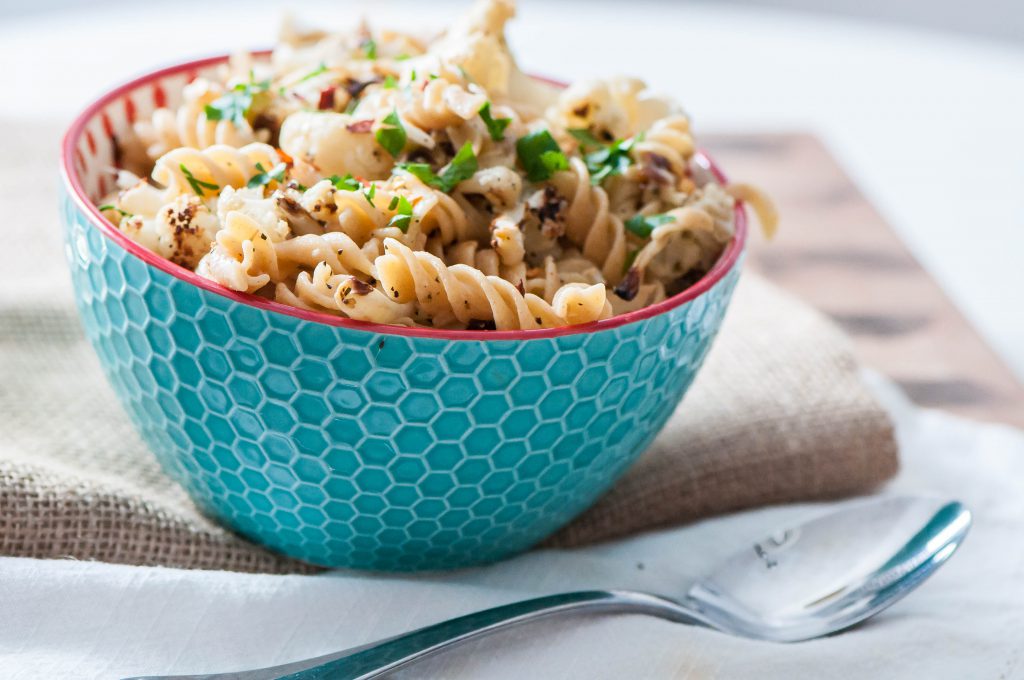 Since playing referee takes up a lot of my time on days off from school, I want a super easy dinner to reach for that requires very little thought and effort along with being something I know the kids will eat. Because if there are any complaints I would be tempted to yell for them to "eat your freakin' dinner and get out of my face" and that just wouldn't be very motherly now would it?
Pasta is always a winner in my house but I knew this healthy, veggie filled variety would be a hard sell for the boys. They are more of the smother the pasta in sauce kind of people and seeing that this Roasted Cauliflower Pasta uses the starchy pasta water and some Parmesan to create a light sauce that just coats the pasta they weren't so sure. Plus, vegetables.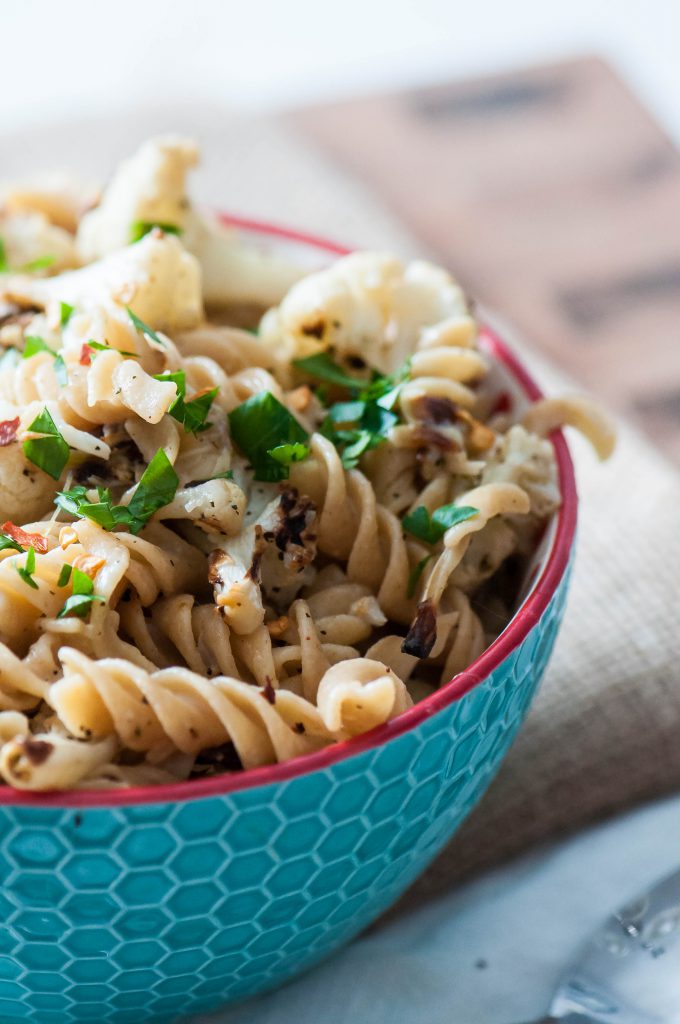 At the end of the day, they weren't sold on it but girlfriend and I had different opinions. I loved being able to enjoy pasta and cheese without the guilt. Do I love macaroni and cheese? Yes. Is it something I eat weekly? No. But with this pasta I could feel like I was indulging a bit and getting that pasta fix without all the extra calories.
The Parmesan lends a nutty flavor and the roasted, caramelized cauliflower adds some sweetness and additional texture to the dish. I spiced it up with a sprinkling of red pepper flakes and some fresh parsley for freshness and color.
Since the dish is bulked up with lots of cauliflower you don't end up eating just a huge bowl of noodles. And for me, whole wheat pasta feels heartier and fills me up faster. On top of all the health benefits, it's a complete meal in one dish and it's done in 30 minutes with very little hands on cooking.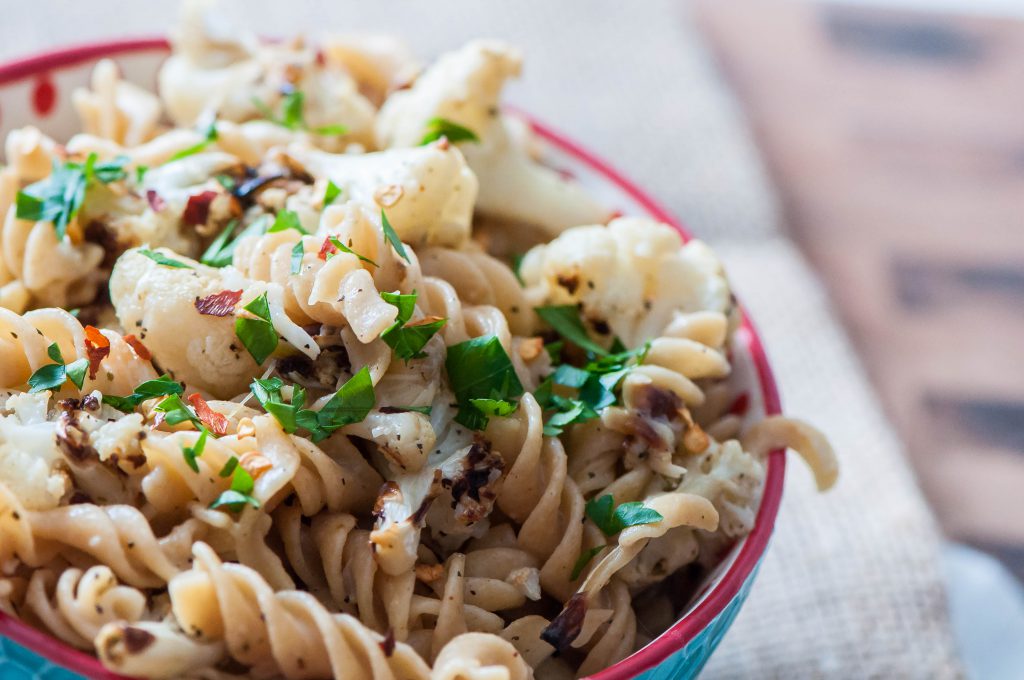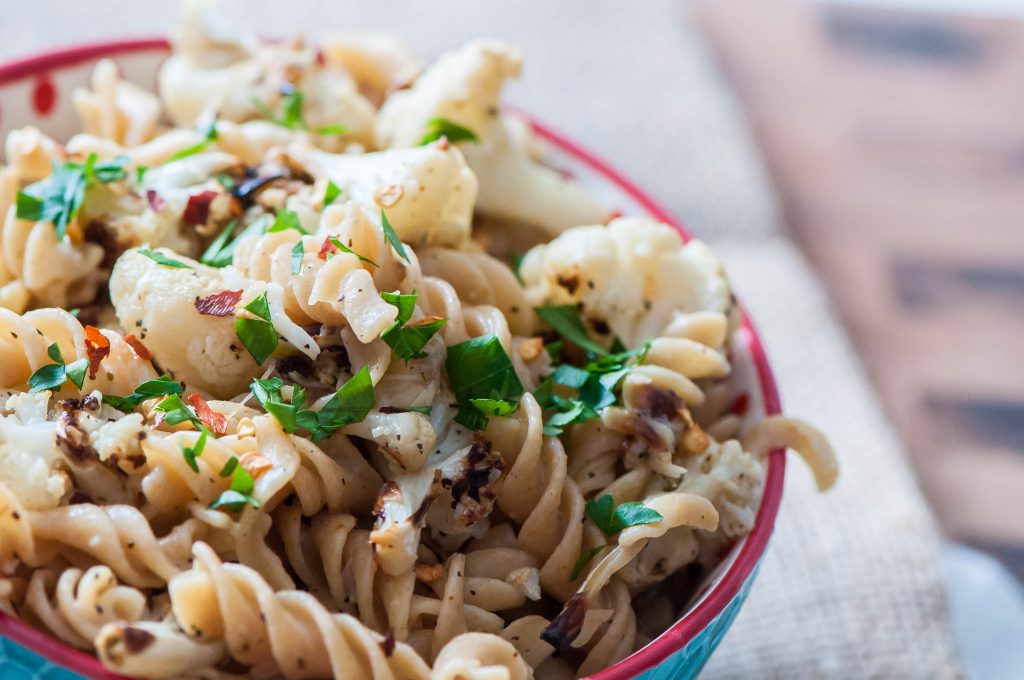 If that doesn't bring a little bright light to breaking up fights all day long, I don't know what will.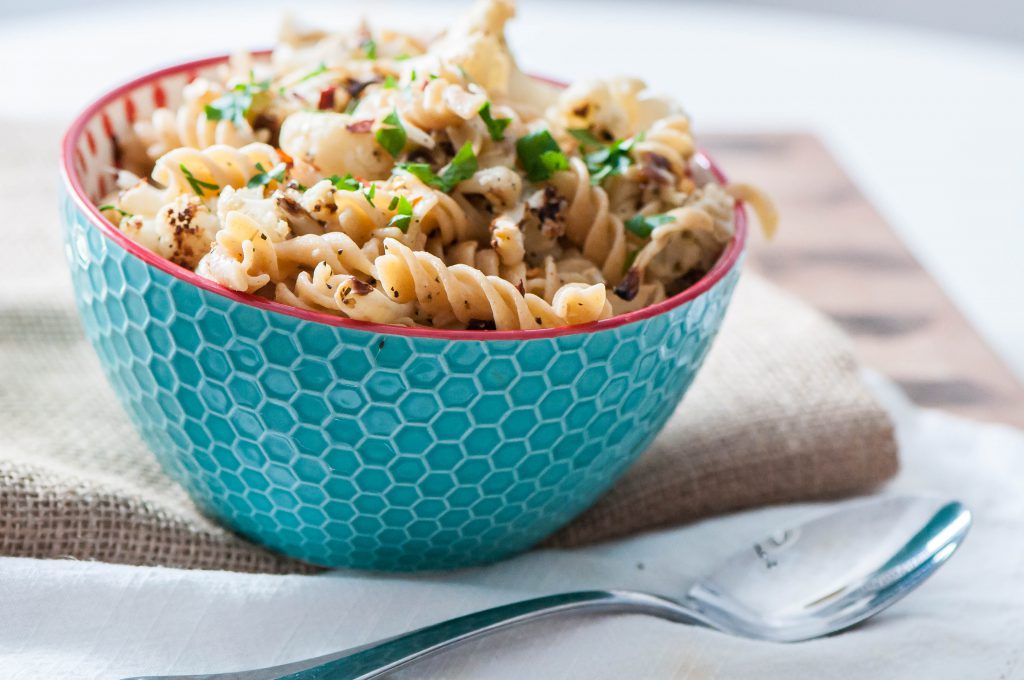 Roasted Cauliflower Pasta
2017-02-04 19:20:11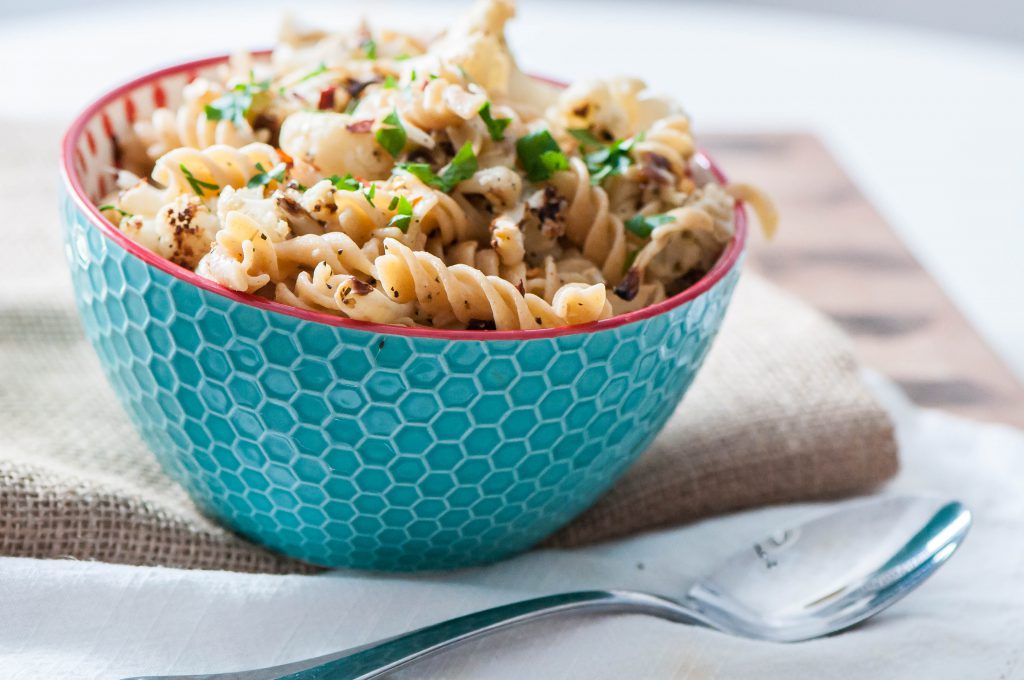 Ingredients
1 head cauliflower, cut into bite-size pieces
2 Tbsp. olive oil
1/2 tsp. kosher salt
1/4 tsp. pepper
1 tsp. Italian seasoning
3 cloves garlic, peeled and whole
8 oz. whole wheat rotini
1/2 cup parmesan cheese
2/3 cup reserved pasta water
1 Tbsp. butter
Fresh parsley, for garnish
Red pepper flakes
Instructions
Preheat oven to 425 degrees F. Place cauliflower on a rimmed baking sheet and toss with olive oil, salt, pepper, Italian seasoning and garlic cloves. Roast for 30 minutes, flipping halfway through cooking time.
Meanwhile, cook the pasta according to box directions. Reserve 2/3 cup pasta water. Add pasta back to the empty pot and add the water and parmesan cheese. Stir until a sauce forms and coats the pasta. Smash the garlic then add to the pasta along with the roasted cauliflower and butter. Mix well then top with parsley and red pepper flakes.
Meg's Everyday Indulgence https://www.megseverydayindulgence.com/