Common fridge and pantry ingredients combine to make the best flank steak marinade. Soak your flank steak for 24 hours for the most incredible flavor.
This post may contain affiliate links. For more information, please read my disclosure policy.
Grilling season is here and it's time to throw on some steaks. This marinade is super simple to whip up and will impart SO much flavor to your flank steak (or any other steak you use it on).
The combination of sweet and savory ingredients will have you coming back for seconds.
Ingredients for the Best Flank Steak Marinade
This recipe is simple to mix up and provides SO much flavor to your flank steak with simple ingredients you probably already have on hand in your kitchen. Here's what you are going to need:
Whisk It Up
Add all the ingredients except the flank steak to a bowl. Whisk together well, making sure you get all the brown sugar broken up and dissolved.
Place the flank steak in a container or zip top bag and pour the marinade over it. Flip the steak to ensure it's all coated or squish it around in the bag and seal, removing as much air as possible.
Marinade Time
With this marinade, the longer your marinate your steak the better it's going to taste. I tested this out and found that 24 hours was the perfect time.
It provides so much rich flavor and you just need to plan ahead of time a bit. That said, if you don't have that kind of time, this marinade is still great after 8 hours.
If you don't have as much time to marinate the steak, prick the surface with a fork on both sides to help the process along. This will also tenderize the meat.
What You Need to Know About Flank Steak
It's lean yet flavorful. It doesn't have much fat so a great way to tenderize this cut is with a long marinade. Although it's lean, it has lots of rich, beefy flavor.
Bring to room temperature before grilling. It's important when you're cooking a big piece of protein to get the chill off the meat before cooking. This ensures an even cook and sear for the steak. Grab it from the refrigerator about 45 minutes before cooking and let it continue to marinade on the counter.
A quick, hot sear is best. Because this is a tougher cut of meat, a quick cook will do wonders. Get your grill nice and hot and give it a good sear for about 5 minutes per side. Overcooking or cooking at too low of a temperature will yield tough, chewy meat.
It's all about the slice. Make sure to cut flank steak against the grain for the most tender results. Look at your steak and see which way the muscle fibers runs across the steak. Cut perpendicular to those fibers to ensure the best flank steak. Slice thinly for the best texture.
How do I use it? It's great on its own served with mashed potatoes, rice or au gratin potatoes. You can also use it to make tacos, rice bowls, burritos and more.
More Marinades for Grilling Season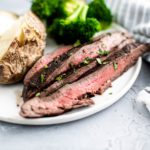 Print
Best Flank Steak Marinade
Common fridge and pantry ingredients combine to make the best flank steak marinade. Soak your flank steak for 24 hours for the most incredible flavor.
Ingredients
1/2

cup

olive oil

1/2

cup

soy sauce

2

Tablespoons

balsamic vinegar

2

Tablespoons

Worcestershire sauce

2

Tablespoons

brown sugar

1

Tablespoon

Dijon mustard

4

large

garlic cloves, minced

1

teaspoon

black pepper

1.5

pounds

flank steak
Instructions
Whisk olive oil, soy sauce, balsamic vinegar, worcestershire sauce, brown sugar, dijon mustard, garlic and black pepper in a bowl. Place flank steak in a ziplock bag or container with lid. Pour marinade over the flank steak and move around until fully coated. Marinate for at least 8 hours and up to 24 hours. The longer it can marinade the more flavorful it will be.

Remove flank steak from refrigerator 45 minutes before you are going to grill it. Let it sit ar room temperature to remove the chill (this will help it cook more evenly). Preheat your grill over medium high heat, around 400 to 425 degrees. Sear for 5 to 6 minutes per side. Remove from grill and let rest for 10 minutes. Slice thinly against the grain.
Processing…
Success! You're on the list.
Whoops! There was an error and we couldn't process your subscription. Please reload the page and try again.