These incredibly creamy and super flavorful Herbed Mascarpone Mashed Potatoes are just what your holiday table needs.
Ok, I'm just going to cut to the chase today my friends. These Herbed Mascarpone Mashed Potatoes are the potatoes to end all potatoes. I don't think I can ever make mashed potatoes another way again.

The first key to amazing mashed potatoes is yukon gold potatoes. They are so smooth and creamy and make a huge difference. The second is mascarpone cheese, an Italian version of cream cheese. It adds incredibly flavor and silkiness to the potatoes. I've made mashed potatoes with cream cheese before so I knew this would be a good idea but the results were even better than I imagined.
Mascarpone is sometimes hard to find so if it isn't available in your area cream cheese can definitely be substituted with similar results. I always find it at Trader Joe's in the yogurt/butter section.
ALL the Herbs
I wanted the potatoes to pack a little more punch than the average mashed potato since they were being served with ham and therefore no gravy. I went with a combination of some of my favorite herbs, dill (THE best), basil (close second) and oregano.
I loved the combination of the three and they went perfectly with mascarpone.

One last wonderful thing about these Herbed Mascarpone Mashed Potatoes is that they can be made hours ahead of time and kept warm in the slow cooker. I made them around 10 in the morning while Hannah was at preschool (because as much as you love a 4 year sous chef, and I really do, sometimes you want to do it yourself and try to get some decent pictures) and they were still perfect at 5:30.
If for some reason yours thicken a bit, add a tablespoon or two of milk and that will smooth them right out.
The slow cooker to the rescue to solve all the holiday timing issues!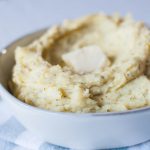 Print
Herbed Mascarpone Mashed Potatoes
Ingredients
5

lbs.

yukon gold potatoes, peeled and cut in half

1

stick

butter, softened

16

oz.

mascarpone cheese, room temperature

1

Tbsp.

kosher salt

2

tsp.

dried dill

2

tsp.

dried basil

1

tsp.

dried oregano

1/2

cup

whole milk
Instructions
Place halved potatoes in a large pot of cold, salted water. Bring to a boil and cook until potatoes are tender, about 15 to 20 minutes.

Drain potatoes and place back into hot pot. Allow potatoes to dry in the pot for a few minutes.

Mash potatoes with a masher than add all ingredients except for the milk. Mash and mix together until smooth. Add 1/4 cup milk and stir. Keep adding milk until desired consistency is reached (I liked the whole amount listed for creamy potatoes).