Layered Greek Dip takes a little help from the store plus some homemade elements to create a simple, delicious and festive appetizer for all your holiday parties.
It's almost Christmas friends. That really snuck up on me this year. Are you done with all your Christmas preparations? I finished my shopping yesterday (latest ever guyyyys) and have a good portion of the wrapping done. I still have so much cookie baking to do but I planned ahead a little this year so I'm hoping that will help. I mixed up 3 of the cookie doughs last week, portioned them and froze them so all I have to do for those is bake and glaze or frost or roll in powdered sugar. The plan is to get everything else done tomorrow. Fingers crossed.
While we're talking about Christmas, I want to know your Christmas Eve dinner traditions. Growing up, we always had a big spread of appetizers. I'm talking Swedish meatballs, little smokies in barbecue sauce, cheese and crackers, pasta salad and several dips.
The dips were (and continue to be) my favorite. There isn't anything wrong with a creamy dip and chip/cracker combo. If it wasn't frowned upon I would eat chips and dip for dinner on the regular.
So obviously when it comes to Christmas recipes, appetizers and dips are often on my mind. And how festive is this Layered Greek Dip?
I took a little help from the store with the first layer, hummus. I know it's simple to make but with the craziness of the holidays, I went with store-bought. If you want to make your own, go for it and all the praises.
The second layer is a super simple homemade tzatziki sauce. The shredded cucumber is sprinkled with salt and left for 30 minutes to draw out all the excess liquid. Please don't skip this step. Otherwise you will have a super runny, ugly mess when the dip is completed. When it comes to the active cooking time, we're talking minutes.
Then it's topped with some classic Greek ingredients, chopped tomatoes, sliced olives and crumbled feta. You could use veggies to dip but I dig the crunch of pita chips.
We did appetizers for New Years Eve as well as a kid so this would be a great option then as well. And now you can understand the source of my dip and appetizer addiction.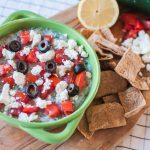 Print
Layered Greek Dip
Ingredients
3/4

cup

hummus

1/2

English

cucumber

pinch of salt

1/4

cup

plain Greek yogurt

1

small clove

garlic, grated

1/2

Tbsp.

dried dill weed

1/4

lemon, juiced

1

roma

tomato, diced

sliced olives

2

Tbsp.

crumbled feta

pita chips for dipping
Instructions
Shred the cucumber into a fine sieve colander and squeeze as much liquid out as possible. Sprinkle with a pinch of salt and allow to sit over the sink for 30 minutes. Squeeze out remaining liquid then add to a bowl. Mix in Greek yogurt, garlic, dill and lemon juice.

Spread the hummus in a small to medium sized serving dish, depending on how thick you want the layers. Spread the homemade tzatziki over the hummus. Sprinkle with chopped tomatoes, sliced olives and crumbled feta. Best served immediately but you can cover and refrigerate if serving later. It may get a little liquidy from the cucumbers so simply drain off as much as you can (it will still taste great).