Keep the holiday stress low with this simple and delicious Brown Sugar Mustard Glazed Ham. 4 ingredients and a smoked, precooked ham make this the perfect holiday main dish.
Guys, I'm hanging on by a thread over here. Between all the holiday gatherings and commitments and selling our house I'm just barely keeping things together. Part of it's my own fault because I can't say no to things and sign myself up for too much extra stuff.
Who else is always in that boat? It's usually stuff that I enjoy, like baking 3 dozen cookies for the teachers and staff at Noah's school, but when I have to keep my house spotless and I have my own holiday baking it gets to be a bit much.
I'm trying to learn the subtle art of saying no and not feeling guilt about it but that's easier said than done. We did find a few things we could let go of this holiday season and I feel so much better. It's hard to really enjoy the holidays, at least for my personality, when we are constantly busy and social. This introvert needs so downtime and calm to recharge.
I know I'm not the only one that's a bit busy and overcommitted this time of year so what could be better than simplifying your holiday meal?

Simple, Easy to Find Ingredients
All you need to make this Brown Sugar Mustard Glazed Ham is a smoked ham and 4 pantry staples. Brown sugar, yellow mustard, apple cider vinegar and Worcestershire sauce and you're good to go. And since the ham is already cooked, it takes less than 2 hours from start to finish.
The glaze caramelizes and creates the most delicious little crunch on top of the ham. So good guys.
I found the perfect ratio for time and temperature for baking the ham to be 10 minutes per pound at 350 degrees F. It was so juicy and warmed through just the right amount. It was amazing leftover as well and that is coming from a self-professed leftover hater.
And if you love recreating your leftovers so you aren't eating the same thing over and over, this ham is delicious in this potato soup. P.S. – this soup is extra perfect for the holiday hangovers (from all the busyness, not literal hangovers – although it would probably be good for that kind too) since you just dump everything in the slow cooker and let it cook away.
Delicious holiday and double duty. What more could you need?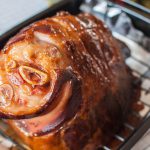 Print
Brown Sugar Mustard Glazed Ham
Ingredients
1

(10 lb.)

smoked ham

1

cup

dark brown sugar

2

Tbsp.

yellow mustard

1

Tbsp.

apple cider vinegar

1

Tbsp.

Worchestershire sauce
Instructions
Preheat oven to 350 degrees F. Line the bottom of a roasting pan with foil. Place a roasting rack into the pan. Place ham on the roasting rack. Scour the top of the ham 1/4-inch deep in a diamond shape. Cover lightly with foil and bake for 40 minutes.

Meanwhile, in a medium bowl, mix the brown sugar, mustard, vinegar and Worchestershire sauce.

Remove ham from oven and brush with 3/4 of the glaze. Cover with foil and bake for 30 minutes.

Brush with remaining glaze and bake another 30 minutes. Allow to sit for 10 minutes then slice.

***The standard for smoked ham is 10 minutes per pound. If you have a smaller or larger ham, used these standards to adjust your baking time. The ham is already cooked so you are simply heating it through.