Slow Cooker Very Veggie Spaghetti will make you a winner at life. Chock-full of veggies, cooked in the slow cooker and pureed until smooth not only makes it simple and healthy but tricks your kids into eating their veggies.
Do you guys struggle getting your kids (or yourself) to consume the daily recommendation of veggies? It's a common problem around here so I'm often concocting different ways to get vegetables into recipes without them knowing they are actually eating vegetables.
Smoothies have been a successful and sneaky way to get leafy greens in their diet but I wanted to come up with some dinner tricks too.
This Slow Cooker Very Veggie Spaghetti is packed to the brim with vegetables. Onion, carrots, broccoli and zucchini are all thrown in the pool along with a couple big cans of tomato puree and some tomato paste. That's a lot of vegetables in one place. And when it gets pureed and put over pasta and maybe sprinkled with some Parmesan, most kids are going to eat it.
The broccoli can turn it a little bitter so a couple of tablespoons of sugar go into the sauce to even it out. Because of the sweetness from the carrots, not much is needed.
This sauce is great over pasta of course but you could also put it over zoodles to bump up the veggie factor even more. I tried the zoodle thing once around here and it didn't go over well so if you go that route, good luck to you.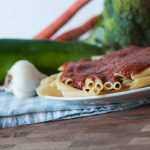 Print
Slow Cooker Very Veggie Spaghetti
Ingredients
2

(29 oz.) cans

tomato puree

1

(6 oz.) can

tomato paste

1

small

onion, diced (size doesn't matter too much)

3

cloves

garlic, chopped

1

medium

zucchini, roughly chopped

1

broccoli crown, roughly chopped

2

large

carrots, sliced into coins

2

tsp.

dried basil

1

tsp.

dried oregano

1/2

tsp.

kosher salt

1-2

Tbsp.

granulated sugar, depending on taste

2

cups

water
Instructions
Place all ingredients into a slow cooker. Cook on low for 8 hours or high for 5 hours.

Once it has cooked the allotted time, puree to desired consistency with an immersion blender or blend in batches in a traditional blender. I blended it completely smooth because my kids don't like chunks and it's easier to trick them. Serve over cooked pasta or zoodles.