Chili Pot Pie with Cheddar Drop Biscuits is the ultimate fall meal on a chilly night. Spicy, hearty chili topped with super simple cornmeal cheddar biscuits will be all you crave.
I love me some comfort food. It's my jam and also probably the reason why I can't get rid of these pesky pounds hanging on. Oh well, pasta is better than being skinny.
When fall weather hits, comfort foods skyrocket to the top of my cravings list and chili is one of the highest contenders. What's not to love about a one pot, hearty, sometimes spicy main dish?
I took my favorite chili recipe and turned it into a pot pie of sorts by topping it with simple homemade biscuit dough and baking it all together. Let me tell you, it was a good idea guys.
I have a solid belief that there should always be some kind of bready/carby side with chili. Here in Nebraska the accompaniment of choice is cinnamon rolls. It may sound weird but don't knock it until you try it (you don't eat them together in the same bite so don't get all up in arms about it).
Another favorite of course is biscuits or cornbread. I'm definitely a lover of cornbread with my chili so when I dreamed up this idea, I knew the biscuits should have some cornmeal in them to make it a kind of hybrid between light and fluffy and that slight grittiness of cornbread. It was a good idea guys.
The chili is spicy due to the addition of some chipotle peppers which goes nicely with the light, fluffy biscuits. If you don't dig spicy food, cut the amount in half and you should be good to go.
So if you're looking for a warm, hearty meal, I've got you covered with this Chili Pot Pie with Cheddar Drop Biscuits. Anything topped with biscuits is a winner.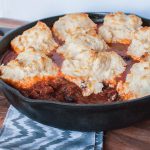 Print
Chili Pot Pie with Cheddar Drop Biscuits
Ingredients
For the Chili:
1

Tbsp.

olive oil

1

small

white onion, finely diced

2

cloves

garlic, finely minced

1-2

Tbsp.

finely chopped chipotle peppers (from the can)

1

tsp.

kosher salt

1

Tbsp.

chili powder

1

Tbsp.

cumin

1

tsp.

dried oregano

1/2

tsp.

dried thyme

1

(6 oz.) can

tomato paste

1

lb.

ground beef

1

Tbsp.

brown sugar

1

(28 oz.) can

tomato puree

2

cups

water

1

(16 oz.) can

black beans, rinsed and drained
For the Cheddar Drop Biscuits:
1 1/2

cups

all-purpose flour

1/2

cup

cornmeal

1

Tbsp.

baking powder

1/2

tsp.

salt

1/4

cup

shortening

1

cup

milk

3/4

cup

shredded cheddar cheese
Instructions
Heat large skillet over medium heat. Add olive oil and onions and saute for 2 to 3 minutes. Add salt, garlic and chipotles and saute another 2 minutes. Add spices and tomato paste and cook for 3 to 4 minutes, until the mixture is rusty in color and fragrant.

Add ground beef to skillet and break up with a wooden spoon. Cook until no longer pink. Add brown sugar, tomato puree and water to the skillet and stir to combine. Cook at a simmer for 30 minutes then add the black beans.

Meanwhile, prepare the biscuit dough. Preheat oven to 450 degrees F. In a large bowl, combine the flour, cornmeal, baking powder and salt. Cut the shortening into small pieces and add to the dry mixture. Using a pastry cutter, two forks or your hands, work the shortening into the dry mixture until is resembles coarse sand. Add the milk and cheddar and gently stir until just combined.

After chili has simmered, remove from heat. Drop biscuit dough onto the chili using two spoons. You will get about 9 drop biscuits. Bake for 15 to 20 minutes, until the biscuits are golden and no longer doughy. You can check them using a toothpick.