Twice Baked Cauliflower is a holiday family favorite around here. All the classic flavors of a twice baked potato lightened up (a little) with cauliflower.
*Edit: photos and text within this post have been updated since it's original post date in 2012.
We're in full "get the house ready to put on the market" mode right now and I've got to say, I don't like it. We worked all of Saturday and part of Sunday and made a ton of progress but we still have lots to do. The one great thing about going through your entire house is the purging of unnecessary things that somehow seem to accumulate over the years. It feels so good to have piles and piles to give away.
We'll continue to work on the house over the next few days then Joel and I are heading to Minneapolis for a long weekend getaway. We'll be going to the Husker v. Minnesota game on Saturday and eating all the delicious things the city has to offer. If you have any suggestions for food or activities, let me know in the comments below. We're excited for some time to breathe and escape reality for a bit.
We're incredibly grateful for our new house but the process is stressful and we're ready for a break from it. We've made a "no house talk" pact.
Once we return, it'll be time for holiday preparation. And what that means for me is thinking about all the food. Which is what brings us to this glorious Twice Baked Cauliflower. I'm pulling it out of the archives and updating it because it's one of our favorite side dishes for the holidays and you need to know about it.
The photos were so sad guys. The text wasn't much better. I knew it deserved better.
We're taking all the things that are delicious on a baked potato and putting it with some mashed cauliflower instead. I'd like to say it's way healthier but there is still lots of cheese, sour cream and bacon going on so there's that. But cauliflower is good for you so I'm helping a little bit. Plus, calories don't count on holidays. It's a fact.
This one is super quick and easy to prepare and can even be made the day before to cut down on cooking the day of the holiday. Just know that you will either need to bring it to room temperature before baking or add an additional 10 minutes to the baking time.
It's creamy and cheesy and delicious. And I have to tell you my friends, I actually like the cauliflower version better than the potato. It's more flavorful and I like the texture the cauliflower provides. All hail the cauliflower.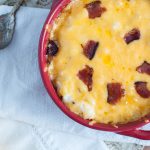 Print
Twice Baked Cauliflower
Ingredients
1

large

head of cauliflower

4

oz.

cream cheese, room temperature

1/4

cup

sour cream

1/4

cup

parmesan cheese

6

slices

thick-cut bacon, cooked and crumbled

1/4

cup

thinly sliced green onions

1 1/4

cups

shredded cheddar cheese
Instructions
Preheat oven to 350 degrees F. Bring a pot of water to a boil. Meanwhile, cut cauliflower into small pieces. Add cauliflower to pot and boil for 7 minutes, or until softened but not completely mushy. Drain well then add to a large bowl. Mash until almost smooth but some small lumps remain. Mix in cream cheese, sour cream, parmesan cheese, green onions and all but 3 tablespoons of the crumbled bacon. Mix well until fully combined.

Spread mixture into a casserole dish or 8x8 pan. Sprinkle with shredded cheddar and top with remaining bacon. Bake for 25-30 minutes, or until bubbly and melty.