It's November and that means it's officially time to start thinking about Christmas cookies. These Homemade Fudge Stripes will be the perfect addition to your Christmas baking.
Who is excited that Halloween is finally over and we can start talking about Christmas? This girl. Don't get me wrong, Halloween is fun but it's never been my favorite. I don't care for all the spooky decorations and dressing up and would rather see cheery lights while eating fun, festive cookies by the fireplace, #homebody.
One of my favorite traditions of the holiday season is making cookies and putting together trays for family and friends so in the coming months I'll be sharing some new cookie creations that are sure to become favorites.
Growing up, we were never really had store-bought cookies around the house. This is not a complaint or to say I was deprived of cookies. If there were cookies in our house, they were almost always homemade. Go mom. Chocolate chip, no-bakes and pumpkin cookies were the classic favorites (and still are to this day).
I admit though, I loved occasionally indulging in packaged fudge stripes. None of us were big chocolate fans but the ratio of chocolate to shortbread cookie was just right to make them desirable. They are still the cookie I would probably choose if I were to pick up a package at the store.
With all that in mind, I thought it was about time to create my own Homemade Fudge Stripes. And they are surprisingly easy with minimal ingredients required. I'm talking 6 ingredients people and I bet you have them all on hand already.
I started with a simple shortbread cookie that is mixed up and refrigerated to make for easier rolling. They only need to be refrigerated for an hour but make sure you factor that in when you are making them. Once they are rolled out, cut and baked the fun part begins.
They get a nice thick dip of chocolate on the bottom and a generous drizzle on top for that classic striped effect. Refrigerate them for about 15 minutes to harden the chocolate and you're good to go.
Aren't they the prettiest? I'm so excited with how they turned out both in looks and taste. The simple butter shortbread has a nice crunch to it and the chocolate adds a creamy texture.
Can't you just picture these among a tray of Christmas goodies? The stark contrast of the light shortbread and the dark chocolate will really make them stand out and add some pizzazz. Do people still say pizzazz? I say pizzazz, ok?
Bring back all the childhood memories with these Homemade Fudge Stripes. And super random side note: use these instead of graham cracker when making s'mores. You're welcome.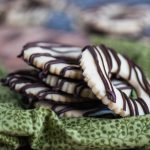 Print
Homemade Fudge Stripes
Ingredients
1

cup

butter, softened

3/4

cup

powdered sugar

2

cups

all-purpose flour

2

Tbsp.

cornstarch

1/2

tsp.

salt

11

oz. bag

chocolate chips (milk, semi-sweet or dark - whatever you prefer)
Instructions
Cream together butter and sugar until light and fluffy, about 2 minutes. Add flour, cornstarch and salt and mix until just combined.

Form dough into a rectangle on a large piece of plastic wrap and wrap tightly. Refrigerate for an hour (or up to 24 hours).

Preheat oven to 350 degrees F. Line cookie sheets with parchment paper. Remove dough from refrigerator and allow to soften a bit if it was refrigerated for more than an hour. Divide dough in half and roll to 1/4-inch thickness. Cut with a 3-inch cookie cutter. Using the large end of a piping tip, cut out the center. Place on prepared cookie sheets. Bake for 8 minutes.


Remove from oven and allow to cool on the pan for 1 minute. Slide parchment (with the cookies still on it) off of the cookie sheet and allow cookies to cool completely on the counter.

Once cookies are cooled, melt the chocolate chips in the microwave in 30 second increments until just melted. Place parchment paper back onto the cookie sheets. Dip the bottom of the cookies in the melted chocolate and place on the parchment.

Place remaining chocolate in a zip top bag and just barely snip the corner. Drizzle the chocolate back and forth over the cookies to make the stripes. Place cookies in the refrigerator for 15 minutes to allow the chocolate to set up. Store in an airtight container on the counter.