Slow Cooker Chicken Stroganoff is a one pot winner of a weeknight dinner. Simple ingredients and almost nonexistent preparation come together for a super simple, yet delicious meal.
The cold weather is hitting us hard here in Nebraska. We've pretty much gone from long sleeve tops to winter coats in a flash. Hello mother nature, I really needed (*wanted* whatever) to wear my adorable fall weight jacket more than once before I had to move to the giant, puffy North Face. I mean, I appreciate you North Face for making amazingly warm winter coats but I'm just not ready.
When the weather turns from bearable to OMG get me inside, all I want is the warm, comforting foods. Give me noodles, give me creamy sauce, give me crusty bread. Basically give me all the caaarrrrbs.
I also develop an obsession with my slow cooker when the weather turns cooler. I hope you all share my sentiment towards the beautiful creation that is a slow cooker because I have another recipe using it coming at you next week. Slow cooker for life.
This Slow Cooker Stroganoff is cooked from start to finish in the slow cooker, even the egg noodles. If that's not winning I don't know what is. So you do have to dirty a bowl to whisk up the sauce but you could technically mix the sauce in the bowl of the slow cooker before adding the chicken and you will truly not dirty anything but the slow cooker and your spoon. I'm always looking out for you friends. Anything to avoid more dishes.
The chicken is cubed, sprinkled with salt and pepper and into the slow cooker it goes. Next, a simple sauce of chicken stock, Dijon mustard, garlic, Worcestershire and cornstarch gets whisked together and poured over the chicken. That cooks away for about 5 hours then the uncooked noodles get added. It cooks for another 30 minutes then the sour cream is folded in when everything is done.
Make sure to stir in the sour cream at the end because if it cooks over the heat, it will separate and get all kinds of weird. You don't want any of that.
The flavors are simple and classic. I also wanted to create a stroganoff that didn't have a base of cream of whatever soup. I'm not against store-bought shortcuts but when I can make something without using them, I'm all for it. Especially when the homemade version is just as easy as opening a can.
If you're getting a chilly front like us, whip up a pot of this Slow Cooker Chicken Stroganoff for your family. It'll warm you through and keep you full.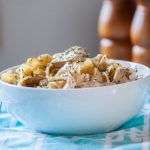 Print
Slow Cooker Chicken Stroganoff
Ingredients
1 1/4

lbs.

boneless skinless chicken breasts, chopped into bite size pieces

1/2

tsp.

kosher salt

1/4

tsp.

black pepper

2

cups

chicken stock

1

Tbsp.

Dijon mustard

2

cloves

garlic, finely minced

1/2

tsp.

Worcestershire sauce

1/2

Tbsp.

cornstarch

3

cups

dried egg noodles

1/2

cup

sour cream
Instructions
Season chicken with salt and pepper and place in slow cooker. In a bowl, whisk together chicken stock, Dijon mustard, garlic, Worcestershire and cornstarch. Pour over the chicken and cook on low for 5 to 6 hours.

During the last 30 minutes stir in the egg noodles. Right before serving, stir in the sour cream.