This sweet Strawberry Butter is super simple to make with just three ingredients. Grab some salted butter, fresh strawberries & honey to make this delicious spread.
This post may contain affiliate links. For more information, please read my disclosure policy.
If you've never made a compound butter before, you have not lived. A compound butter is basically just butter with something mixed in to make it more interesting.
We're going sweet with this compound butter and making fresh strawberry butter.
Spread Strawberry Butter on Everything
This strawberry butter is good on all the carby things. Let's break down my favorites.
The BEST option is a hot, fresh buttermilk biscuit. I promise you it will be glorious. The next best thing is a hot roll. Can you sense the hot, toasty carb pattern.
Spread it on your morning toast or bagel. It's a nice, fresh change up to peanut butter or cream cheese.
This one may seem weird but a slather on some grilled chicken is kind of mind blowing too. Serve it alongside a spinach salad for the whole strawberry spinach salad vibe.
How to Make This Glorious Butter
Let's start with the ingredient list. You're going to need the following 3 simple ingredients:
The strawberries should be chopped finely. Ensure that they are completely dry before making the recipe. Water and butter do not mix.
Once the strawberries are chopped, add them along with the butter and honey to a food processor. Pulse until it all comes together and there are no longer any big chunks of strawberrry.
That's all there is to it.
Can I Use Frozen Strawberries?
When strawberries aren't in season, you may be tempted to use frozen strawberries but I want to advise you against it.
When frozen strawberries are thawed, they are super watery and mushy. If you were to use them it would totally mess with the texture and separate the butter.
Change Up the Berries
If the strawberries at the store aren't looking great, switch it up and use a different type of berry.
Raspberries and blackberries would be a delicious substitution. Follow the directions and just sub out the berries.
I wouldn't use blueberries for this recipe. Their texture would be a little wierd for the butter.
How to Store
Because strawberries are perishable, it's best to keep it in the refrigerator. When you're ready to use it, scoop out a portion and let it come to room temperature for easy spreading.
It will keep in the refrigerator for up to a week. If you don't plan on using it that quickly, you can freeze it too.
Portion the butter into the desired amount, I would break the batch into 2 or 3. Place a portion on a piece of plastic wrap, wrap it lightly and roll to form a log.
Twist the edges of the plastic wrap then wrap tightly with foil. Place it in the freezer for up to a month.
Grab it out of the freezer a few hours before you want to use it and let it sit on the countor. You can also thaw in the refrigerator overnight.
Slather Strawberry Butter On: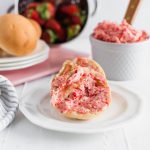 Print
Strawberry Buter
Whip up this sweet and simple strawberry butter for your homemade rolls, biscuits, toast and more. All you need is 3 simple ingredients and a few minutes.
Ingredients
1

cup

salted butter

1

cup

finely chopped fresh strawberries

3

Tbsp.

honey
Instructions
Add butter, strawberries and honey to a food processor. Pulse until thoroughly combined and the strawberries are very fine. Store in an airtight container in the refrigerator for 1 week or up to a month in the freezer.
Processing…
Success! You're on the list.
Whoops! There was an error and we couldn't process your subscription. Please reload the page and try again.