Don't just reheat your leftovers this Thanksgiving. Instead, turn them into these delicious, flaky Thanksgiving Leftovers Hot Pockets featuring juicy turkey and all the classic Thanksgiving sides.
This post is sponsored by the National Turkey Federation. All thoughts and opinions are my own. For more information, please read my disclosure policy.


I am SO ready for Thanksgiving. It's totally the best food holiday of the year thanks to the main event, the turkey. Today I'm teaming up with my friends at the National Turkey Federation to bring you the yummiest way to use up your Thanksgiving leftovers (if you have any).
Can I let you in on a little secret? I don't love leftovers. Eating the same thing over and over just makes me sad so I love coming up with new ways to repurpose leftovers and keep food waste down. These Thanksgiving Leftovers Hot Pockets may be my favorite leftovers creation yet.
Preparing Your Turkey
Before we talk about these perfectly flaky Thanksgiving Leftovers Hot Pockets, let's talk about the best way to prepare your Thanksgiving turkey. My home is a two turkey family for a few reasons.
First, we have a LOT of people come for the holiday so we need to ensure we never run out of turkey. Second, we are obsessed with smoked turkey but also love a baked turkey with the delicious homemade turkey gravy.


It would be an impossible choice so two it is! Did you know 45 million turkeys are consumed on Thanksgiving?!
When you're cooking up a storm, it's super important to keep everything separate and clean. That starts with not rinsing your turkey. The running water can cause splattering and unknowingly spread bacteria all over your kitchen. That would NOT result in a happy Thanksgiving.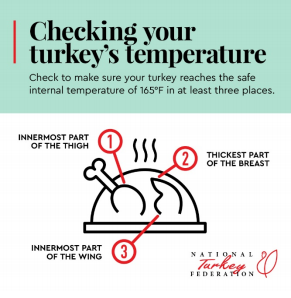 Whether you choose to dry brine, wet brine, slather in butter or create your own rub, you need to ensure your turkey is cooked to 165 degrees. Make sure to measure the innermost part of the thigh, the thickest part of the breast and innermost part of the wing to be sure it's good to go.
Once you remove it from the oven, be sure to let it rest for 20 minutes so that all the juices and redistribute and keep the turkey extra juicy. Who's getting excited for turkey time?!

Gather Your Ingredients
Now that you've been schooled on the ins and outs of turkey prep, let's talk about how to make these Thanksgiving Leftovers Hot Pockets. Here's a list of what you need:
Double pie crust (store-bought or homemade)
Mashed potatoes
Stuffing
Cranberry sauce
Turkey
How to Make Thanksgiving Leftovers Hot Pockets
I went with store-bought pie dough to make these simple and easy but you can also plan ahead and make extra when you're making your Thanksgiving pies if you wish. The store-bought dough circles need to be rolled out a little thinner than they come. Once the dough measures 12 inches in diameter, use a pizza cutter to trim it up and form an 8 x 9 inch rectangle.
Then slice the dough in half vertically and horizontally and you'll end up with 4 x 4.5 inch pieces. Place them on a parchment lined baking sheet and repeat the process with the second pie dough round. Leave these on the floured surface for later use. Next comes the fun part, the turkey and leftovers!


If your mashed potatoes are thick, you may need to microwave them 15 to 20 seconds so that they are easier to spread on the pie crust. Once they are ready, spread each pie dough piece with 2 tablespoons mashed potatoes.
Next up, evenly divide the stuffing over the 'taters. Then comes the cranberry sauce. Are you a cranberry sauce kind of person? I'm not but it adds the most delicious sweet and tart combo in these hot pockets. I'm into it.
And now the star, the Thanksgiving turkey. You can either dice the turkey into small bite-size pieces or you can shred it, whichever you prefer.
Top all that goodness with a second pie dough piece and stretch carefully to cover the filling and reach the edges of the bottom piece.


When you're doing this be super careful as the pie dough can rip. If it does, you can pinch it together or just roll with it. It won't be the end of the world to have a little hole.
Crimp the edges with a fork and brush them with whisked egg to give the hot pockets that golden color.
The Delicious Results
You end up with a perfectly golden, flaky crust and you get a little bit of everything in every bite which means you get pure Thanksgiving goodness in each bite.


If you have other Thanksgiving leftovers you love, you can try adding them too. Just make sure you can cover and close the pockets for baking.
Because turkey is high in protein and vitamin content, it's probably the healthiest dish on your Thanksgiving table so you should definitely load up on it this year. But make sure to leave enough to make these glorious hot pockets too.
More Turkey Recipes
Check out the National Turkey Federation for more turkey recipes and cooking tips for your Thanksgiving meal.
This post is sponsored by the National Turkey Federation. All thoughts and opinions are 100% my own.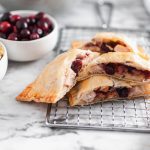 Print
Thanksgiving Leftovers Hot Pockets
Repurpose your delicious Thanksgiving leftovers and make these Thanksgiving Leftovers Hot Pockets. I've teamed up with the National Turkey Federation to bring you a turkey-licious recipe that you'll love this fall and all year long. Mashed potatoes, stuffing, cranberry sauce and turkey cooked in flaky pie dough to golden perfection.
Ingredients
2

pie dough rounds (store bought or homemade)

1/2

cup

leftover mashed potatoes

1/4

cup

leftover stuffing

1/4

cup

leftover cranberry sauce

1/2

cup

diced or shredded turkey

1

large

egg, whisked
Instructions
Preheat oven to 425 degrees F. Line a large baking sheet with parchment paper. Set aside.

Roll one pie dough round into a 12-inch circle on a floured surface. Trim circle to an 8 x 9 inch rectangle using a pizza cutter or knife. Cut in half vertically. Now cut in half horizontally. You will have 4 - 4 x 4.5-inch pieces. Place the dough pieces on the prepared baking sheet. Repeat with the remaining pie dough round.

Spread 2 tablespoons of the mashed potatoes onto each of the 4 dough pieces on the baking sheet. Top each with 1 tablespoon of stuffing and cranberry sauce. Evenly divide the turkey among the pie dough.

Place the remaining pie dough pieces over topped dough and gently stretch so that the edges meet. Using a fork, crimp the edges so that they seal. Brush with whisked egg. Bake for about 15 minutes, or until golden and flaky.