These dense, rich Cookies and Cream Brownies are the ultimate chocolate dessert. Thick, cookie studded brownies topped with a lucious cookies and cream buttercream.
This post may contain affiliate links. For more information, please read my disclosure policy.
Get ready for some richness my friends because these brownies are coming in strong in that department.
Dense, Fudgy Cookies and Cream Brownies
These brownies are incredibly dense and fudgy. No cake-like texture here today, I mean business. Just look at how thick these beauties are.
That fudgy texture is a result of using a small amount of flour and lots of eggs. I also baked them in an 8 x 8 pan to intensify the thickness and texture.
I wanted to really make the cookies in these brownies shine so there are large cookie pieces in the brownie mix as well as cookie crumbs in the glorious buttercream frosting.
The cookie pieces in the brownies add a crunchy texture to the ultra-chewiness of the brownies. It's just all so good.
Secret Ingredient
There is a secret ingredient in these brownies which makes them extra chocolatey and rich. It's espresso powder. 
I promise you, the espresso powder will not make the brownie taste like coffee. First, there's only a small amount of it in the batter. A little goes a long way because it's concentrated. It just makes the chocolate taste even richer and more intense in flavor.
Espresso powder is not the same as instant coffee and it will not substitute well in this recipe. If you can't find espresso powder or don't wish to buy it (although you can use it in all chocolate recipes so it won't go to waste) you can simply leave it out. They'll still be amazing.
Cookies and Cream Buttercream Dreams
Ok. This buttercream? I'm not an eat the frosting with a spoon kind of person but I did just that with this cookies and cream buttercream. It is out of this world good.
I kept the base recipe for the buttercream less sweet than I normally would because of the addition of the crumbled chocolate sandwich cookies. The cookie itself and the frosting in the cookie add additional sweetness to the buttercream and perfectly balances it out.
Here's what you need for the buttercream:
If you have a stand mixer you'll want to grab it out to make this buttercream. A hand mixer would work as well. If you don't have either you can still make the frosting but it might not be as fluffy.
To get the buttercream extra light and fluffy, you need to cream all the ingredients except for the cookies at medium speed for about 5 minutes. It will turn white in color and just about double in size.
Once it reaches this consistency, it's time to stir in the cookies by hand. If you use the mixer to stir them in the frosting will turn an unattractive color and the cookie crumbs will be mashed up too much.
The great thing about the frosting is the play in consistency. The frosting element is super smooth and the cookies add a yummy, sweet crunch. It pairs so nicely with the super rich, dense brownies.
And how perfect is that brownie to buttercream ratio?!
More Chocolate Desserts: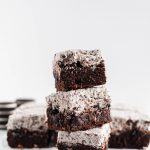 Print
Cookies and Cream Brownies
These dense, rich Cookies and Cream Brownies are the ultimate chocolate dessert. Thick, cookie studded brownies with cookies and cream buttercream.
Ingredients
For the Brownies:
1

cup

butter, melted

1 1/3

cups

granulated sugar

2/3

cup

brown sugar

4

large

eggs

1

Tbsp.

vanilla extract

1

cup

cocoa powder

1

cup

all-purpose flour

1

tsp.

kosher salt

1 1/2

tsp.

espresso powder

9

chocolate sandwich cookies, broken into rough quarters
For the Cookies and Cream Buttercream:
1

cup

unsalted butter, softened

4

cups

powdered sugar

1

tsp.

vanilla extract

1/4

tsp.

kosher salt

12

chocolate sandwich cookies, crushed into crumbs
Instructions
Preheat oven to 350 degrees F. Spray an 8 x 8 pan well with nonstick spray and set aside In a large bowl, mix together the butter, granulated sugar, brown sugar, eggs and vanilla. Add dry ingredients and mix until the batter just comes together. Fold in the cookie pieces.

Pour batter into prepared pan. Bake for 35 to 40 minutes, until a toothpick comes out clean. Set aside and allow to cool.

Meanwhile, make the butter cream. Add butter to a stand mixer. Cream until smooth. Add powdered sugar and carefully, slowly mix in. Once it's incorporated add vanilla and beat on medium speed for 5 minutes, until light, fluffy and white. Fold in cookie crumbs.

Spread cookies and cream buttercream over the cooled brownies.
Processing…
Success! You're on the list.
Whoops! There was an error and we couldn't process your subscription. Please reload the page and try again.