Make your holiday breakfast extra festive with this Gingerbread Monkey Bread featuring Rhodes Bake-N-Serv yeast rolls. Ooey, gooey and perfectly spiced.
This post is sponsored by Rhodes Bake-N-Serv. All thoughts and opinions are my own. For more information, please read my disclosure policy.
I am so excited to share today's recipe with you, Gingerbread Monkey Bread. Who doesn't love monkey bread?! Especially when it's spiced with all the festive holiday goodness?
I'm teaming up with Rhodes Bake-N-Serv to bring the tastiest, EASIEST Christmas morning breakfast around. Seriously, you won't believe how perfect it is.
The Ingredient List
Here's what you're going to need to make this glorious Gingerbread Monkey Bread:
Rhodes Bake-N-Serv yeast dinner rolls
Cook and Serve vanilla pudding (cannot sub instant)
Molasses
Margarine
Brown sugar
Ground ginger
Ground cinnamon
Ground cloves
Ground nutmeg
There are two ingredients on that handy list up there that you may be tempted to make substitutions for but let me explain why it's important that you don't.
First, the vanilla pudding mix. Because this pudding mix is part of the sauce for the monkey bread and gets cooked in the oven, it's imperative that it's the cook and serve version. If you use instant, it will not set up correctly and you'll end up with some really sad monkey bread and people in your life.
The second ingredient is the margarine. Trust me, I would rather use delicious butter as well and have tried when testing this recipe.
The butter will initially mix into the sauce but once baked, it completely separates and just floats at the top of the sauce. Not a good look or taste. Trust me.
The Easiest Prep for Gingerbread Monkey Bread
Because we're using Rhodes yeast dinner rolls, all the hard work has been done for us making this holiday breakfast a snap to pull together. And it doesn't hurt that they are totally delicious too.
Normally when using Rhodes yeast rolls, you would follow the thawing directions on the package before proceeding with a recipe but we're doing something a little different this time around.
This Gingerbread Monkey Bread is assembled the night before so all you have to do in the morning is preheat the oven and bake it. Major win right there.
We start by placing the frozen Rhodes yeast rolls in a greased bundt pan. Then in a large bowl, whisk together the remaining ingredients and pour the sauce over the frozen rolls.
Spray a piece of aluminum foil and lightly place it over the rolls. Cover the whole thing with a kitchen towel and leave it to rise overnight. When you wake up in the morning the rolls will have risen and you will have puffed, glorious bread dough ready for baking.
Just looking at it baked doesn't seem too exciting but just wait until you flip it over and reveal that delicious gingerbread sauce smothering the top. It'll drip down over the edges and you'll be in heaven.
Here are a few tips for flipping your monkey bread out of the pan. Make sure to use pot holders or oven mitts with good grips. The pan is HOT and the monkey bread will be bursting at the edges so it may be hard to grip.
Make sure you have a plate at least 2 inches bigger around the whole edge than the bundt pan. We have a saucy dish and you don't want to lose any of it off the edges.
Place the plate or platter on top of the bundt pan. Using your oven mitts or pot holders, grab the edges of the plate and the bundt pan and quickly flip. Place the plate on the counter and carefully lift the bundt pan up. How many times can I say bundt pan in a paragraph?!
All That Holiday Flavor + Cheer
It's going to be hard to describe to you all the holiday vibes you'll get upon your first bite of this Gingerbread Monkey bread. It's sweet, perfectly spiced, rich and molasses-y.
The bread dough bakes up soft, chewy and slightly caramelized from the sauce. The edges get a little crispy giving major texture to the super soft interior. I'm pretty sure this is exactly what Rhodes bread dough was created for.
Using Rhodes rolls in this recipe saves so much time. Time that we can then give back to our families and create more special holiday memories. I love that I can easily have something warm and homemade for my family that will create and keep cherished family traditions.
The first time I had monkey bread was when I married into my husband's family. It's their Christmas morning tradition and has now become ours. This gingerbread version is based off their family favorite recipe.
I hope that this Gingerbread Monkey Bread can become a favorite for you too!
More Holiday Breakfast Ideas:
This post is sponsored by Rhodes Bake-N-Serv. All thoughts and opinions are 100% my own.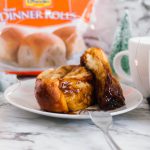 Print
Gingerbread Monkey Bread
Make your holiday mornings even sweeter with this make ahead Gingerbread Monkey Bread. Prepare the night before and bake Christmas morning. It's filled with so much holiday flavor.
Ingredients
36

Rhodes

yeast dinner rolls, frozen

1

cup

margarine, melted

1

3 oz.

package Cook and Serve vanilla pudding mix

1

cup

brown sugar

1/4

cup

full-flavor molasses

1

tsp.

cinnamon

1 1/2

tsp.

ground ginger

1/4

tsp.

nutmeg

1/2

tsp.

ground cloves
Instructions
The night before: spray two bundt pans generously with nonstick spray. Place 18 frozen rolls into each pan.

In a large bowl mix together the melted margarine, vanilla pudding mix, brown sugar, molasses, cinnamon, ginger, nutmeg and cloves. Pour evenly over the frozen rolls. Spray two pieces of foil with nonstick spray and place loosely over the bundt pans. Cover the foil with a kitchen towel. Allow to rise overnight.

In the morning: preheat the oven to 350 degrees. Place the bundt pans on a rimmed baking sheet (just in case the sauce overflows). Remove towels and foil. Bake for 25 to 30 minutes, until golden brown.

To turn out of bundt pans: place a large plate or platter over the baked monkey bread, quickly flip and place the plate on the counter. Carefully lift the bundt pan off the monkey bread.
Subscribe