Perfect for Meatless Monday, this Creamy Roasted Vegetable Pasta will fill you up and keep you happy. Packed with flavorful roasted vegetables and a secret ingredient.


This post may contain affiliate links. For more information, please read my disclosure policy here.
Vegetable Pasta for the Win
This pasta is packed with roasted veggies which not only fill you up but provide tons of flavor and texture in this creamy dish. The vegetables you use in this recipe are pretty versatile and can be changed up according to preference or what you need to use up in your refrigerator.
I chose my favorite vegetables for roasting to include in this dish. My top favorite, broccoli along with zucchini and grape tomatoes. Other options that would be great? Asparagus, yellow squash, bell peppers, brussels sprouts (though they may need longer for roasting) and cauliflower would all be really good in this pasta.

Secret Ingredient
There is a secret ingredient in this creamy roasted vegetable pasta and you may think it sounds a little weird at first. But stick with me. It's cottage cheese.
Trust me on this one my friends. It melts and turns the sauce all kinds of creamy. It adds a mild tanginess to the sauce too which is just so good with all the roasted vegetables.
Because this is a meatless dish, it also adds a great big dose of protein that you would otherwise be missing. So many good reasons to add cottage cheese to your pasta. Along with the cottage cheese, cream cheese, parmesan and milk bring the creaminess to the sauce.
Another 30 Minute Wonder
This pasta dish is just another 30 minute meal you can add to your repertoire. It takes some planning and you need to follow the recipe directions carefully but it can totally be done.


The roasting of vegetables and cooking of pasta takes the longest for this recipe. So first, get the vegetables in the oven and the water boiling for the pasta. The veggies are chopped into small pieces in this recipe so that they don't take as long to roast and to keep them about the same size as the pasta. It will only take 20 minutes for them to reach caramelized goodness.
The pasta will most likely take around 10 minutes so once you have it in the water it's time to prepare the sauce.
Garlic is sautéed in a little olive oil until soft then the cottage cheese, cream cheese and parm are cooked until warm and smooth. You don't want any boiling so keep the heat on low during this process.
Once the cottage cheese lumps have disappeared, whisk in the milk to create that dreamy sauce. You can simmer it at this point to thicken it up a bit.
Once the pasta is ready, scoop it directly from the pasta water into the sauce on the stove top. The sauce will adhere to the pasta better when it's not rinsed. Cook for another minute in the sauce so that the pasta can soak it up and continue to thicken the sauce.
Toss in the roasted vegetables and top with more parmesan cheese and this glorious plate of vegetable pasta is ready to serve.
More Pasta Recipes You Need In Your Life: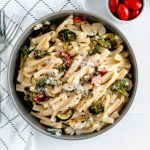 Print
Creamy Roasted Vegetable Pasta
This Creamy Roasted Vegetable Pasta is a fast dinner option packed with flavor. Cheesy, creamy sauce, perfectly cooked pasta and flavorful roasted veggies.
Ingredients
1

cup

zucchini, sliced into 1/2-inch half moons

1 1/2

cups

small broccoli florets

1/2

cup

halved grape tomatoes

1

Tbsp. + 1 tsp.

olive oil, divided

1/2

tsp.

kosher salt

1/4

tsp.

pepper

1

tsp.

dried basil

4

cloves

garlic, minced

12

oz.

short cut pasta

3

oz.

cream cheese

1

cup

cottage cheese

1/4

cup

parmesan cheese

1

cup

milk
Instructions
Preheat oven to 425 degrees F. Add vegetables to a rimmed baking sheet. Drizzle with 1 tablespoon olive oil, kosher salt and pepper. Toss to coat evenly. Bake for 15 minutes, stir and bake anotehr 5 minutes.

Meanwhile, cook pasta 2 minutes less than package directions.

While pasta is cooking, make sauce. Heat a skillet over medium heat. Add 1 teaspoon olive oil. Add garlic and saute until softened. Stir in cottage cheese, cream cheese and parmesan and cook until smooth. Whisk in milk. Cook about 5 minutes to thicken. When pasta is done, add to sauce. Stir in roasted vegetables and cook another 1 to 2 minutes. Serve.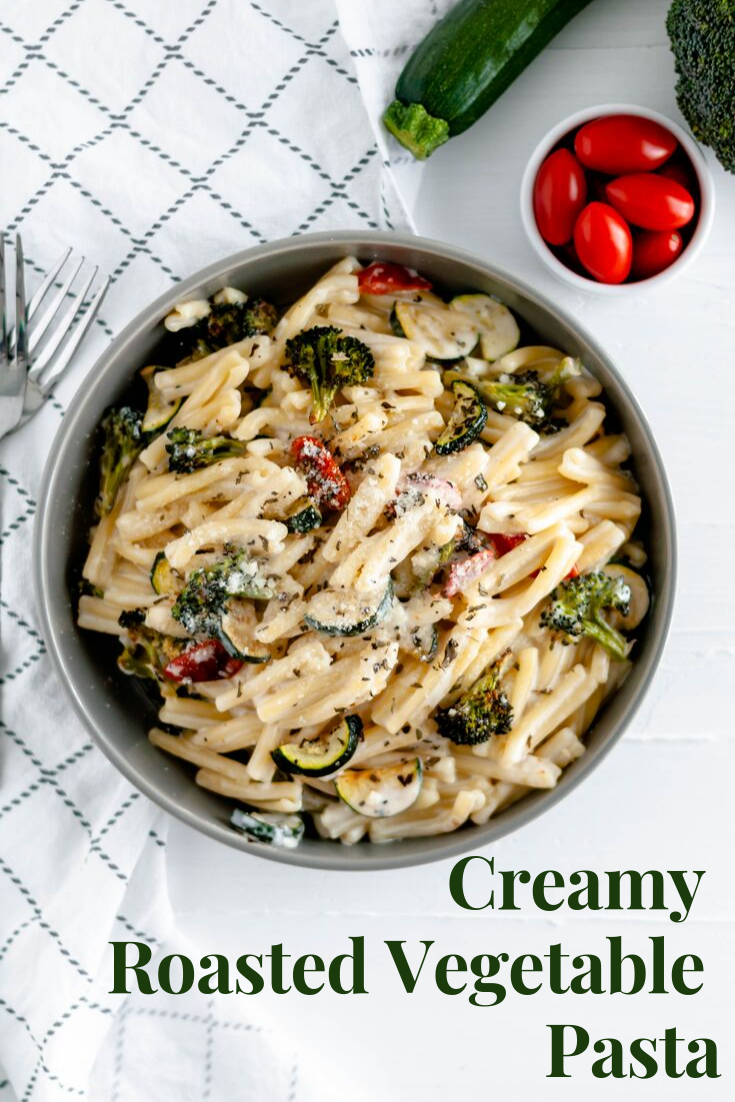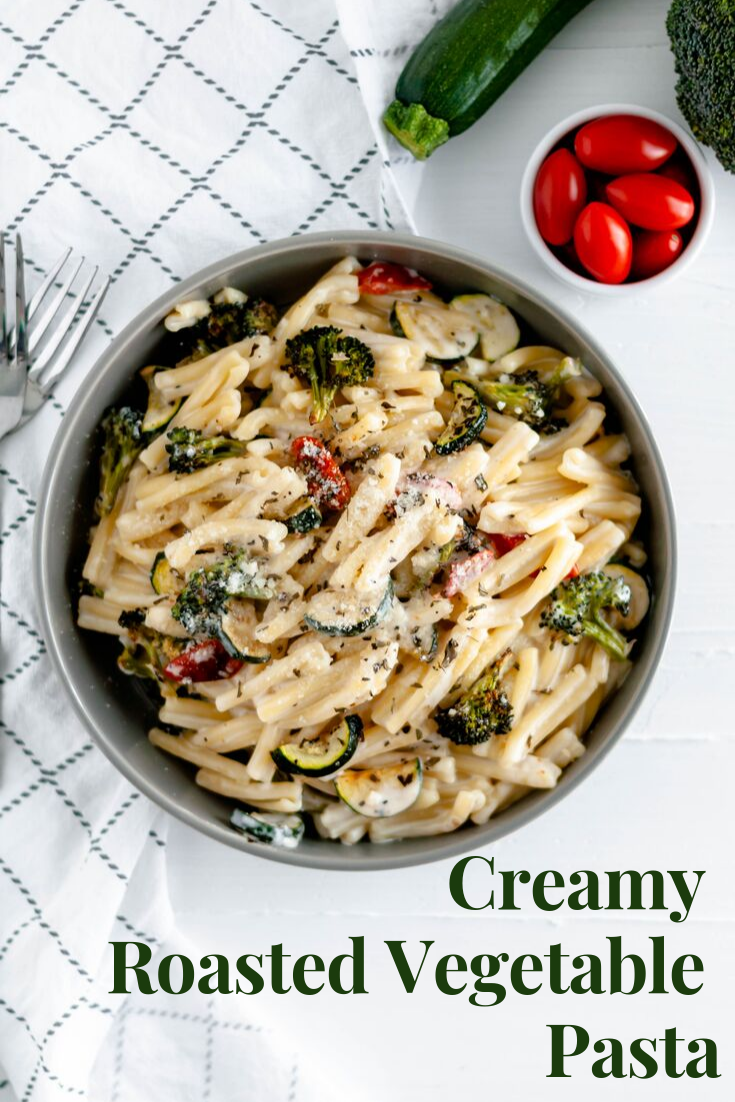 Check out my Amazon store for all of my favorite kitchen items and more.