Make your mac and cheese extra special this summer by throwing it in the smoker. This Smoked Macaroni and Cheese is packed with three different cheeses creating the creamiest, most flavorful sauce.
This post may contain affiliate links. For more information, please read my disclosure policy here.


Ok. I've had this smoked macaroni and cheese idea in my head forever and ever. And now the weather has finally decided to warm up so it was definitely time to break out the smoker.
I'm so dang excited to share this recipe with you. It is super simple to make, ridiculously creamy and kind of addictive.
First, let's start off by talking about the smoker. We've had this smoker for 8 or 9 years and it's been thrown around through some midwestern thunderstorms but it's still going strong.


If you don't have a smoker, don't worry. I'm going to teach you a way to make your outdoor grill into a smoker so you can still make this recipe.
Take a smallish container (around 6 inches or so) that can go directly on your grill. Place your soaked wood chips in the container then cover it tightly with foil. Poke a few holes in the foil and place it directly on the grates of your grill and keep the lid closed.
This will create a similar environment that a smoker would. Another key to this process is to only keep one of the burners on so that you can create a low and slow situation. The temperature needs to be around 225 degrees F so you'll need to figure out the burner situation depending on the size of your grill.
The macaroni and cheese will cook in the smoker (or jerry rigged grill smoker) for an hour and that process gives it a slightly smoky flavor that is a total game changer. You can cook it even longer if you want a stronger smoke flavor throughout.

Now, let me tell you about the cheeses that go into this gooey masterpiece. Cream cheese is a major factor in the creaminess of this mac and cheese. Guyyyyys. GUYS. If you've never added cream cheese to macaroni and cheese you need it in your life.
There's also sharp cheddar and pepper jack cheese to add that rich, stringy cheesy goodness. The combination of the three cheeses is just magical.
Because the smoked macaroni and cheese cooks for an hour in the smoker, you want to be sure to undercook the pasta. If you cooked it the amount of time the box states, it would become a mushy mess after an hour in the smoker. So, instead you need to cook the pasta 4 less minutes then the package instructions.
I promise, this is the only side dish you will want at your summer barbecues.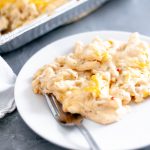 Print
Smoked Macaroni and Cheese
Your smoker doesn't have to be just for meat. This Smoked Macaroni and Cheese has a creamy, three cheese sauce that is tossed with pasta and smoked for a slightly smoky flavor.
Ingredients
1

lb.

short cut pasta (like elbows or shells)

4

Tbsp.

unsalted butter

1/4

cup

all-purpose flour

3

cups

half and half

8

oz.

cream cheese, room temperature and cubed

3/4

lb.

sharp cheddar cheese, shredded

1/2

lb.

pepper jack cheese, shredded

1/2

tsp.

kosher salt

1/4

tsp.

black pepper
Instructions
Fill smoker with desired wood chips and preheat to 225 degrees F. Bring a large pot of salted water to a boil. Cook pasta 4 minutes less than the package directions.

Meanwhile, heat a large saucepan over medium heat. Melt butter. Sprinkle in flour and whisk constantly for 1 minute. Add half of the half and half. Whisk together and cook until slightly thickened. Add remaining half and half and cook again until slightly thickened.

Stir in the cream cheese and whisk until melted. Remove from heat. Combine the sharp cheddar and pepper jack in a large bowl. Reserve 2 cups of the cheese. Add all remaining cheese to the saucepan and whisk until melted.

Dump pasta into a foil 13x9 pan (or one you are ok putting in your smoker). Pour the sauce over the pasta and stir until completely coated. Sprinkle with reserved cheese. Place in the preheated smoker and cook for 1 hour. Add more wood chips as your smoker requires.