Your next potluck party needs this Grilled Corn Salad with Bacon and Jalapeno. Everything in the salad is grilled to provide that perfect smoky touch to this perfect summer side.
This post may contain affiliate links. For more information, please read my disclosure policy here.

Summer is almost upon us friends! My kids only have two weeks of school left. TWO.
Because I majorly have summer on my mind, I have been using my grill almost constantly for dinners and recipe development. I don't know how many times I've fired up the grill at 9:30 in the morning to recipe test and photograph in the last few weeks. Pretty sure my neighbors think I'm crazy.
It's totally worth the questioning looks though when I get something like this grilled corn salad out of the process. It's one of my favorite recipes I've created this year and I'm super excited to share it with you.

First let's break down the ingredient list:
Fresh corn
Fresh jalapenos
BACON
Queso fresco (crumbly Mexican cheese)
Simple lime dressing
Super simple, fresh ingredients that are packed full of flavor. And they are all inhanced by a little charring action on the grill. Yep, everything but the cheese and dressing are cooked on the grill. Another point for minimal dishes and clean up.
The sweet corn, smoky bacon, spicy jalapeno, creamy cheese and bright lime dressing all combine into a kind of perfection. This grilled corn salad has basically all the flavors with a touch of smokiness.
There's also a nice comination of textures throughout the salad that add even more interest. The corn keeps a bit of bite while the bacon gets a little crispy and the jalapenos soften. It's just all so good.

Let's talk about the fresh jalapenos for a quick sec. They are halved before they are grilled. Please wear gloves. Or if you don't have gloves, shove a couple ziplock bags on your hands while handling them.
If you rub your eyes after handling them bare handed, even if you've washed, it will BURN. I may know from experience.
The heat of fresh jalapenos can vary but the spiciness of them lives in the seeds and the ribs (the white line inside the pepper). If you like things spicy, leave it all in while grilling. If you want to keep things more mild, carefully remove the ribs and seeds before grilling.
While the corn, jalapenos and bacon are grilling you can mix up the lime dressing super quickly. It consists of lime juice, olive oil, vinegar, cumin, honey, salt and pepper into a jar and shaking it up.

Once everything comes off the grill you just need to slice the corn off the cob and chop up the bacon and jalapenos. I have a little method I use for getting the corn off the cob without making a huge mess.
You'll need one large bowl and one small bowl. Place the small bowl upside down inside the large bowl. Then you can place the flat end of the corn onto the small bowl and slice down the sides with your knife. Then all the corn falls into the large bowl. It's kind of a game changer.
Now that everything is sliced and prepared, all you need to do is mix everything together in a large bowl and eat. You can serve the grilled corn salad hot, warm or cold making it perfect for get togethers. My favorite way to eat it is hot but it really is good any way you choose.
If you take this to a potluck or barbecue you are sure to have a hit on your hands. And I'm betting it will add some much needed variety to the pasta salads that most people (hello, me) bring to a summer gathering.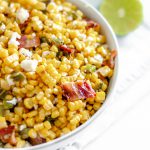 Print
Grilled Corn Salad with Bacon and Jalapeno
This Grilled Corn Salad with Bacon and Jalapeno is your next potluck dish. Sweet grilled corn, smoky bacon, spicy jalapeno and a bright lime dressing.
Ingredients
8

ears of

corn, shucked

3

jalapenos, sliced in half

Olive oil

Salt and pepper

6

thick cut

bacon slices

3/4

cup

crumbled queso fresco
For the dressing:
1/3

cup

olive oil

1

Tbsp.

white vinegar

2

Tbsp.

lime juice

1/4

tsp.

kosher salt

1/4

tsp.

cumin

1/2

Tbsp.

honey
Instructions
Preheat grill over medium heat. Brush the corn and jalapenos with olive oil on all sides. Season with salt and pepper.

Place corn, jalapenos and bacon on the grill. Cook the corn for 12 minutes, flipping halfway through. Cook jalapenos for 8 minutes, flipping halfway through. Cook bacon for 6-8 minutes, flipping halfway through until crispy.

While the corn is grilling, make the dressing. Add all the dressing ingredients into a jar and shake to combine. You could also whisk everything in a bowl.

Once corn, jalapenos and bacon are done remove them from the grill. Chop the bacon and jalapenos. To slice the corn off the cob, grab a large bowl and small bowl. Place the small bowl upside down inside the large bowl. Place th flat side of the corn on the small bowl and carefully slice the corn of the cob. Stir together the corn, bacon, jalapenos and queso fresco. Drizzle in half the dressing and toss to coat. Taste and add more dressing if desired.
Processing…
Success! You're on the list.
Whoops! There was an error and we couldn't process your subscription. Please reload the page and try again.