Thai Sweet Chili Brussels Sprouts, roasted in the oven with a sweet, salty sauce, make a delicious Thanksgiving side dish. If you are on the fence about brussels sprouts, these will totally change your mind.


Ok, I know there is a big debate out there about brussels sprouts. People seem to either love them or hate them. Where do you land my friends?
I have to admit, I had never even eaten brussels sprouts until a few years ago. I had the perception of them being slimy, smelly, mushy and just generally disgusting.
Then I had roasted brussels sprouts and realized how much I've missed out on all these years. Like, how are they so good? They get so brown and crispy and that caramelization brings out a flavor similar to roasted broccoli. And I think we all know by now that the best way to eat broccoli is by roasting it.


I still can't get the rest of my family on board with roasted brussels sprouts so we're a house divided. But not having to share is definitely a perk.
Around the holidays, roasted brussels sprouts with bacon go bananas all over the internet. Everything is better with bacon buuuut I wanted to add something a little different to the table this Thanksgiving.
There's an adorable bistro here in town that has the most amazing Asian roasted brussels sprouts on their appetizer menu and I shared them with a group of friends about a year ago when we went out for a girls night.


I still think about them often. That obviously means a copycat version is completely necessary. And what better time than the holidays and brussels sprout season.
The brussels start by getting tossed in oil and roasted in a hot toasty oven. During the initial roast of the brussels sprouts, a simple 4-ingredient Asian sauce gets whisked together. The sauce gets drizzled over the partially roasted brussels then they are roasted another 5 to 10 minutes until tender on the inside and crispy, caramelized on the outside.
Then you eat them by the forkfuls because they are THAT good. I do have to tell you that roasted brussels sprouts can really stink up your house so be ready to crack the windows or burn some candles. Like we really need an excuse to light up a holiday candle?!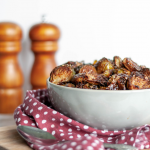 Print
Sweet Thai Chili Brussels Sprouts
Thai Sweet Chili Brussels Sprouts are going to be your new favorite Thanksgiving side dish. Roasted in the oven to crispy, sweet perfection.
Ingredients
1

lb.

brussels sprouts, cut in half lengthwise

2

Tbsp.

avocado oil (or vegetable oil)

1/2

tsp.

kosher salt

1/4

tsp.

pepper
For the Sweet Thai Chili Sauce:
3

Tbsp.

sweet Thai chili sauce

1

Tbsp.

soy sauce

1/2

tsp.

sesame oil

1

tsp.

sesame seeds
Instructions
Preheat the oven to 400 degrees F. Toss the brussels sprouts with oil, salt and pepper. Spread in an even, single layer on a large baking sheet. Bake for 20 minutes, flip and bake another 15 minutes.

Meanwhile, whisk together all the sauce ingredients. Remove the brussels sprouts from the oven and drizzle them with the sauce. Stir to coat. Return to the oven for another 5 to 10 minutes, until browned and crispy.
Subscribe to our mailing list