Sweet bite size Mini Pecan Pies are an absolute must this Thanksgiving. Skip the big pie for these quick and simple to make minis.
*Update: photos and text have been updated since the original posting date in 2011. The recipe has not been altered.


I first shared these adorable little Mini Pecan Pies back in November 2011 during my 12 Weeks of Christmas Cookies/Goodies series I was doing. I shared one sweet treat every week for the 12 weeks leading up to Christmas. Side note: I should totally bring that back.
These Mini Pecan Pies have been a family favorite and Thanksgiving dessert staple since I was a kid. They are my brothers favorite and always what he requests for the holidays. And I'm definitely not mad about it.
I don't know how dessert happens at your house but for us each person had a different favorite and each favorite gets made. Holiday dessert at my house is epic.


Is it a bit excessive? Maybe. But holiday traditions must live on. I do admit, a few of us usually agree on something pumpkin while the rest go on with their choices so there ends up being about 5 or 6 dessert options for 15-ish people. Totally acceptable in my book.
And should these Mini Pecan Pies even count towards the tally? They are so cute and poppable that you don't eat just one and call it good on dessert. You have one or two plus a little slice of something else. So you NEED variety.
There are a few things that I really love about these little guys:
They are easy to make.
They only take 20 minutes to bake verses the hour or so a traditional pecan pie takes.
They don't have any corn syrup in them.
Like I said before, they are so small you can totally get away with eating two desserts.
They disappear quickly so you don't eat them all the next day for breakfast.
I don't know about you, but I have never been able to make a big, beautiful pie crust happen. They taste good but the edges are always a sight to be seen. Because of this I've always steered clear of homemade pie.


But with these minis all you have to do is whiz up the crust in a food processor, roll them into 24 equal sized balls and press them into a mini muffin tin. I swear by this mini tart shaper for this step. It's not a necessity but I makes it so much easier and they turn out perfect every time.
The dough takes maybe 10 minutes to make and press into the pan. The filling is simply mixed up in a small bowl and added to the prepared crusts. Less than 20 minutes of prep. And only 20 minutes of baking time.
After making and photographing these last week I ate one and sent the rest with Joel to work the next morning. They are just so easy to eat that I can't seem to control myself.


The recipe makes 24 mini pecan pies and the recipe can be easily doubled if you're having a big gathering.
I love adding these to my Christmas cookie trays I hand out to friends, family and neighbors too.
Whether you're enjoying these on Thanksgiving or Christmas, these are sure to become a holiday favorite.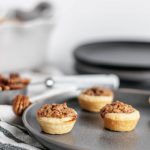 Print
Mini Pecan Pies
Mini Pecan Pies are a simple and totally delicious option for dessert this Thanksgiving. Quick homemade crust and sweet pecan filling.
Ingredients
For the Crust:
1

stick

butter, room temperature

3

oz.

cream cheese, room temperature

1

cup

all-purpose flour
For the Filling:
1

large

egg, slightly beaten

3/4

cup

dark brown sugar

1

tsp.

melted butter

1

cup

finely chopped pecans

1

tsp.

vanilla extract
Instructions
For the crust: cream butter and cream cheese then mix in flour. Make 24 balls from the dough and press in mini muffin tin.

Stir together filling ingredients. Evenly fill dough cups. Bake at 350 degrees F for about 20 minutes.

Subscribe to our mailing list