Apple Cider Glazed Turkey Breast is a delicious option if you're hosting a small Thanksgiving gathering. Sweet, spiced, syrupy apple cider glaze coats this moist and flavorful bird.


It's almost turkey time and I don't know about you but I'm so ready for it. Today's post is focusing on that glorious Thanksgiving main, turkey.
We always travel for Thanksgiving so I've never been the one making the turkey but rather running assistance on sides and desserts. Because of that, I don't really have any experience in doing the whole roast the giant turkey thing.
Instead, I usually share some smaller scale main dish options here. Especially since there are SO many ways out there to roast a turkey. This has been my favorite one I've shared but the crown may be stolen with today's recipe.


If you're having a small group of people over for Thanksgiving you may not want to cook that big 20 pound turkey but still want to have that awe factor of roasting and carving a turkey. Well, don't worry my friends because I've got you covered.
This recipe starts with a bone-in turkey breast which usually clocks in around 5 pounds. So not only is it perfect for a small crowd but it cooks incredibly fast too.
I rubbed the turkey with lots of garlic herb butter to start off with a big punch of flavor as it starts to roast.


While it's roasting for the first half of the cooking time, we make a super simple 3-ingredient glaze out of apple cider, honey and ground cloves. It's simmered down until thickened and syrupy then it gets brushed onto the turkey every 10 minutes during the last half hour or so of roasting.
Let's talk about the actual roasting of this little guy too. I'm a big proponent of using a meat thermometer rather than just giving an amount of time to roast. Different ovens, slightly different size turkeys and so much more can affect how long a turkey should be cooked.
If you just depend on times alone, you can end up with a raw or overcooked turkey. I love this thermometer because it has a long wire attached to the probe which allows you to attach the temperature reader to the oven and it even has an alarm that will go off when the desired temperature has been reached. It makes cooking turkey to perfection a no-brainer.
I use it on any kind of meat I'm cooking in the oven or even the grill so it will definitely pay for itself quickly.


Because meat and poultry continue to cook after they been removed from the oven, the directions state to cook the turkey to 155 degrees F. After allowing a 15 minute rest, it will be at the perfect, juicy temperature of 165 degrees.
Between all the herby goodness and the sweet, spiced glaze this turkey is absolutely bursting with flavor. The skin browns because of the butter which makes it so pretty for presentation.
If you're looking for a small scale show stopper this Thanksgiving, give this turkey a try.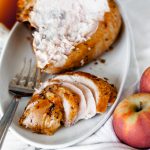 Print
Apple Cider Glazed Turkey Breast
Apple Cider Glazed Turkey Breast is a great option for a small scale Thanksgiving meal. You still get the awe factor roasting and carving a turkey but on a much small and more manageable scale. Sweet, syrupy, spiced glaze brings the flavor.
Ingredients
5

lb.

bone-in turkey breast

1

apple, sliced

1

onion, sliced

1

celery stalk, cut in 2-inch chunks

1

carrot, cut in 2-inch chunks

2

Tbsp.

butter, softened

1/2

tsp.

kosher salt

1/4

tsp.

pepper

1/2

tsp.

dried thyme

1/2

tsp.

dried rosemary

2

cloves

garlic, grated
For the Apple Cider Glaze:
1 1/2

cups

apple cider

3

Tbsp.

honey

1/4

tsp.

ground cloves
Instructions
Preheat oven to 325 degrees F. Line the bottom of a roasting pan with foil. Place roasting rack in roasting pan.

Pat the turkey breast dry and place in prepared pan. Stuff apple, onion, celery and carrots into the turkey. In a small bowl, mix together softened butter, salt, pepper, thyme, rosemary and garlic. Spread all over the turkey.

Place turkey in the oven and roast for 45 minutes. Meanwhile, prepare the apple cider glaze.

Place apple cider, honey and cloves in a small saucepan over medium heat. Whisk together and simmer until thickened slightly and reduced to 1/2 cup, about 10-15 minutes.

After the 45 minutes, baste turkey with the apple cider glaze. Insert an oven safe meat thermometer into the turkey. Baste turkey with glaze every 10 minutes until the turkey reaches the internal temperature of 155 degrees F. This will take about 30 to 40 minutes more. Once turkey reaches 155 degrees, remove from the oven and allow to rest for 15 minutes before slicing.
Subscribe to our mailing list