Crispy Zucchini Fries with Dill Feta Dip are oven baked to crispy perfection. A super simple and healthy side dish perfect for weeknights.


I've been trying to clean up my eating after a summer of vacations and birthdays and lazing about the house that resulted in lots of bad food choices. Summer is hard guys.
That means introducing back more vegetables, cooking at home more often and limiting the sweet treats in the pantry. Repeat after me, we can do hard things.
But sometimes after having chips around 24/7 you crave that crispy, crunchy texture that you don't usually get with healthy food. Sure, raw veggies are crunchy and that helps but I want the salty, carby crunch without totally destroying my progress.
And that brings us to oven baked things. You know how people always claim such and such gets super crispy and you won't even miss it being fried. You also probably know that's a complete lie and trickery.


I've tried my fair share of oven fried recipes and I just never get the results I'm craving. That's not to say the oven fried version is bad or unsuccessful but it's just not going to taste like the real deal deep fried version.
But when you really want that crispy coating without frying something in oil, your best friend is going to be panko bread crumbs. Buy them. Know them. Use them. They are a Japanese style bread crumb that you can find in any grocery store in the regular bread crumb aisle. They are bigger than the traditional bread crumb and so much crispier. They add amazing crunch to any recipe and when they are baked in the oven they get even better.
These zucchini fries are first dipped in egg then coated generously with spiced panko bread crumbs before hitting the hot oven. Another trick to getting something crispier in the oven is misting it in olive oil spray before baking.
Once baked, they come out crisp on the exterior and soft (but not mushy) on the interior.
I one hundred percent believe every good fry needs a yummy dip. I obviously wanted to keep this recipe relatively healthy so the base of the dip is plain Greek yogurt which is low in calories and has lots of protein. It's jazzed up with lemon juice, fresh dill and crumbled feta for a super flavorful Greek spin.
Dip also helps entice kids into eating zucchini fries. I'm no amateur in the tricking your kids into eating vegetable game.


Do I sometimes just want some crispy, salty fries? Sure. But I also love zucchini so these crispy zucchini fries are pretty satisfying too.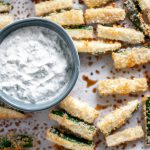 Print
Crispy Zucchini Fries with Dill Feta Dip
Ingredients
For the Zucchini Fries:
1

large

zucchini (1 pound)

1

large

egg

1

cup

panko bread crumbs

1/2

tsp.

kosher salt

1/4

tsp.

pepper

1/2

tsp.

onion powder

1/2

tsp.

garlic powder

Olive oil spray
For the Dill Feta Dip:
1

(5.3)

plain Greek yogurt

1

clove

garlic, grated

1/2

lemon, juiced

1/4

cup

crumbled feta cheese

2

Tbsp.

fresh dill

1/4

tsp.

kosher salt
Instructions
Preheat oven to 425 degrees F. Line a baking sheet with parchment paper and spray with olive oil spray (this helps the bottom of the fries get crispy). Cut ends off zucchini and cut into three even size chunks. Slice those pieces into 1/2-inch fries.

In a shallow bowl, whisk egg. In another shallow bowl/dish mix together panko bread crumbs, salt, pepper, onion powder and garlic powder.

Dip zucchini into egg mixture then roll in panko. Place on the prepared baking sheet. Once all zucchini has been coated, spray generously with olive oil spray. Bake for 20 minutes, until golden and crispy.

While the zucchini fries are baking prepare the dip. Combine all ingredients in a small bowl and mix until combined. Refrigerate until ready to use.
Subscribe to our mailing list