When you're craving that homemade classic but don't quite have the time, whip up these Lasagna Roll Ups. All the flavors of traditional lasagna with a lot more whimsy.
**Update: The photos and recipe have been updated since the original posting date in 2011. The photos were hard to look at, the text has been updated to better reflect my voice and I have changed the recipe a bit to make it even simpler to prepare. Enjoy this new and improved post!


You know those times when you ask your husband what sounds good for dinner next week and he always responds with lasagna? And you always respond with a little side eye and "I don't have time for that." That happens on the regular around here.
We LOVE a good lasagna and I was taught by the master lasagna maker (aka my mom) how to do it RIGHT. Homemade sauce, homemade ricotta, we go all out. It's one of my very favorite things in life. But on a weekday there is just no way that is going to happen. And even weekends are busy these days so needless to say, lasagna is usually a very special occasion kind of meal around here.
But then you kind of get feeling bad and know there is a way you can get all those delicious flavors of lasagna together and not have it take a half day to make the darn thing.
That's where these little beauts come in. The same ingredients (albeit store bought which is totally ok in my book) in a much simpler and whimsical presentation.


The filling is a delicious mixture of ricotta cheese, mozzarella cheese (because two cheese is always better than one), egg, basil, cooked ground beef and Italian sausage. The sausage is a game changer in this mixture and any lasagna in my opinion.
All that delicious, cheesy, meaty filling gets rolled up in lasagna noodles. And let's talk about those noodles for a sec. Nobody wants a mushy noodle so make sure to cook them a few minutes less than the package directions. That way you can still roll them and they will cook to al dente perfection in the oven.
Once the lasagna roll ups are nestled up in the baking dish you top them with your desired amount of sauce, more mozzarella cheese of course and they get baked to golden gooey perfection.
I love that you can get all those classic lasagna flavors in about 45 minutes.


Bonus: they freeze well so make an extra batch, wrap it tightly in foil and freeze for a busy night. Or make them for your friend or family member that just had a baby, had a loss, is having a hard day. It only takes a few extra minutes to roll up 8 extras so take advantage of the opportunity to knock out another dinner.
Happy lasagna rolling my friends!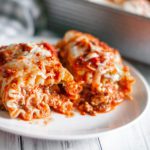 Print
Lasagna Roll Ups
When you want lasagna but don't have time for the whole process, make these Lasagna Roll Ups. Quick to prepare with a fun whimsy to them.
Ingredients
8

lasagna noodles, cooked 2 minutes less than package directions

1/2

lb.

ground beef

2

Italian sausage links, casing removed

1

(15 oz.)

container ricotta cheese

1

large

egg

2

cups

shredded mozzarella, divided

1

tsp.

dried basil

1

jar

spaghetti sauce
Instructions
Preheat oven to 350 degrees. Meanwhile, cook lasagna noodles 2 minutes less than package directions (they will continue to cook when baking in the oven).

While the noodles are boiling, heat a large skillet over medium heat. Add ground beef and Italian sausage and break up with a wooden spoon. Cook until no longer pink. Drain excess grease and set aside.

In a medium bowl, mix together ricotta, egg, 1 cup of shredded mozzarella and basil. Mix ground beef mixture into the ricotta.

Spread half a cup of the spaghetti sauce in the bottom of a 9x9 pan.

Lay out lasagna noodles on a flat surface. Divide ricotta mixture evenly among the noodles. Spread out over the noodles and roll them up. Place in the prepared baking dish, seam side down. Pour desired amount of sauce over the lasagna roll ups. Top with remaining cup of cheese. Cover loosely with foil and bake for 25 minutes. Remove the foil and bake another 10 minutes. If desired, turn on broiler to get the cheese golden and bubbly. Watch very closely as it can burn quickly.
Subscribe to our mailing list