If you're looking to shake up your breakfast routine, try out a Peach Cobbler Smoothie. They are hearty, filling and taste like you're sipping on dessert.


I went through a major smoothie kick last year where I was having one for breakfast every single morning for months on end. I would make different varieties throughout the week to keep things interesting and I was totally into it. Until I wasn't.
I usually get burnt out on food pretty quickly so a few months was quite a run for me. I'm trying to get back on the smoothie train since I'm not a big fan of fruit on its own (weird, I know) but should probably be eating some here and there, you know, for my health.
And what better way to get excited about food than to present it in a different way or with a new flavor profile. A dessert flavor profile will always win. Am I right?!
That, my friends, is how the Peach Cobbler Smoothie came to be created. It's packed full of sweet peaches, oats to keep you full and provide that crumbly biscuit flavor profile from the top of the cobbler along with cinnamon and vanilla to bring in those warm, comforting flavors.
I hope you like a thick, creamy smoothie because that's what this smoothie is all about. The oats really thicken up the smoothie and make it so much heartier and filling. They add a little texture too which makes it feel more dessert-like to me.
If you've never added oats to your smoothies before it might sound odd but trust me on this one. It makes a crazy, delicious difference.
If you prefer a thin smoothie, feel free to add a little more milk of your choice. I won't be mad about it. I feel more full and satisfied when it takes me a little time to drink it all so I always stick with a smoothie on the thicker side. Is that weird? Probably, but carry on.
As with all the smoothie that I share here, this one is a super simple dump and blend recipe. No extra planning necessary. No weird ingredients. Straightforward and delicious.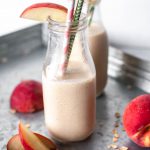 Print
Peach Cobbler Smoothie
Ingredients
1/4

cup

old-fashioned oats

1

cup

milk

1/8

tsp.

cinnamon

1/2

tsp.

vanilla extract

2

Tbsp.

chopped walnuts

1/4

cup

vanilla yogurt

1 1/4

cups

frozen peaches
Instructions
Place all ingredients in a blender. Blend until smooth and fully combined. Add more milk if you want a thinner smoothie.