These 4 ingredient cheese stuffed breadsticks are the perfect addition to ANY meal. Gooey cheese and carbs galore.


Guyyyys. I just can't even with today's recipe. That cheese pull is all you need in life. Am I right?!
We recently bought some cheese stuffed breadsticks from the freezer section to have with our spaghetti instead of the traditional garlic bread. The kids spied them at the store and it made my life easier that night so we grabbed them and were on our way. And as yummy as the store-bought version was, I knew I could make something way tastier at home without too much extra effort.
The best thing about these breadsticks is that you only need 4 simple to find ingredients. Store bought pizza dough, string cheese, butter and garlic salt are all you need to whip up these cheese stuffed breadsticks. You might even have those ingredients in your refrigerator already.
You can use whatever store-bought pizza dough you prefer but Trader Joe's pizza dough is my favorite option out there. It's super easy to work with and more flavorful than the other options I've tried. Of course any dough will work so use what is available to you.


My first test of this recipe was a big fat fail. I wanted the dough to be twisted around the string cheese so that they were a little prettier. All the cheese oozed out of the dough as they baked and made a huge mess. When I shoved the cheese back into the breadsticks they tasted yummy but that obviously isn't a successful recipe. We still ate them though. No way are bread and cheese getting wasted in this house.
The second go around was much more successful. I mean, look at that cheese pull. You know things are right in the world when that hits your dinner plate.
The key to success with these breadsticks is ensuring there is enough dough to completely cover the string cheese and that the dough is sealed around it. First you'll have to roll out the dough and lay out your string cheese. I used a pizza cutter to cut an inch border around the string cheese.


Then, wet the edges of the dough with a little water and pinch them tightly together. Then double check it. Otherwise, you will end up with an oozy, ugly mess.
Follow those simple steps and you too can have that crazy, delicious cheese pull.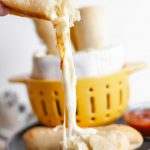 Print
Cheese Stuffed Breadsticks
Cheese Stuffed Breadsticks are the perfect addition to your pasta or soup this fall. Ooey gooey cheese inside delicious pizza dough. Perfect for dipping.
Ingredients
1

lb.

pizza dough, store-bought

Flour for dusting

8

string cheese, unwrapped

2

Tbsp.

unsalted butter, melted

1

tsp.

garlic salt

pizza sauce, for dipping
Instructions
Preheat oven to 425 degrees F. Line a large baking sheet with parchment paper. Set aside.

Dust a clean surface with flour. Roll out pizza dough to 1/4-inch thickness. Lay string cheese on the dough and cut around them with a 1-inch boarder on each side.

Fold up both end of the dough. Fold a long side up. Brush last side with water and fold up to seal the breadstick closed. Make sure to seal and pinch the edges together or the cheese will ooze out of the breadsticks. Place seam side down on the prepared baking sheet.

Mix together melted butter and garlic salt together in a small bowl. Brush over the breadsticks. Bake for 15 minutes, until slightly golden.
Subscribe to our mailing list