No more need for Chinese takeout. With this super simple Black Pepper Chicken you will save money and calories.
What's your go-to takeout food when you've had a day and don't feel like cooking? For me, it's always Chinese food. Everybody in our family likes it and there are so many choices. Plus, it's at the top of the list when it comes to comfort foods. And if it's been that kind of day, that's exactly what I need.

After moving across town a few months ago we had to find a new Chinese place to frequent. Because everyone needs a Chinese takeout spot in their back pocket. Anyway, we tried the closest place we could find and I ordered something our old favorite place didn't have on their menu, Black Pepper Chicken.
Those that know me well know I love black pepper. On everything. I've been told many times that it's weird to crack black pepper on my spaghetti but you don't know my life. And I'll do it if I please.
That being said, there wasn't really a question that I wouldn't try the Black Pepper Chicken and it's now one of my favorite things in life. So much so that I needed to create my own version at home so I could have it when I couldn't find an excuse not to cook.
Create Your Own Takeout
This cooks up quickly and similarly to a stir fry. The part that probably takes the longest is the prep work of dicing the chicken and vegetables. Once everything is chopped and ready, it will only take 10 minutes to bring it all together.

That's less time than it takes one way to drive to our takeout place.
Sometimes Chinese food can be daunting because of the ingredient list but this one is pretty minimal and doesn't require anything unusual that you wouldn't be able to find in the ethnic aisle at any grocery store. Sesame oil is the only somewhat uncommon ingredient but if you cook Asian food often it will already be in your pantry.
Keeping your pantry and refrigerator stocked with Asian staples such as sesame oil, soy sauce, sriracha and rice wine vinegar will create so many opportunities for flavor and variety.

As the name gives away, this dish is super peppery so if that's not your jam you probably won't dig this one. You can definitely decrease the amount of pepper if you're serving this to your kids. Hannah loved it the way the recipe is written but she likes spicy more than the average 4 year old. A girl after my own heart.
So next time you're craving Chinese food but don't want to go out, whip up this super simple Black Pepper Chicken.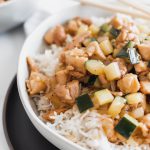 Print
Black Pepper Chicken
Ingredients
2

Tbsp.

canola oil

2.5

lbs. (about 4 large)

boneless skinless chicken breasts or thighs, dice into 1/2-inch pieces

1

medium

yellow onion, diced

1

large

zucchini, diced into 1/2-inch pieces
For the sauce:
6

Tbsp.

soy sauce

3

Tbsp.

rice wine vinegar

2

Tbsp.

sesame oil

1

Tbsp.

brown sugar

1

clove

garlic, minced

1

tsp.

fresh grated ginger

1/2

Tbsp.

coarse black pepper

2

Tbsp.

cornstarch
Instructions
Heat a large skillet or wok over high heat. Add canola oil then saute chicken for 4 minutes. Add onions and zucchini and cook another 3 minutes, until everything is golden brown.

Meanwhile, in a bowl, combine all the sauce ingredients. Pour sauce over the chicken and vegetables. Cook for 1 minute, stirring the whole time, to thicken the sauce.