This Everything Bagel Dip is a creamy, everything spiced dip that tastes just like your morning bagel. Perfect for all those upcoming football watch parties.


Where are my bagel lovers at? Specifically everything bagels. It's pretty much the only bagel worth eating in my opinion.
If you love a) cream cheese b) all those delicious everything spices c) ridiculously easy recipes using super common ingredients d) dips that taste amazingly delicious with both carby things and vegetables then you are in luck my friend. Because that is what I'm bringing you today.
I've never met a person who didn't like dip and I'm pretty sure it's not going to happen. There's just nothing to hate about it. Dips usually involve some kind of crunchy, salty vehicle to get it to your mouth and I'm all about that. And they can sometimes double as an actual meal without too much judgement.
Ok, so maybe you're judging me but I don't really care. Just living my best life over here.


It's socially acceptable for dip to be a part of your lunch or dinner but I couldn't really think of a dip appropriate at breakfast. I mean, there's condiments that you use as dip, like salsa, that you can put on your breakfast food but not really something you dunk specifically into said dip. But this Everything Bagel Dip kind of takes you there. And I'm here for all of it.
Dip that is acceptable any time of the day is what life is all about.
I need to tell you how easy this Everything Bagel Dip is to make. The ingredients are minimal. The prep time is literally a minute. It's cream cheese, sour cream and the spices that go on an everything bagel. Guys, that's it. You mix everything together and put it in the fridge to firm up a bit. AND YOU'RE DONE.
If you want to make it even simpler, you can use the everything bagel spice blend from Trader Joe's. In the recipe I did include the individual spices for those that may not be near a Trader Joe's though. I used to be one of those people and it was so sad seeing all the delicious products I couldn't get my hands on. I feel for you. If you want to use the store-bought blend to make it even easier, use about 4 tablespoons.


I thought I would like this dip the most on the buttery, toasted bagels but I have to tell you I really like it with the carrots and cucumbers. I mean, I still liked the bagel pieces but I enjoyed the vegetables just as much.
I'll be keeping this dip on my list for the upcoming football season. I love that it would be great for a night game or added to a brunch spread for those 11 am games too. Multipurpose dip at its finest.
If you want to make homemade bagel chips, this is the recipe I used and they turned out delicious. I did use mini bagels and just sliced each bagel half into fourths then proceeded with the recipe, baking about 2 minutes more per side then the recipe states. This made for a slightly chewier bagel dipper that was more like a bagel you toasted than a crunchy chip. Either way would be delicious with this creamy, flavorful dip.
Now that we've upped our appetizer and brunch game, football season may commence.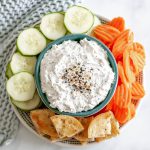 Print
Everything Bagel Dip
Ingredients
8

oz.

cream cheese, at room temperature

1/2

cup

sour cream

1

Tbsp.

sesame seeds

1

Tbsp.

poppy seeds

1

Tbsp.

minced dehydrated onion

1

Tbsp.

minced dehydrated garlic

1

tsp.

kosher salt

Carrots, cucumbers, peppers, bagel chips
Instructions
In a food processor, combine cream cheese and sour cream. Mix until completely smooth and combined. If you don't have a food processor you can do this by hand, just be sure to stir until all the clumps are gone.

Mix in sesame seeds, poppy seeds, onion, garlic and kosher salt by hand. Place into a serving bowl, cover and refrigerate until serving. Serve with desired dippers.