Sometimes the milk left at the bottom of your cereal bowl is better than the cereal itself, right?! Today, I took that delicious milk and turned it into a crazy good dessert, Cereal Milk Ice Cream. You're welcome.
I have a confession to make and you guys need to stick with me. I've never really like cereal. I don't dig soggy food and I could just never eat cereal fast enough for it to not get gross and mushy. Needless to say, I was a pleasure to feed breakfast to each morning as a child (insert eye roll emoji and apology to parents here).

I still don't eat cereal if that makes you feel better mom.
You know what I do eat though. Ice cream. Probably too much but let's not talk about that right now.
This Cereal Milk Ice Cream idea came to me this past winter (go figure) and I've just been waiting for warm weather to create and share it with you all. And what better time than National Ice Cream Month, aka the best month ever. I would be doing you a disservice otherwise.

I do buy a lot of cereal for the rest of my clan though and their favorite weekend cereal (because they aren't allowed the sugary stuff on weekdays) is Cinnamon Toast Crunch. It's also one that I enjoy dry handfuls of occasionally. So naturally, I decided that sugary, cinnamony goodness would be the best base for our Cereal Milk Ice Cream.
You can use what you love and what you have. I wouldn't be mad about Lucky Charms or Cap'n Crunch or Fruity Pebbles Cereal Milk Ice Cream. I would be mad about a Grape Nuts situation though so don't tell me if you do that.
This cereal tastes just like the name says, like the milk at the end of your bowl of cereal. I decided to keep it really smooth and rich and creamy by infusing the half and half with the cereal then straining it out before churning it in the ice cream machine. If you want some crunch and texture, you could stir in some cereal after it churns but we really liked the simplicity of it without the addition of actual cereal pieces.

The flavor will obviously change depending on what type of cereal you choose to use. You do you.
It's perfect for those that enjoy a bowl of cereal late at night. Because what's better than a bowl of cereal? A bowl of ice cream that tastes like your favorite cereal.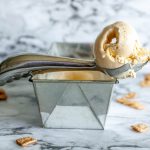 Print
Cereal Milk Ice Cream
Ingredients
1

cup

granulated sugar

6

large

egg yolks

1/4

tsp.

kosher salt

1 1/2

cups

half and half

1

cup

cereal, use your favorite

1

cup

heavy cream

1/2

Tbsp.

vanilla extract
Instructions
In a large bowl, whisk together sugar and egg yolks until thickened and pale yellow. Set aside.

Add the half and half and cereal to a medium saucepan. Place over medium-low heat and bring to a simmer. Cook at just a simmer for 15 minutes, stirring often. Pour through a fine mesh strainer into a clean bowl.

Slowly whisk the strained hot half and half mixture into the egg mixture. Once completely combined add back to the saucepan and place over low heat. Stir constantly until thickened and the mixture will coat the back of a spoon. Strain mixture again into a clean bowl. Cover with plastic wrap and allow to cool at least 3 hours.

Once cooled, stir in the heavy cream and vanilla extract. Place in refrigerator until completely chilled, preferably overnight. Stir then freeze according to your ice cream machine directions.