If you're looking for a refreshing summer drink, try this Mint Lemonade. It's tart, slightly sweet with a little punch of mint. Perfect for a hot, humid day.
We only have a few weeks of summer left around here which is completely hard to believe. I think it may have been the fastest summer yet with long vacations, family events and lots more keeping us busy. Which is also why I've been kind of MIA around here. It's really hard to get any recipe development done when you aren't home.
I've been struggling with inspiration too. I'm just kind of in a food rut and dang it I need to get it together.
Luckily, our long Costa Rican vacation provided me with lots of inspiration and flavor profiles to play with when we returned home. This Mint Lemonade is the first one I had to recreate.
There was mint lemonade everywhere we went in Costa Rica and it looked like this.
That's a crazy amount of mint friends.
It was slightly slushy and sooo tart and minty. I liked it but didn't love it since the mint was a little overpowering for me (and guys, I love me some mint). But I did like the combination of flavors and knew I would love it in a more subtle way.


So instead of throwing the mint in the blender with the lemon juice like I had there, I made a super easy mint infused simple syrup to stir into the homemade lemonade. It was the right decision my friends. It was the perfect little addition to the lemonade.
Making a simple syrup instead of just stirring in sugar ensures that the sugar dissolves and isn't gritty. It takes a little more time but the step is definitely worth it for any lemonade, tea or mixed drink you are making.
The mint flavor doesn't punch you in the face but it's definitely there and plays nicely with the tart lemons. We may have drunk the whole batch in a single day with me doing most of the damage. I just love an ice cold glass of lemonade on a hot summer day.


And I also feel obligated to tell you that a little splash of vodka doesn't hurt either. You're welcome. Byeeee.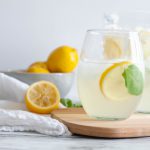 Print
Mint Lemonade
Ingredients
For the Mint Simple Syrup:
3/4

cup

granulated sugar

3/4

cup

water

4

sprigs

mint
For the Lemonade:
1

cup

fresh lemon juice

3

cups

cold water

Thinly sliced lemons, for garnish

Additional mint, for garnish
Instructions
In a medium saucepan combine granulated sugar and water. Bring to a simmer and cook until sugar is dissolved. Remove from heat and add mint sprigs. Stir until it wilts and is covered by the sugar water mixture. Cover the pan and allow to sit for 20 minutes. Strain mint leaves out of syrup and refrigerate until cold.

Meanwhile, combine lemon juice and water in a pitcher. Stir in chilled mint simple syrup. Add lots of ice, lemon slices and mint then serve.