If you're looking for a sweet, salty, chewy, slightly crunchy dessert I've got you covered with these All the Things Chocolate Chip Cookies. They are packed with all kinds of goodies that will satisfy that sweet and salty craving. 
This post may contain affiliate links. For more information, please read my disclosure policy.
Last week was birthday week at our house. My grandma is the 17th, I'm the 18th and Noah is the 19th. So, needless to say, it was crazy busy and filled with so much sugar. SO.MUCH.SUGAR.
We also had Noah's art birthday party on Saturday with, you guessed it, more sugar. I had a whole Pinterest board filled with adorable art inspired cakes but that kid is creative and thinks of ideas and creations on his own then there is no way to change his mind.
Which is how the chocolate cake with white buttercream frosting, covered in nerds candy came to be. It wasn't my favorite but he thought the nerds would make it look like tie-dye and since we were tie-dying shirts with his friends it was just the way it had to be.
It was a weird combination ya'll but the whole thing got eaten. The kids ate every last bite they were given and the grownups scraped off the nerds and called it good. 
So I'm obviously on a sick, demented sugar high and thought I should share All the Things Chocolate Chip Cookies with you so you can go ahead and join me. What are friends for, right?!
First things first, let's talk about what things go into these cookies. They are packed full of dark chocolate chunks, peanut butter chips, crushed corn flakes, toasted coconut, old-fashioned oats and toasted pecans. The combination is sweet, salty, crunchy and chewy and all things are right in the world.
But friends, you do you. Do you have a little bit of Golden Grahams in the bottom of the box? Add those instead of the corn flakes. Pretzels? Yasssss. Butterscotch instead of peanut butter chips? Dooooo it.
The only thing I really recommend keeping is the dark chocolate because the slight bitterness of it helps balance out the other sweet ingredients. Honestly though, any kinds of mix ins are going to be delicious so make it to your taste with what you have in your pantry.
I do love this combination though so if you have all those things, you should give it a try. You're not going to be disappointed with this crazy good cookie.
And I mean, look at that little hand. You can't even be mad because how can you resist?!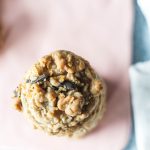 Print
All the Things Chocolate Chip Cookies
Ingredients
1

cup

shortening

1/2

cup

butter, room temperature

2

Tbsp.

canola oil

1 1/2

cups

brown sugar

1/2

cup

granulated sugar

2

large

eggs, room temperature

1

Tbsp.

vanilla extract

4

cups

all-purpose flour

2

Tbsp.

cornstarch

2

tsp.

baking powder

1

tsp.

kosher salt

1/2

cup

toasted coconut

1/2

cup

old-fashioned oats

1/2

cup

toasted pecans

1/2

cup

peanut butter chips

1

cup

dark chocolate chunks

1

cup

crushed cornflakes
Instructions
Preheat oven to 350 degrees. Line several baking sheets with parchment paper. Set aside.

In the bowl of a stand mixer, cream together the shortening, butter and oil until smooth. Add sugars and beat for 2 minutes, until light and fluffy. Add eggs, incorporating one at a time. Mix in vanilla.

In a separate bowl, combine the flour, cornstarch, baking powder and kosher salt. Slowly add to the creamed mixture until just combined, scraping the sides of the bowl when needed.

Mix in the remaining ingredients by hand. Scoop onto prepared baking sheets using a standard cookie scoop. Bake for 9 to 11 minutes, until just set and barely golden on the edges. Allow to cool for 2 minutes on the pan then remove to a rack to cool completely.
Processing…
Success! You're on the list.
Whoops! There was an error and we couldn't process your subscription. Please reload the page and try again.