A classic American dish and a favorite flavor combine into one crazy delicious side dish. Buffalo Chicken Coleslaw is super creamy, slightly spicy and tangy and perfect for your next summer potluck.
This post may contain affiliate links. For more information, please read my disclosure policy.
Has summer gone by crazy fast for you all or is it just me? School starts in less than a month here and I'm still in denial about it. Must fit in all the pool days.
Today I'm sharing my new favorite summer side dish, potluck contribution, Tuesday night dinner. Whatever you want to call it, whenever you make it and wherever you take it, this Buffalo Chicken Coleslaw is sure to be a hit. 
All the Buffalo Things
If you all have been around for awhile, you know I'm obsessed with all things buffalo and I'll try turning anything buffalo flavored. The evidence lives here in these Buffalo Fries, Buffalo Popcorn, Sheet Pan Buffalo Chicken and Veggies and Buffalo Chicken Meatballs.
My buffalo experiments haven't fail me yet which to me means you really can't go wrong when adding buffalo sauce. Buffalo all the things.
So that of course is where this Buffalo Chicken Coleslaw comes in. This idea popped into my head in the depths of winter.
You know, when you get to that point of not being able to eat anymore casserole, baked, heavy thing again and all you want is something cool and refreshing. So, I added it to my document I keep going with all my recipe ideas and held on to it for warmer weather. 
All the Flavor
Well, it's time friends. I'm normally a fan of a sweeter coleslaw but this spicy buffalo version has me changing my mind. It's not overwhelmingly spicy since the hot sauce is balanced out with ranch.
And before we get into the ranch or blue cheese debate, there is also blue cheese crumbles folded in there so everybody will be happy. And if you're in the ranch camp, just leave them out. As a fan of blue cheese though, I love the sharp bite they add to the dish.
The other necessary sides with buffalo, carrots and celery, also make an appearance. I buy the coleslaw mix that already has carrots so that's all done for you. If you slice your own cabbage, add a few shredded carrots to the mix. A stalk of celery gets shredded and mixed in too.
There's also big chunks of shredded chicken (I use rotisserie chicken as a cheat) to make it more filling and hearty. Basically, just sit down with the bowl and you're good to go for dinner.
More Buffalo Favorites: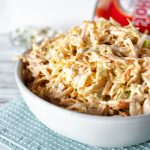 Print
Buffalo Chicken Coleslaw
Ingredients
3/4

cup

ranch dressing

3

Tbsp.

hot pepper sauce (I like Frank's best)

1/2

Tbsp.

chopped chives

16

oz. bag

coleslaw mix

1

stalk

celery, grated

1

cup

shredded rotisserie chicken

1/2

cup

blue cheese crumbles
Instructions
In a large bowl, mix ranch, hot pepper sauce and chives. Add coleslaw mix, celery, shredded chicken and blue cheese crumbles. Fold together until completely combined.

Store in an airtight container in the refrigerator.