You no longer need an excuse to eat pizza for breakfast with this Steak and Egg Flatbread Pizza. Two cheese, juicy, marinated steak and a drippy egg combine into the ultimate breakfast, lunch or dinner pizza.
Is it hot as heck where you live my friends? It's been pretty unbearable here. Like sweat dripping off your nose after 10 minutes kind of hot. I cannot handle it. Too hot to turn the oven on. Except when pizza is involved.
Because isn't pizza just the best, most versatile food ever?! And this pizza. THIS pizza is giving me life. There's steak, there's runny eggs, there's two different cheeses. NEED.
And pizza that you can eat at any time of the day without too many side eyes is the best kind. And what I'm saying is this one is totally acceptable for breakfast since it has an egg on it. You are welcome.
I completely adore and am addicted to flatbread. I love the versatility of it and how simple it makes it to throw together a pizza on a weeknight. I shared this four cheese variety last year and it was a huge hit. I mean, how could four cheeses not be an instant favorite?
I like to keep a stash of flatbread (or Naan) in the freezer for busy nights. They thaw out super fast on the counter and you can throw just about anything you have in the fridge on them to make a quick and delicious dinner.
I wasn't sure I could really top that four cheese but this Steak and Egg Flatbread Pizza may just have done it. The combination of the grilled steak and that deliciously drippy egg makes it so so rich in all the best ways. The sharpness of the blue cheese and cheddar cheese cut through it and add a nice zip that really rounds it out. And sprinkle on a little parsley to bring some freshness and you're good to go.
If you wanted a little acid to add another layer of flavor, you could drizzle a little balsamic reduction over it. I had every intention of doing that but I walked away from the vinegar for a minute and it got way too thick way too fast. I could have made more but guys, it was pizza time. Totally doing it next time though.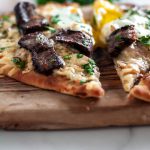 Print
Steak and Egg Flatbread Pizza
Ingredients
1

lb.

skirt steak

2/3

cup

olive oil

1/4

cup

lemon juice

2

Tbsp.

red wine vinegar

1

Tbsp.

Worcestershire sauce

1

Tbsp.

soy sauce

1

Tbsp.

Dijon mustard

1

tsp.

dried basil

1/2

tsp.

dried oregano

1/4

tsp.

dried thyme

4

large

eggs

1/2

cup

blue cheese crumbles

4

cups

shredded sharp white cheddar

4

Tbsp.

olive oil

Chopped fresh parsley
Instructions
First, marinade the steak. Whisk together olive oil, lemon juice, red wine vinegar, Worcestershire sauce, soy sauce, Dijon mustard, basil, oregano and thyme together in a bowl. Place steak in a ziplock bag and add marinade. Let marinade for 1 to 4 hours in the refrigerator. Remove steak from refrigerator 30 minutes before you are ready to grill the steak.

Preheat oven to 400 degress. Preheat grill to medium high heat. Grill steak to medium rare (it will continue cooking when on the pizza). Remove from grill and allow steak to rest for 5 minutes.

Meanwhile, brush flatbreads with 1 tablespoon of olive oil each and place on a baking sheet. Top each with 2 tablespoons of blue cheese crumbles and 1 cup of sharp white cheddar.

Slice rested steak against the grain into thin pieces. Divide evenly among the flatbread pizzas. Bake for 8 minutes. Remove from the oven and crack on egg on top of each pizza. Turn oven to broil. Cook just until the white of the egg is cooked through, keeping a close eye so the pizzas don't burn. Remove from oven and sprinkle with parsley.