Homemade beef jerky is easier than you might think. Follow this step by step recipe for Sweet Heat Beef Jerky and you'll never buy the store-bought stuff again.
Getting back to real life after vacation is so dang hard. Am I right?! Restocking the fridge, getting back into a routine, keeping the kids alive. It's a lot (eh em, first world probs). But I have to say, after two weeks of eating out I was so ready to get home and back in the kitchen. I mean, I love eating out but it gets old after awhile and I was really missing being creative.
But while we're on the topic of travel, I want to know what your favorite road trip/travel snack is. For me, it's always been beef jerky. Not the classiest of choices but I love it so much. Trail mix, any form of potato chip and chocolate covered almonds also top the list.
Beef jerky is something I've always loved and wanted to try to make homemade but I always thought I couldn't since I don't own a dehydrator and don't really want to buy another gadget that would only get use occasionally.
I knew you could make it in the oven at low temperatures but I just assumed it wouldn't be good. Well, curiosity finally got the best of me and I decided to experiment. I have to say I was super surprised and pumped about the results.
I love and will eat any flavor of jerky but my favorites are sweet & spicy and peppered.
So now that I know how easy it is to make homemade jerky, let me tell you about the process. There are several different cuts of beef you can use. Flank steak is the tastiest option but also the most expensive. I've also used bottom round steak with lots of success too. Either is great so use what your store has available.
Cutting the beef is the trickiest part of the process. In order to get it super thin it needs to be semi-frozen. Throw it in the freezer for about 20 minutes before you're ready to slice it and that will really help you cut it as thin as possible. Lots of butcher counters in groceries stores will slice it for you too if you ask.
The next step is marinading the sliced beef to get that sweet and spicy flavor all up in there. The marinade consists of a short list of pantry staples that I'm betting you already have in your fridge and pantry. I like to let the beef sit in the marinade for 24 hours if I have the time but it also works with just 3 if you don't have as much time.
The last process is dehydrating the beef. I assumed this process would take FORever but it's not too bad at 3 to 4 hours, depending on the level of chewiness you prefer. I thought right in the middle at 3.5 hours was just right.
The brown sugar brings some real sweetness to the jerky but it's cut with the spicy sriracha. I just loved the combination of flavors in this jerky and had a really had time sharing it with people. Next time a double batch will be necessary.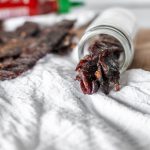 Print
Sweet Heat Beef Jerky
Ingredients
1.25

lbs.

flank steak or bottom round

1/4

cup + 1 Tbsp.

brown sugar

1/2

cup

soy sauce

1 1/2

Tbsp.

Worcestershire sauce

1

Tbsp.

sriracha

1

tsp.

coarse black pepper

1

tsp.

onion powder

1

tsp.

garlic powder
Instructions
Place beef in the freezer for 20 minutes. Remove from freezer and slice into 1/8-inch pieces.

Whisk together remaining ingredients in a bowl. Dump into a ziplock bag and add beef. Seal and squish around until fully coated. Marinade in the refrigerator for 3 to 24 hours.

Preheat oven to 175 degrees F. Line a large rimmed baking sheet with foil. Place an oven-proof rack onto the prepared baking sheet. Remove beef from marinade and place on the rack. Cook for 3 to 4 hours, depending on desired chewiness, flipping after 2 hours.