Pasta Carbonara is a simple, delicious pasta dish that the whole family will gobble up. Cream cheese, smoky bacon, parmesan and garlic all combine to create the most decadent pasta.
*EDIT: The text and photos in this post have been updated since it's original publication in 2011. There was a lack of text and the photos didn't showcase the dish.
Like I said above, this post was originally published in July 2011, just a few months into my blogging adventure. I was writing to my family and friends at the time, simply sharing what I was cooking at home. Since then I've really found my voice and improved on my photography skills so it seemed time to update this one. We still love this pasta for its creamy decadence and quick preparation.
This is a recipe forwarded to me by my aunt who had tried it and knew we would love it. The first time we had it was when my mom was visiting shortly after I had Noah. So not only is this pasta delicious but it brings me back to that time in my life. I mean, the kid is about to turn 7. So I'll take any time I can think back on baby Noah. I love how food can create, evoke and cement memories in our lives. It's kind of the best.


We've been enjoying this cheesy, bacon filled pasta for almost a solid 7 years so you know it's got to be good. I've adapted the original recipe to fit our tastes and make it a little bit better for the bellies. I mean, it's still filled with cheese and bacon so it's not health food folks but it's a tasty splurge here and there.
The sauce is thick and creamy and similar to my favorite alfredo sauce but with bacon. Bacon = better. I'm just now realizing I've never shared my alfredo sauce, blogger fail. The carbonara doesn't have the traditional egg in the sauce which may upset the purists but it's still pretty darn close and I feel better about feeding it to my kids. The cream cheese in the sauce makes up for the richness the egg normally provides.
And it's so quick to whip up friends. In the time that it takes to get the water boiling and pasta cooked the sauce will be finished making this is a great meal option for busy nights.


Sometimes I throw a couple boneless, skinless chicken breasts on the grill then slice them thinly and serve it over the pasta to bulk it up and provide more protein. It's also very tasty with some steamed broccoli tossed in or on the side.
Moral of the story: not traditional, still rich and creamy, unhealthy but worth it, you're kids won't complain and you don't spend too long in front of the stove. Make it, you won't regret it.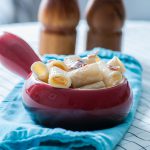 Print
Pasta Carbonara
Ingredients
3

cups

uncooked rigatoni pasta

6

strips

bacon, diced

2

cloves

garlic, grated

1 1/4

cups

1% milk

5

oz.

cream cheese (I used 1/3 less fat)

4

Tbsp.

butter

1/2

cup

grated parmesan
Instructions
Cook pasta one minute less than package instructions. Meanwhile, in a large skillet over medium heat, cook bacon until crisp. Drain on a paper towel.

Saute garlic in the bacon fat until softened, about 1 minute. Add butter and allow to melt. Whisk in cream cheese until smooth then add the milk in two additions, whisk until smooth after each addition. Stir in parmesan cheese and bacon.

Drain cooked pasta and toss with the sauce.