Summer food is the best food and these Sesame Chicken Lettuce Wraps will be your new favorite. Bibb lettuce filled with garlic rice and quick stir-fried sesame chicken makes a light yet filling dinner perfect for hot summer nights.
I'm sitting in Starbucks. Alone. For the last time for a few months. Somebody hold me. Two more day of school here friends and I'm as ready as I'm going to be.
One thing I'm excited about is no more packing lunches for a couple months. I start the year off so organized, packing a healthy, well-balanced lunch the night before but by the end of the year it's more like throwing whatever is in the fridge into the lunch box as I'm rushing the kids out the door.


We have an exciting first day of summer planned. And by that I mean we're going to be stuck at home waiting for our windshield to be replaced. They come to your house to replace it which is way better than waiting at an auto shop with two kids but the time frame for arrival is a five hour window. Hah. At least they'll get their rest time in the afternoon and get to watch them replace it.
I love all the food of summer and I'm super excited to share my new obsession, Sesame Chicken Lettuce Wraps. I took inspiration from a takeout favorite, sesame chicken. It's good right? But it can get heavy and greasy and that's just not my jam in the summertime.
Instead, I lightened it up for summertime so they check off all the summer meal requirements. They require minimal effort and time, we're talking 30 minutes guys. Plus they are healthy, no weird ingredients here.


I started with my favorite variety of rice, basmati, which is cooked with garlic to add another dimension of flavor to the dish. As the rice simmers away, brown the chicken and whisk up the sauce. The sauce gets poured over the chicken then is simmer for 2 or 3 minutes until it's thickened and glossy. Then everything gets piled into bibb lettuce for a simple, incredibly delicious and drippy meal. It's that easy. Light, healthy and fresh.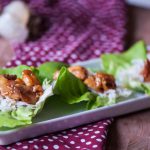 Print
Sesame Chicken Lettuce Wraps
Ingredients
For Garlic Rice:
1

Tbsp.

olive oil

2

cloves

garlic, coarsely chopped

1

cup

basmati rice

2

cups

water

1/2

tsp.

salt
For the Sesame Chicken:
2

Tbsp.

olive oil

1.75

lbs.

boneless, skinless chicken thighs, diced into small pieces

1/4

cup + 1 Tbsp.

soy sauce

1/4

cup

honey

1

Tbsp.

rice vinegar

1/2

tsp.

sesame oil

1

Tbsp.

sesame seeds

1

clove

garlic, grated

Bibb lettuce, rinsed and dried
Instructions
Heat a small saucepan over medium heat. Add olive oil and garlic and saute until softened and fragrant, 1 to 2 minutes. Add rice and cook for 2 to 3 minutes to toast. Add water and salt and bring to a boil. Lower to simmer, cover and cook 15 to 20 minutes.

Meanwhile, prepare the sesame chicken. Heat skillet over medium heat. Add olive oil. Season chicken with salt and pepper then add to skillet. Cook until golden brown, crispy and cooked through.

While chicken is cooking, whisk together the soy sauce, honey, rice vinegar, sesame oil, sesame seeds and garlic. Add to skillet and stir to coat chicken. Cook another 2 to 3 minutes, until sauce becomes thick and glossy and coats the chicken.

To assemble: top each lettuce leaf with desired amount of rice and chicken. Sprinkle with more sesame seeds if desired.