This post is sponsored by Bob's Red Mill. I am grateful for the opportunity to partner with a company I love and use in my daily life. Sponsored posts help keep the running of this blog financially possible. As always, all thoughts and opinions are 100% my own.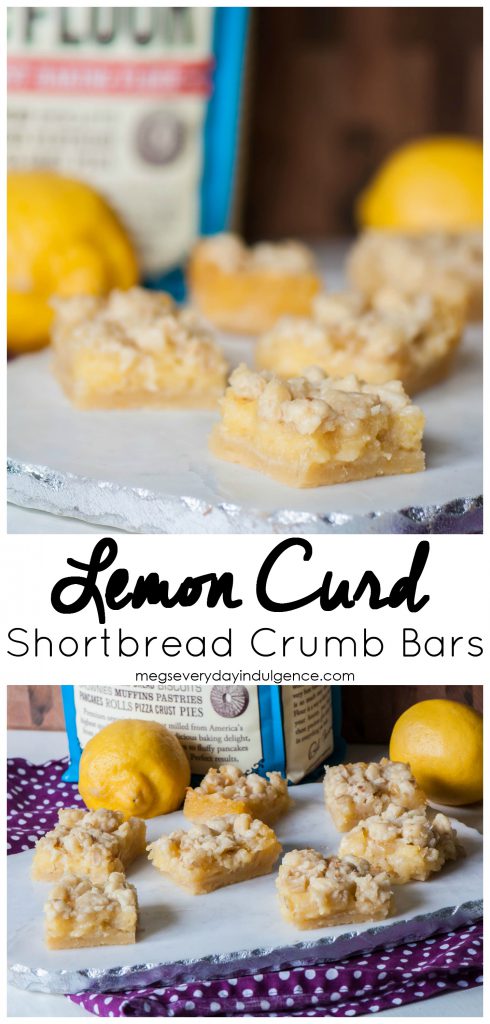 It's finally time for spring baking and these delightful Lemon Curd Shortbread Crumb Bars will be the hit of the season.
It's finally starting to feel like spring around here which makes me so happy. It's been raining for weeks but the sun is shining today and all the flowers and trees are blooming. It's not quite short-sleeve weather yet but I can feel it coming. Hallelujah.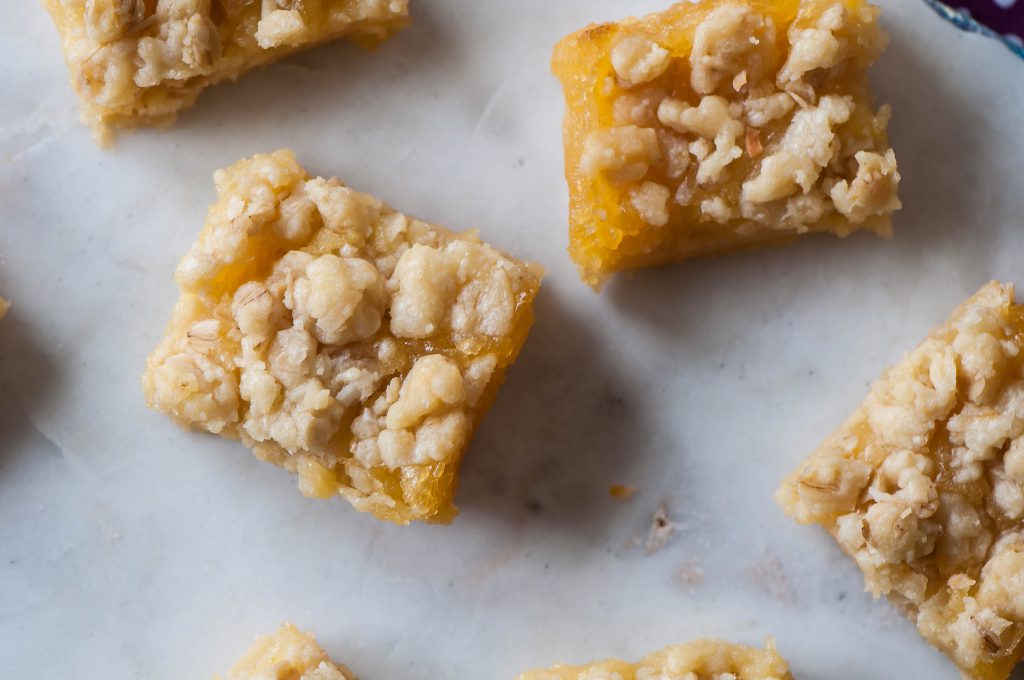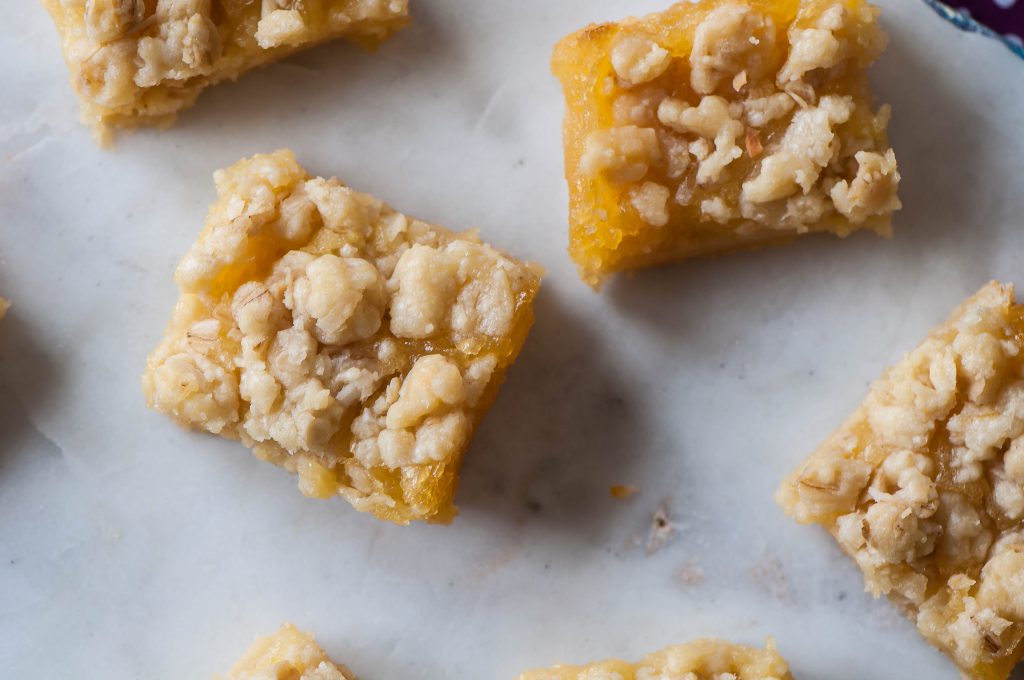 And I feel like we can officially pull out all the spring flavors. After all the heavy, hearty dishes of winter, it's so nice to break out the grill and all the happy, light ingredients.
I mean, I love a lasagna or pot roast as much as the next guy but sometimes you want something light and refreshing. Am I right?
When I think of Spring flavors my mind automatically goes to lemon. It's so refreshing and zingy, all the things I love in dessert.
I prefer a citrus dessert to something rich and chocolatey any day of the week so when I teamed up with Bob's Red Mill to create the ultimate spring baking recipe using their Organic Unbleached White All-Purpose Flour, I knew it had to involve lemon.
After some brainstorming, I came up with these Lemon Curd Shortbread Crumble Bars and let me tell you, they did not disappoint. Unless you're disappointed that I ate almost the whole pan without sharing….sorry, not sorry.
These bars start out with a super simple shortbread cookie recipe that requires 4 ingredients. Yep, you read that right.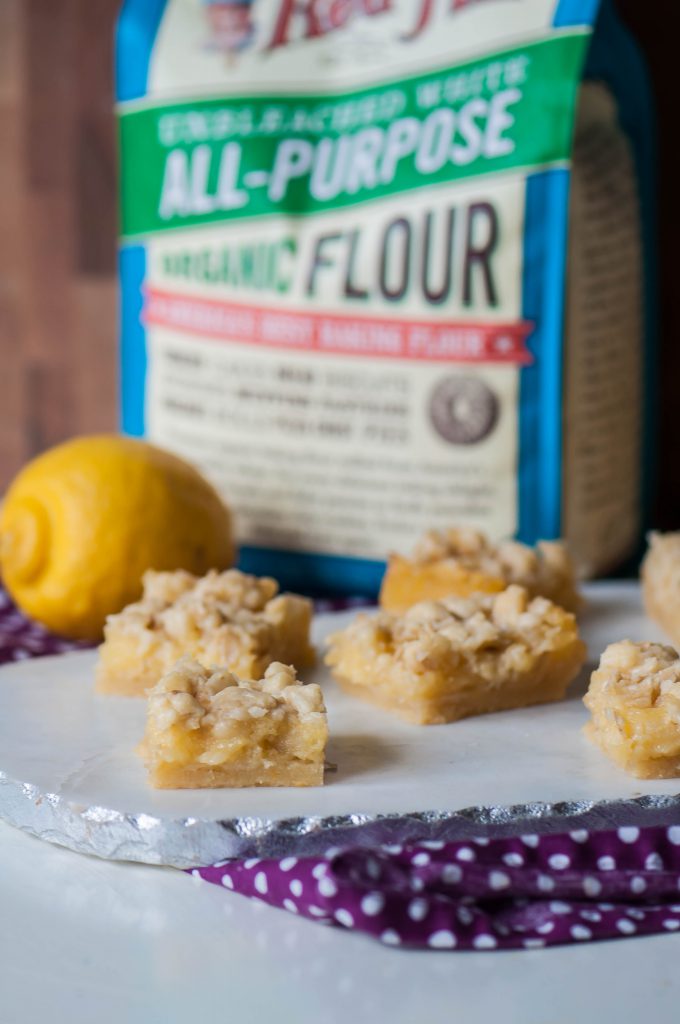 The cookie dough doubles as the crust and the crumble in this recipe, making it even simpler. When you are using so few ingredients, you want to make sure they are quality so that the dessert and flavors can shine.
So when it comes to baking these bad boys (or anything in my kitchen), I reach for Bob's Red Mill Organic All-Purpose Flour. It isn't enriched with any additives or ingredients that you can't pronounce which is really important to me when I'm feeding my family.
It's also a high protein flour which is what professional bakers use so you know you are going to yield bakery quality results. So you can bake your own treats, using ingredients you know and your family will think you stopped by the local bakery. Winning.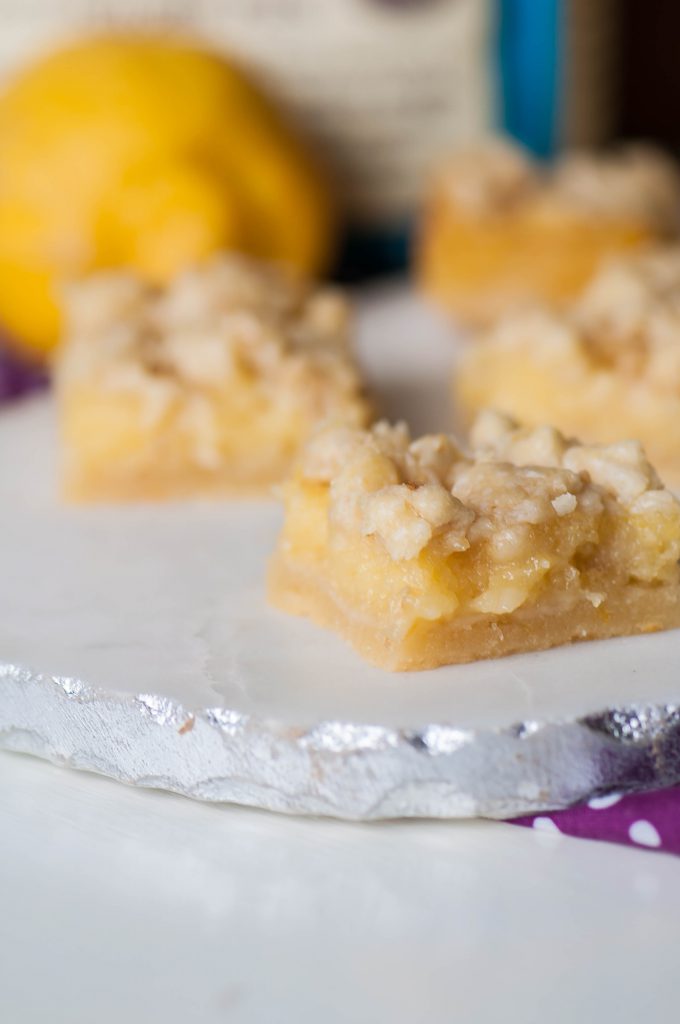 You take that delicious shortbread dough and press some of it into an 8×8 pan and parbake it. Meanwhile, make the homemade lemon curd (or take the lid off the jar of the store bought stuff if you ain't got time for that).
Once the crust is ready, you spread it with that light, zingy lemon curd and then mix in some rolled oats and coconut into remaining shortbread dough before crumbling it over the lemon curd.
Back to the oven it goes until the crumble is golden and the lemon curd is bubbly and gooey and all around wonderful.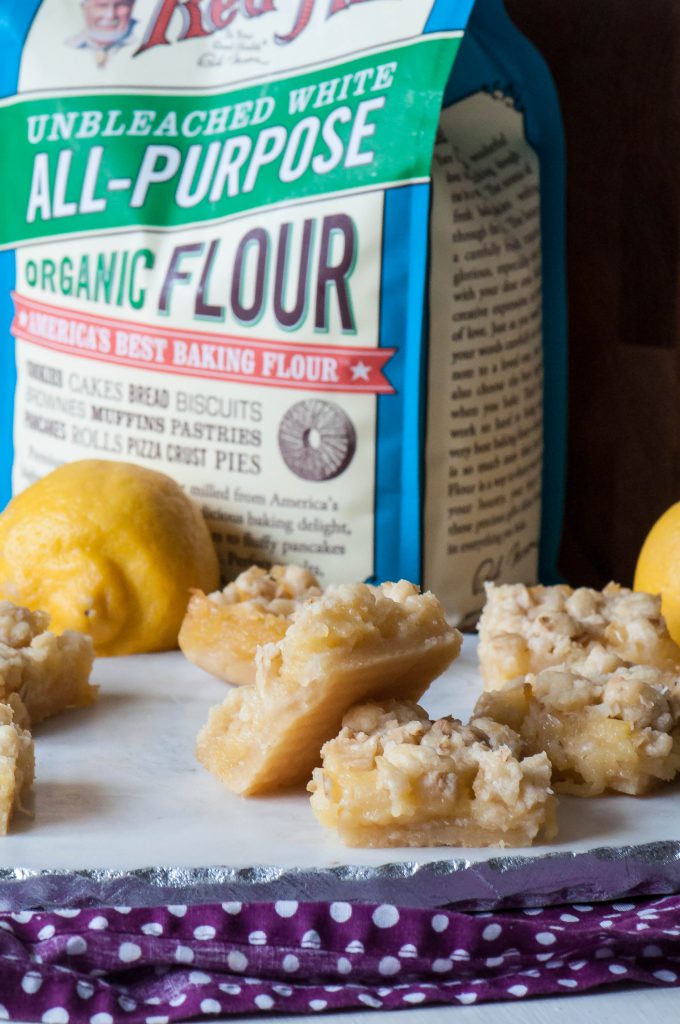 I seriously could not keep my mind or my hands away from these bars. Like I said before, I am a big fan of citrus desserts and these are my new official favorite. They would be perfect for the upcoming holiday, a backyard picnic or a BBQ with friends.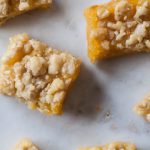 Print
Lemon Curd Shortbread Crumb Bars
Lemon Curd Shortbread Crumb Bars are made using Bob's Red Mill Unbleached White All-Purpose Organic Flour and are perfect for Spring baking.
Ingredients
For the Lemon Curd:
3/4

cup

fresh lemon juice (4-6 lemons)

Zest of 1 lemon

3/4

cup

granulated sugar

3

eggs

1/2

cup

unsalted butter, cubed
For the Shortbread Crust and Crumble:
1

cup

salted butter, room temperature

1

cup

powdered sugar

2

cups

Bob's Red Mill All-Purpose Flour

1/4

cup

sweetened coconut

1/4

cup

old-fashioned oats

zest of one lemon
Instructions
Preheat oven to 350 degrees F. Line an 8×8 pan with foil and set aside. First, make the lemon curd. Bring an inch of water in a large saucepan to a simmer. In a bowl that fits on the saucepan but does not touch the simmering water, whisk together the lemon juice, lemon zest, sugar and eggs. Whisk constantly until the mixture thickens and coats the back of a spoon (this can take between 10 and 30 minutes). Add the butter, one cube at a time, stirring until it has melted before adding the next. Once all the butter has been added, place in the refrigerator for 15 minutes to cool slightly and set up.

Meanwhile, make the shortbread crust. Cream the butter in a stand mixer. Add the powdered sugar, flour and lemon zest and mix until combined. Press 1 1/2 cups of the shortbread dough into the prepared pan. Bake for 12 minutes. Refrigerate remaining dough until ready to use.

Spread 1 1/2 cups lemon curd (you'll have a little leftover) over the parbaked crust.

Remove the remaining dough from the refrigerator and stir in the coconut and old-fashioned oats. Crumble into pea-size pieces over the lemon curd. Bake for 25 minutes, until the crumble is slightly golden. Cut into 2-inch squares and keep refrigerated in an airtight container.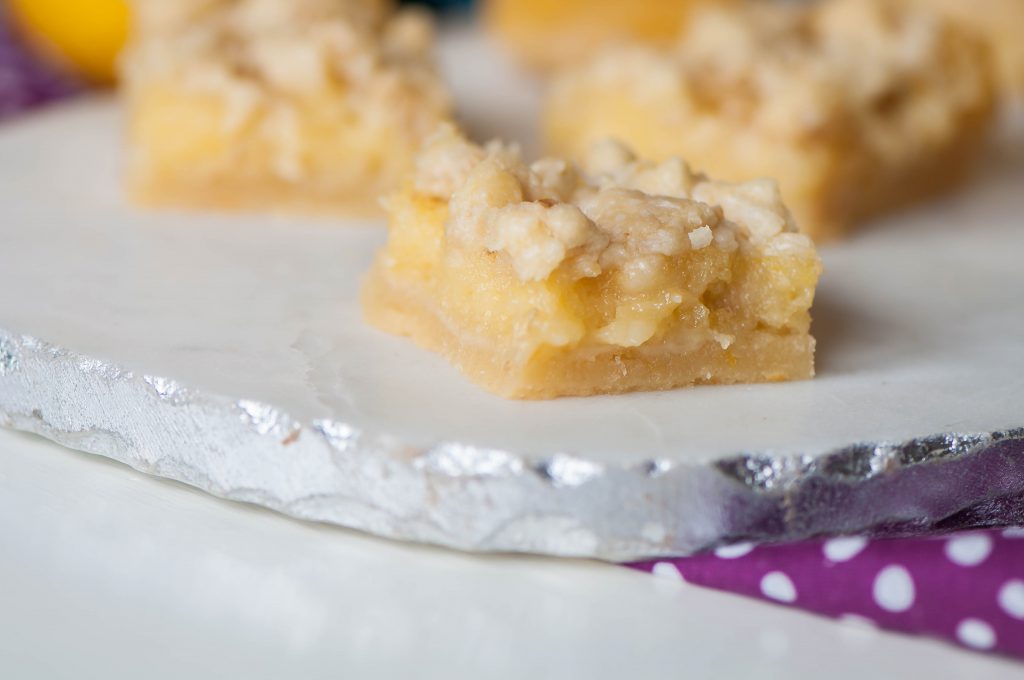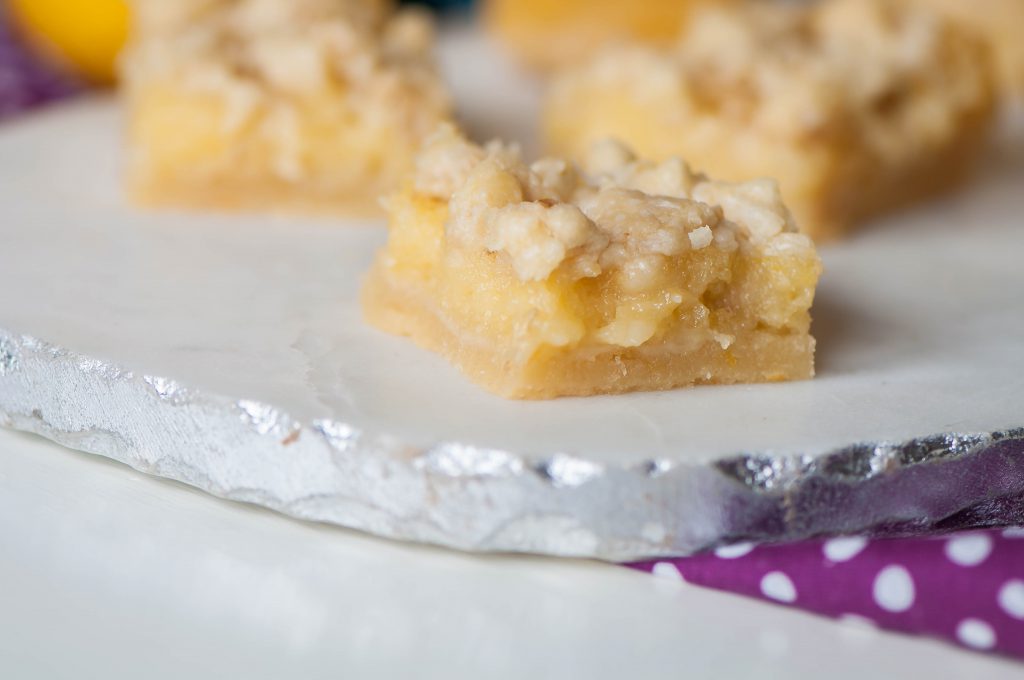 Not only do I love Bob's all-purpose flour but I always have their coconut, chia seeds, gluten-free baking flour, rice flour, almond flour and oat flour on hand. The list probably goes on but those are the Bob's products I always have in my pantry to create wholesome food for the family.
This post has been written by me on behalf of Bob's Red Mill. All thoughts and opinions are my own. Thanks for reading!