These BBQ Pork Cornbread Stacks look fancy but are incredibly easy to make. We take all the classic barbecue dishes, slow cooker pork, simple coleslaw and homemade cornbread to make the ultimate BBQ meal.
When you think of spring and summer, what pops into your head? Since I pretty much always have food on my mind, I think of grilling and cold salads and barbecue. You probably don't want to the author of a food blog to not think about food constantly, right? See, it's not obsession, it's work ethic. Anyway….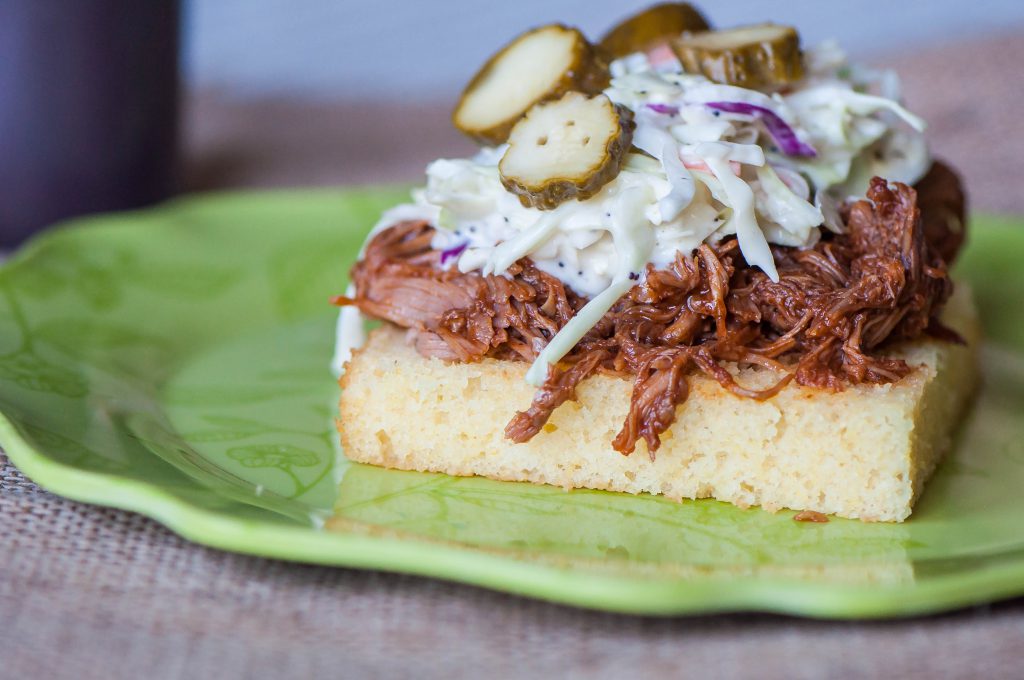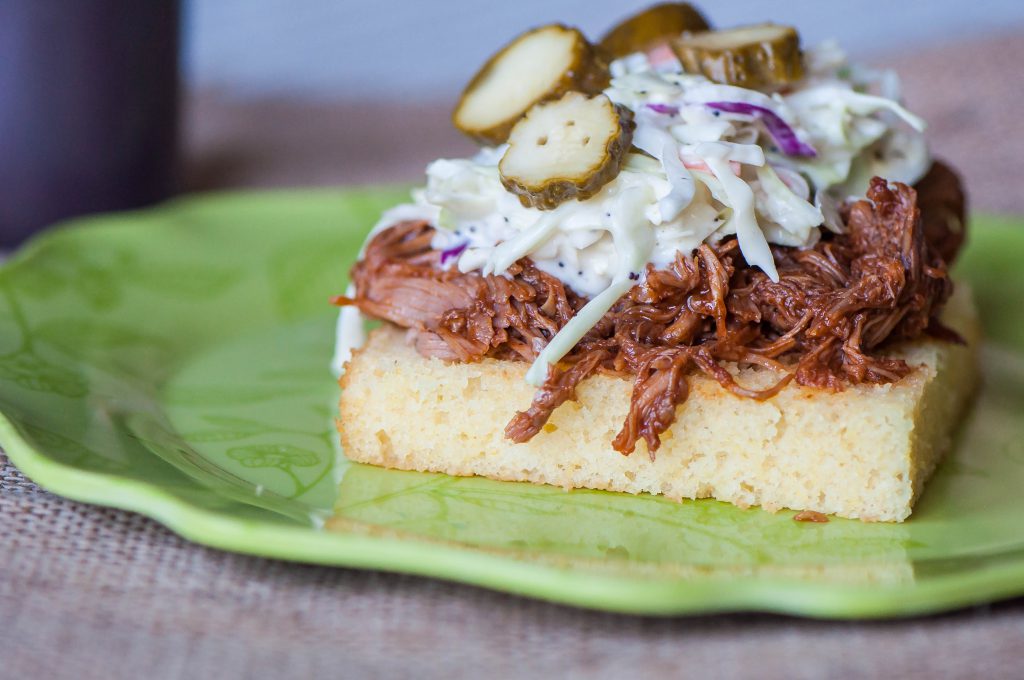 We eat barbecue year round at our house. Joel is a KC native so it's kind of in his blood and I'm not complaining. But there's something about the warm weather that makes it all the better. We have a smoker that we love and use often in the warmer months and sometimes even in the winter in the garage (with the garage door open).
Don't worry if you don't have a smoker though because today's recipe uses the slow cooker to cook the pork until it's fall apart tender. You could of course smoke it if you have the time and attention to give it.
I know these BBQ Pork Cornbread Stacks look fancy for a weeknight dinner, but I promise you it was one of the easiest dinners I've made in a long time. They are a fun way to impress your family and friends while still keeping it dinnertime simple for you. Promise.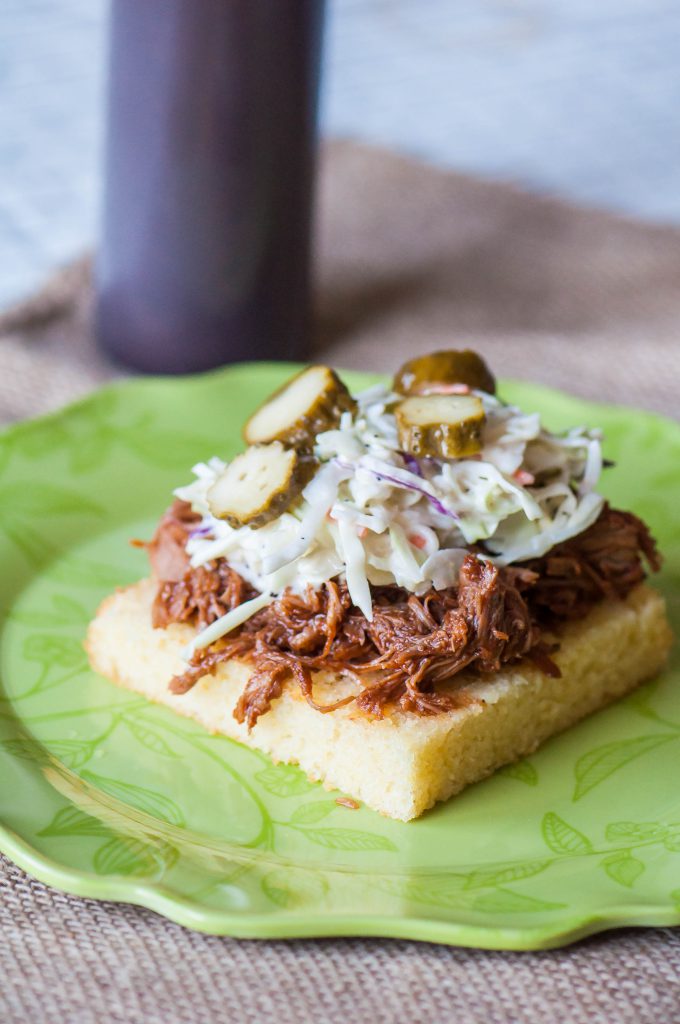 Like I said before, the pork is cooked in the slow cooker all day after being seasoned with salt and pepper and seared on all sides. That whole process takes about 10 minutes in the morning. And while the pork is searing you can make the coleslaw. I really recommend making the coleslaw in the morning as it tastes so much better when it's had some time to soak up that tasty dressing. Plus, it saves you a few minutes during that witching hour. See how easy so far.
The cornbread is the most complicated part of the whole meal and well, it's not complicated. Mix the dry ingredients in one bowl, the wet ingredients in another, combine them and bake it up. You could use a dry cornbread mix but making it from scratch only adds a couple minutes and it tastes so much better.
So really, you can make all the components of this in the morning then all you have to do is shred the pork, cut the cornbread and plate it up at dinnertime. That's what I did and when five o'clock rolled around I kept feeling this weird, uneasy feeling like I should be cooking but I got to play mermaids instead. It was nice for a change to not be rushing around, I highly recommend it.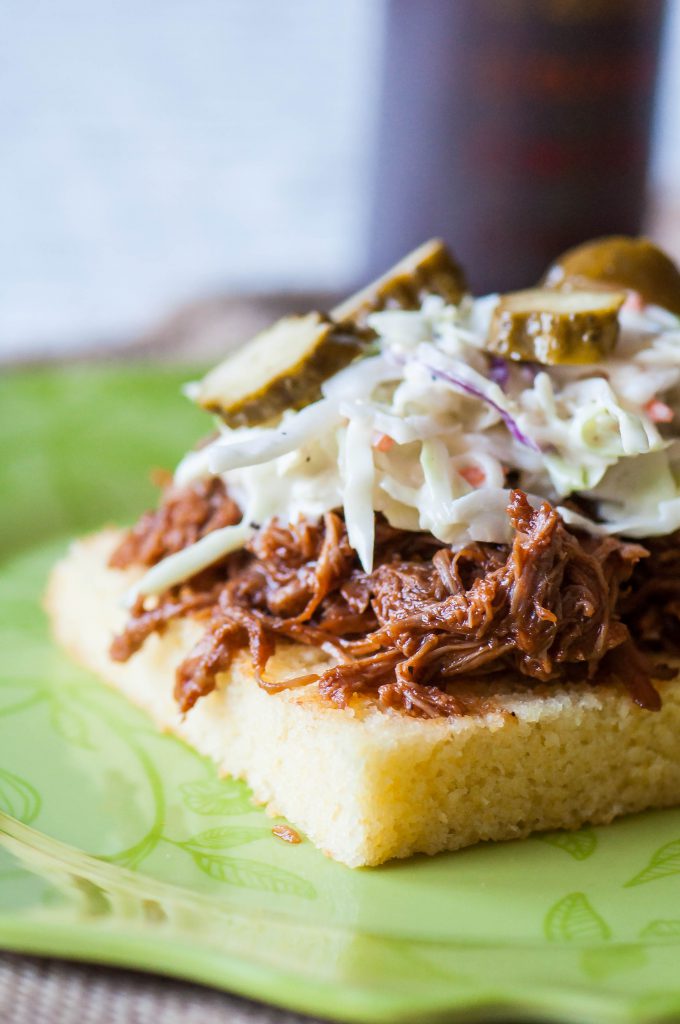 That's not where the perks of this dish end. I find with the kids that presentation can really make a difference in getting them to eat. They thought it was fun that there dinner was like a tower and it even got Noah to eat a little meat. Noah made his into a little cornbread sandwich the next day which he had fun making and eating. Whatever works guys.
Pretend like you're at a fancy BBQ restaurant (do those exist?), impress your family and get them to eat without complaining with these BBQ Pork Cornbread Stacks. You'll win all the mom trophies.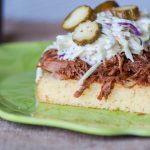 Print
BBQ Pork Cornbread Stacks
BBQ Pork Cornbread Stacks prove looks are deceiving. This fancy little dinner is incredibly simple to put together. BBQ, cornbread and coleslaw.
Ingredients
2

lb.

boneless pork butt

1

Tbsp.

olive oil

1

tsp.

kosher salt

1/2

tsp.

pepper

1-1 1/2

cups

barbecue sauce
For the Coleslaw:
2/3

cup

mayo

1 1/2

Tbsp.

apple cider vinegar

3

Tbsp.

granulated sugar

1/4

tsp.

kosher salt

1/8

tsp.

black pepper

1/2

Tbsp.

poppy seeds

1

(14 oz.) bag

shredded cabbage
For the Sweet Cornbread:
1 1/2

cups

all-purpose flour

2/3

cups

granulated sugar

1/2

cup

cornmeal

1

Tbsp.

baking powder

1/2

tsp.

salt

1 1/4

cups

milk

2

large

eggs

1/3

cup

vegetable oil

3

Tbsp.

butter, melted

Pickles
Instructions
Heat olive oil in a large skillet over medium-high heat. Season the pork butt with salt and pepper. Sear pork on all sides, about 2 to 3 minutes per side. Add pork to slow cooker. Add 1/4 cup water to the skillet and scrape off all the browned bits. Pour liquid into the slow cooker. Cook on low for 8 hours or high for 6 hours.

Meanwhile, make the coleslaw. Mix the mayo, vinegar, sugar, salt, pepper and poppy seeds. Stir in shredded cabbage and refrigerate until ready to eat.

For the cornbread: Preheat the oven to 350 degrees F. Grease an 8x8 pan and set aside. In a large bowl, whisk together the flour, sugar, cornmeal, baking powder and salt. Set aside. In another bowl, whisk together the milk, eggs, oil and butter. Fold wet ingredients into the dry ingredients until just combined. Pour into prepared pan. Bake for 35 minutes, or until golden and a toothpick comes out clean.

After pork is done, remove it from the slow cooker and shred it. Reserve 1/4 cup cooking liquid then dump the rest. Place pork back into the slow cooker and add the reserved liquid and desired amount of barbecue. Keep on warm setting until ready to eat.

Cut cornbread into four equal pieces then slice each in half width-wise to make 8 thin squares. Place a square of cornbread onto a plate. Top with desired amount of pulled pork then top with coleslaw. Garnish with pickles, if desired.