A simple Cuban pork made in the slow cooker is combined with deli ham, Swiss cheese, pickles and a simple sauce to create a tasty and simple spin on a Cuban sandwich. These Cuban Wraps will leave you full, happy and thinking about them for days.
If I had to pick my favorite sandwich in all the land, the Cuban would be it. I think a sandwich isn't a sandwich without a pile of pickles so it was kind of destiny. Plus, two kinds of pork and cheese ain't so bad either.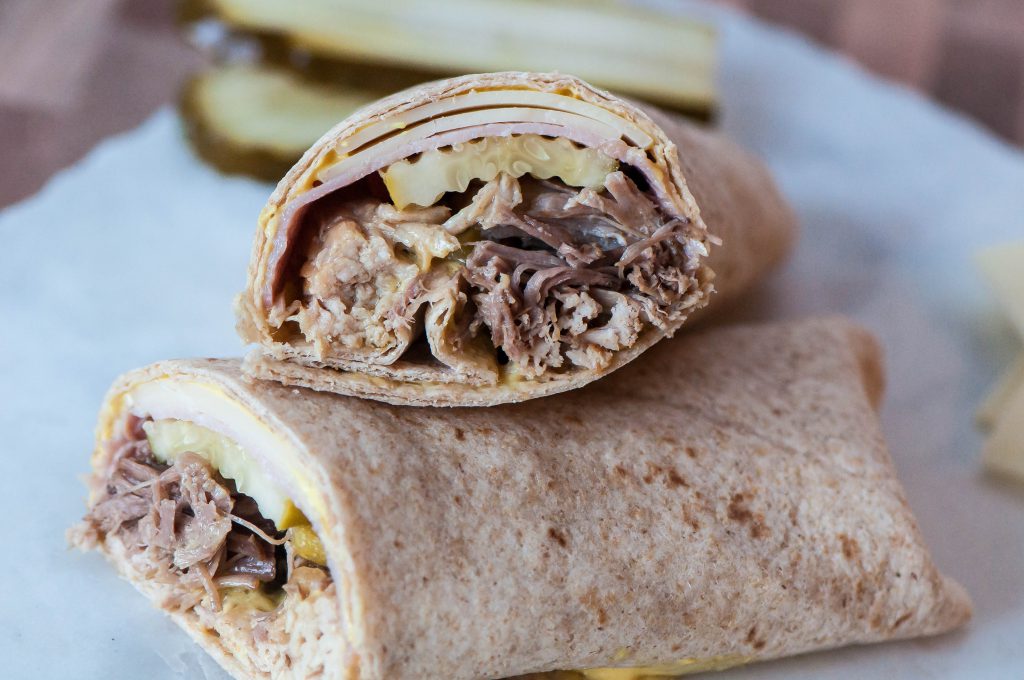 A classic Cuban sandwich is made on Cuban bread slathered with mustard and layered with roasted pork, sliced ham, Swiss cheese and dill pickles and is often pressed to crispy perfection. I decided to make my own little spin on my favorite sandwich and turn it into a wrap.
Why a tortilla when bread is just as easy you ask? To be creative. Ooooor because my children will eat pretty much anything if it's wrapped up in a tortilla but when on bread things sometimes become questionable in their little minds. So yes, to trick my children. All day, everyday. I hope this trick works for you too.
Don't let the ingredient list fool you into thinking this is a complicated, long winded recipe. The extent of most of the ingredients involves dumping or layering and almost all the time is inactive cooking time in the slow cooker. The glorious slow cooker, saver of weeknight dinners.
Slow Cooker Simplicity
The Cuban shredded pork is braised in the slow cooker all day with citrus juices, onion, garlic and delicious spices with end results that you will want to eat straight out of the slow cooker (and I did).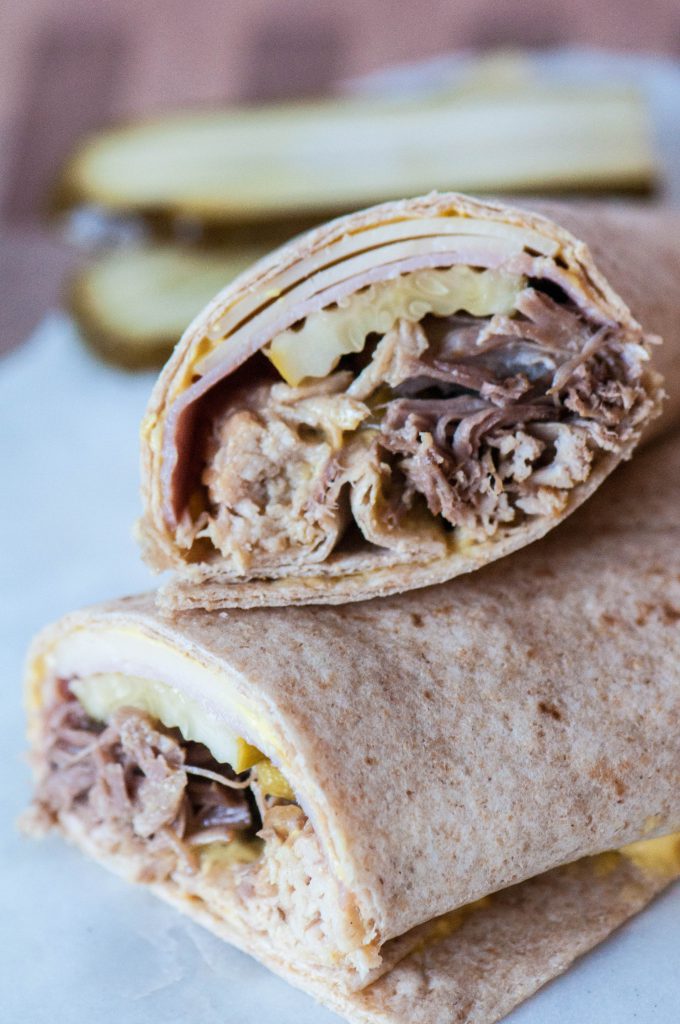 First the onions and garlic are sauteed then placed in the slow cooker. Before being seared, the pork is rubbed with a spice blend of cumin, oregano, salt and pepper. Once the pork is ready for the slow cooker, mix in the orange and lime juices, set it and walk away.
After 4 to 8 hours, depending on what temperature you choose on your slow cooker, the pork is ready to be pulled and layered into tortillas with deli ham, Swiss cheese, pickles and a simple mayo mustard sauce.
I know we're only just into March so I don't have a lot to compare it to but these Cuban Wraps officially my favorite dinner recipe I have created this year. I often measure a recipe successful when Joel wakes up the next day and is still talking about it (I can't use myself as a measure because I'm always thinking about food, the guy I married isn't as obsessed) and he brought this one up for days after. Success.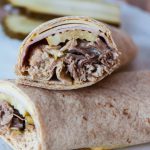 Print
Cuban Wraps
Cuban Wraps are a twist on a classic sandwich of roasted pork, deli ham, Swiss cheese, pickle & mustard. Made in the slow cooker for a simple weeknight meal
Ingredients
2

lb.

boneless pork butt

1

small

yellow onion, finely diced

3

cloves

garlic, minced

2

large

oranges, juiced

3

limes, juiced

3/4

tsp.

kosher salt, divided

1/2

tsp.

pepper, divided

3/4

tsp.

cumin

1

tsp.

dried oregano

6

burrito size

tortillas

1/4

cup

yellow mustard

1/4

cup

mayonaisse

18

slices

deli ham

12

slices

Swiss cheese

18

sandwich style pickle slices
Instructions
Heat a large skillet over medium heat. Add olive oil and onions to skillet and cook 3 to 4 minutes, until soft and translucent. Add garlic and 1/4 teaspoon each salt and pepper and cook another minute. Remove to the slow cooker.

Bump heat to medium high heat. Rub boneless pork butt with remaining 1/2 teaspoon kosher salt, 1/4 teaspoon pepper, cumin and oregano. Sear all sides of the pork (add more olive oil if needed). Place in slow cooker. Add 1/4 cup water to the skillet that the pork was cooked in and scrape all the browned bits off the bottom. Pour into the slow cooker.

Add orange juice and lime juice to the slow cooker and stir to combine. Cook on high for 4 hours or low for 6 to 8 hours. Remove from slow cooker and shred. Add back to the slow cooker and stir around in the remaining juices.

In a small bowl, combine the mustard and mayo. Spread evenly on the tortillas. Layer each tortilla with 3 slices of ham, 2 slices of swiss, 3 pickles and a portion of the pulled Cuban pork. Fold in short edges then roll tightly. Slice in half and enjoy.