I'm bringing you another deliciously simple weeknight dinner with these Herbed Honey Mustard Pork Chops. All you need is six ingredients and 10 minutes of active prep/cooking time to get dinner on the table.
If you were the typical American child you probably had an obsessive relationship with ketchup. Pretty much anything could be dipped in it to get you to eat it, right?
Well, my weird toddler feels that way about honey mustard. Raw veggies? Yep. Chicken? Yep. Eggs? Yep. I know that last one is so so weird but every single time guys. Luckily, Noah loves honey mustard as well so as you can imagine I reach for that flavor often when dinner time rolls around. As evidenced here and here and here. Oh and here too. Told you.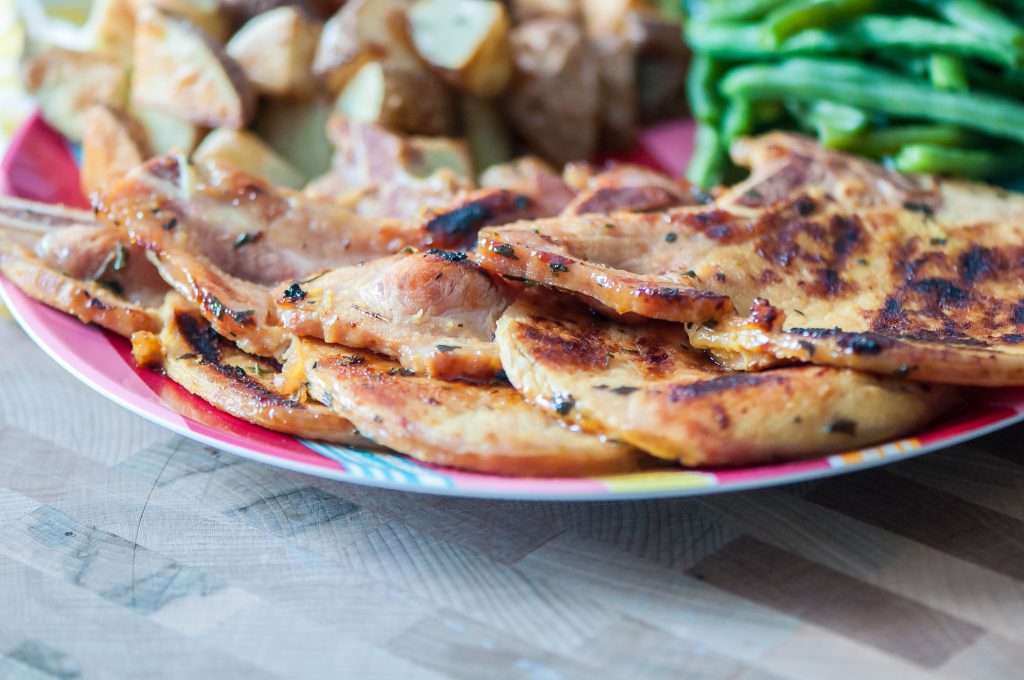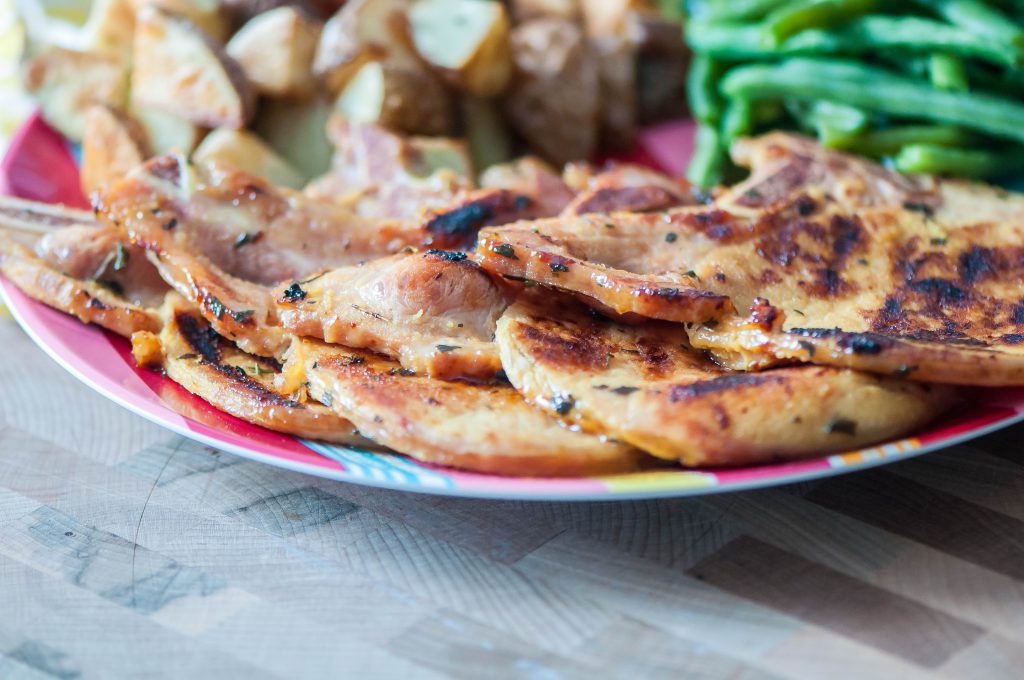 These pork chops are the easiest of easy recipes from start to finish. Literally dump 5 ingredients into a zip top bag, squish it all together and throw in the smoked pork chops. Marinate for as little as an hour or up to 24 hours. Because I'm using smoked, thin cut pork chops all you have to do is heat them through and get some yummy grill marks on them which takes less than 5 minutes.
Just because these pork chops are stupid easy doesn't mean they can't be flavorful and a little fancy. I used three of my favorite herbs, basil, thyme and oregano to impart some delicious calorie free flavor.
While the pork chops cook for those whole 5 minutes, steam some veggies or throw together a simple salad for a ridiculously simple meal that tastes good and is good for you.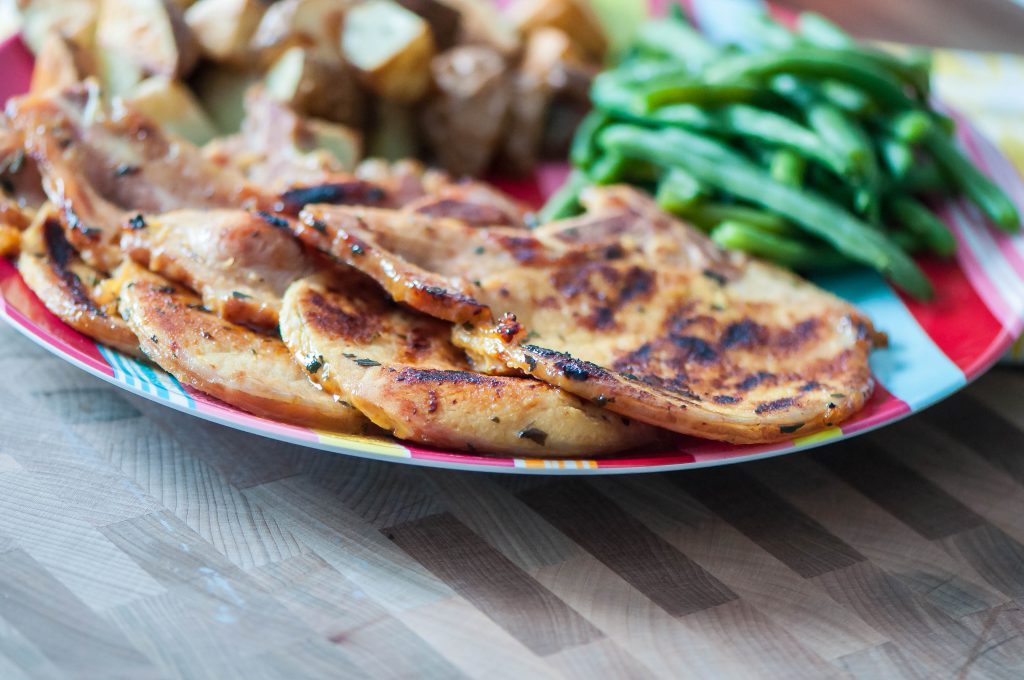 Herbed Honey Mustard Pork Chops
2017-02-04 19:04:44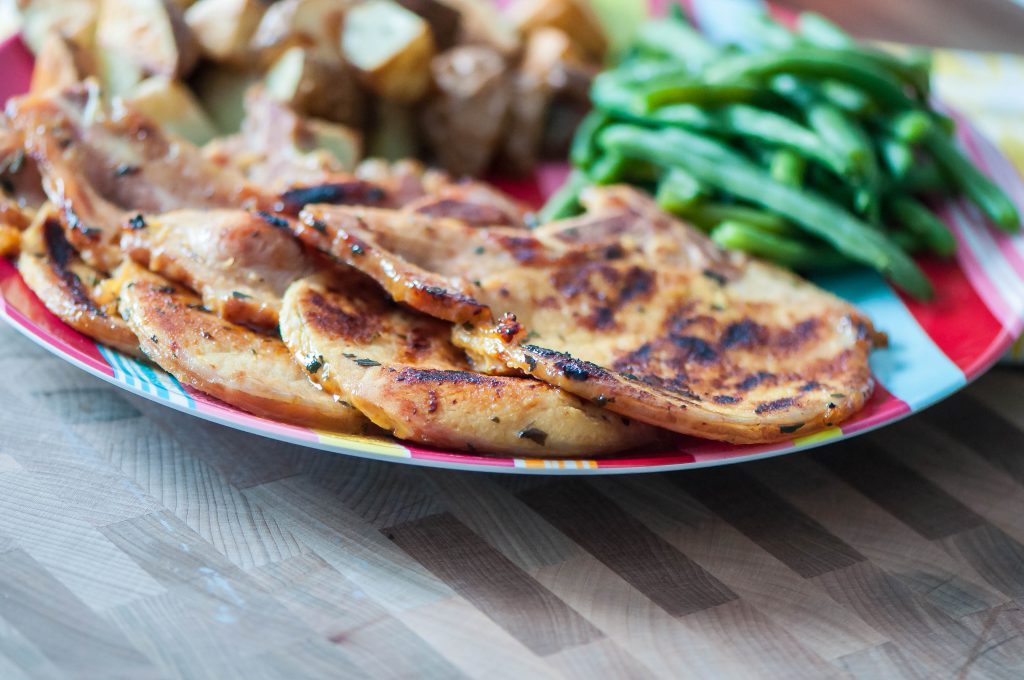 Ingredients
1/4 cup yellow mustard
1/4 cup honey
1 tsp. dried basil
1/2 tsp. dried oregano
1/2 tsp. dried thyme
4 thin cut smoked pork chops
Instructions
Whisk together mustard, honey, basil, oregano and thyme. Place pork chops in a ziplock bag and drizzle marinade over them. Seal the bag and smoosh around until coated. Marinate 1 hour to overnight.
Grill over medium heat until heated through, 2 to 3 minutes per side.
Meg's Everyday Indulgence https://www.megseverydayindulgence.com/