Crispy chicken is coated in a sweet orange soy glaze to create one of our favorite new meals, Crispy Orange Chicken. It's cheaper and healthier than the takeout version and tastes way better.
Has your weather been completely crazy? Like one day it's 75 degrees and the next it's snowing and school probably should have been cancelled? That's Nebraska (and the whole midwest, really) for you.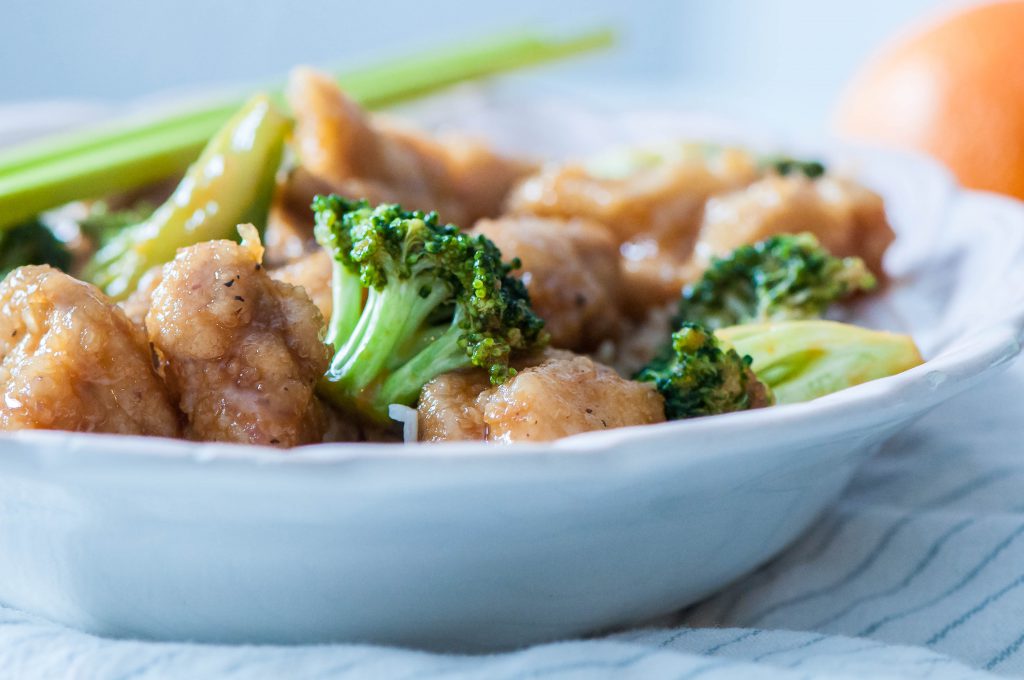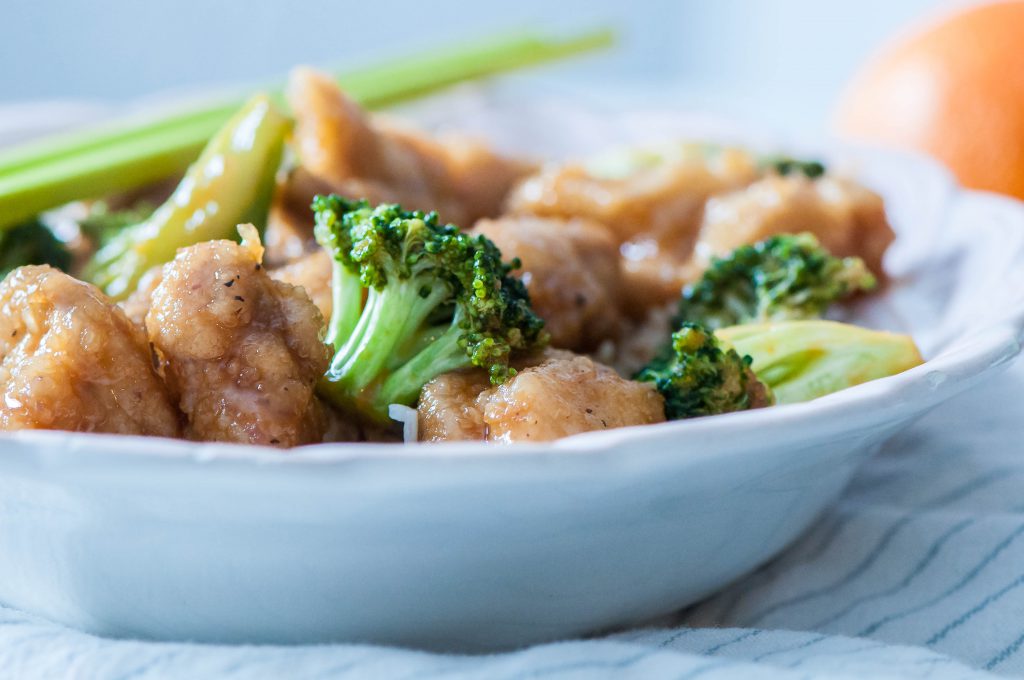 We had a chilly weekend but it's supposed to get up to the 50s and 60s again this week. I had my capris and ballet flats out last week. Noah wore shorts to school 2 days…in FEBRUARY. It's madness folks but I'll take it.
Speaking of wacky happenings, I got Noah to happily and willingly eat chicken. No bribery. No complaining. He even asked for seconds.
Apparently all you have to do to get a kid to eat something is fry it and toss it in sweet, sticky sauce. Who knew?
We generally try to avoid frying things but this chicken is shallow fried so it's not crazy excessive in the oil department. This alone makes my homemade version of Crispy Orange Chicken way healthier than the takeout variety but it doesn't stop there.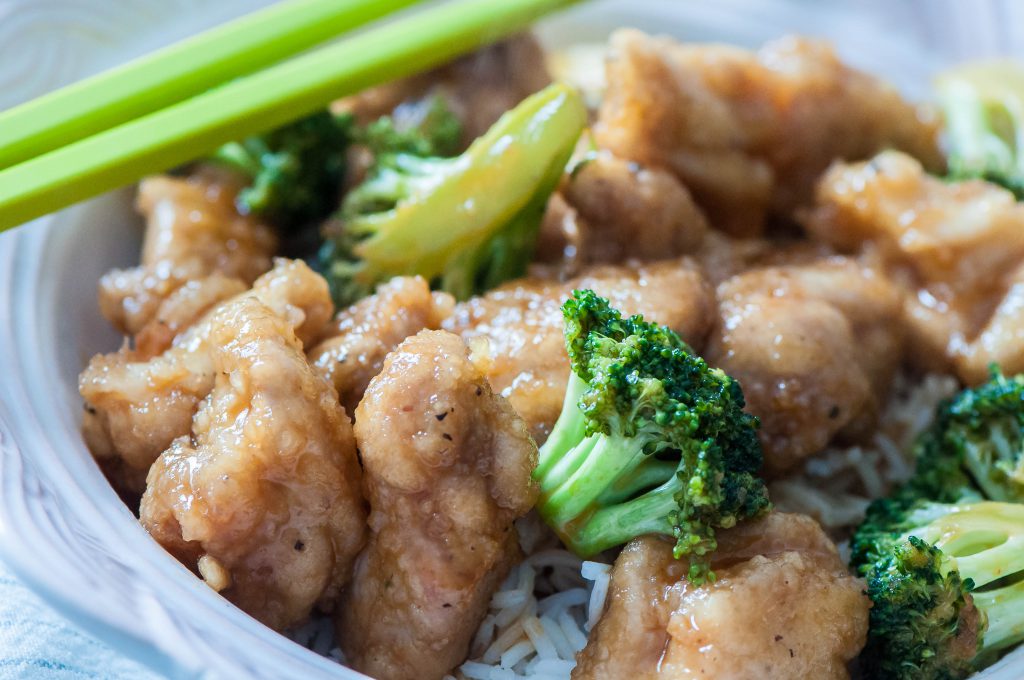 Additionally, the sauce is sweetened with honey rather than sugar to keep it lighter. A few tablespoons of hoisin and soy sauce add depth of flavor and richness to the sauce (also known as umami).
I tossed in several big handfuls of broccoli for freshness and to add some healthy bulk to the dish. Turns out covering broccoli in a sweet sauce doesn't work quite as well as the chicken approach. But they will complain a little less than normal. Not that I would know or anything.
Let me tell you a little story so you can understand just how successful this orange chicken was in our house. Every week, I ask Noah to plan one dinner and he has always, always chosen breakfast burritos. But now that I've made this Crispy Orange Chicken, he has added it to his dinner request arsenal. Guys, I didn't think anything could top his beloved breakfast burrito but I may have done it.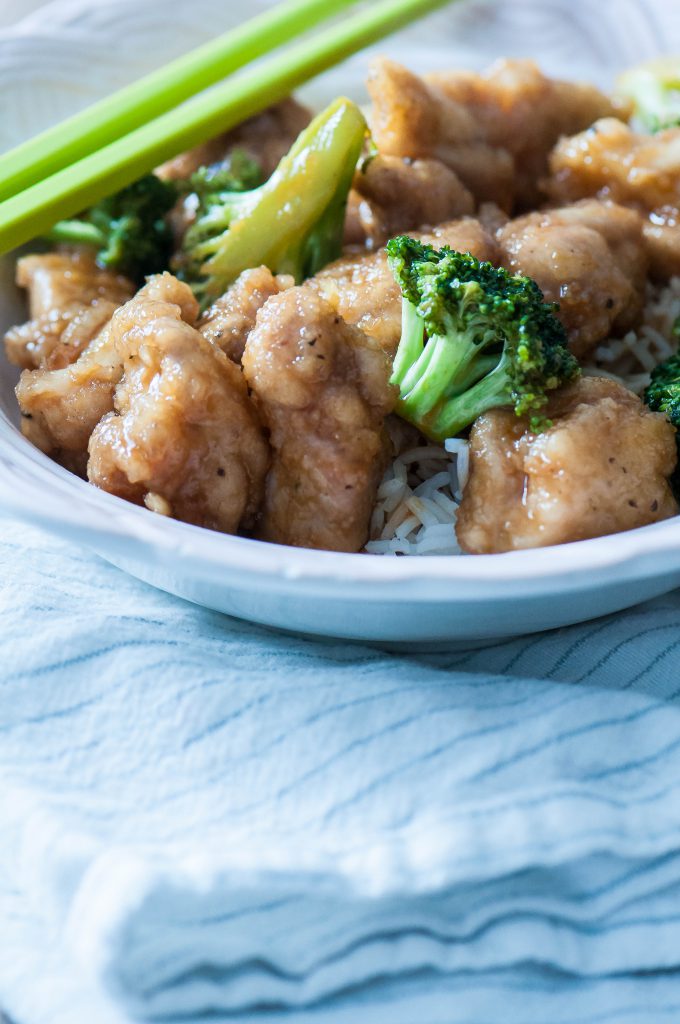 And bonus, we all love it and it's relatively easy to make. It also fulfilled one of my Top 100 items which I have severely neglected.
So friends, dream big. You never know when you will get that little person to crack a little. The door is open now and I will find new ways to get some protein into that kid.
Crispy Orange Chicken
Ingredients
Canola oil, for frying

1 1/2

lbs.

boneless skinless chicken thighs or breasts

1/2-3/4

cup

cornstarch

1/2

tsp.

kosher salt

1/4

tsp.

pepper

1/2

lb.

broccoli florets, about 1 crown

3

cloves

garlic
For Sauce:
3/4

cup

chicken stock

2

Tbsp.

hoisin

5

Tbsp.

soy sauce

1/4

cup

honey

Zest of 1/2 large orange

1/4

cup

orange juice, about 1 large orange

1

Tbsp.

cornstarch

2

Tbsp.

water
Instructions
Heat 1/2 inch of canola oil in a large skillet over medium heat. Meanwhile, combine cornstarch (1/2-3/4 cup), kosher salt and pepper then dredge chicken through the mixture. Fry the chicken in oil until crispy and slightly golden. Remove from oil and drain on a wire rack with baking sheet underneath.

Remove all but 1 tablespoon oil from the skillet then saute garlic for 30 seconds. Add broccoli and saute 3 to 4 minutes. Meanwhile, whisk together chicken stock, hoisin, soy sauce, honey, orange zest and juice. Pour into the pan with broccoli and bring to a boil. Whisk together the cornstarch and water and pour into the sauce mixture. Simmer until thickened and glossy. Add chicken and cook an additional minute. Serve over rice.