Celebrate St. Patrick's Day with these adorable, incredibly delicious Rainbow Lemon Cheesecake Bars. A lemon oreo crust is topped with a simple lemon zest studded cheesecake filling then swirled with all the colors of the rainbow.
Joel and I went to Ireland last summer (check out all my favorite photos here) and ate lots of traditional food which was all deliciously heavy but true authentic Irish food isn't what we all seem to want when we celebrate St. Patrick's Day. So instead of going traditional I decided to give the people what they want. I just realized I didn't write an official post about all the Ireland grub. I may have to do that.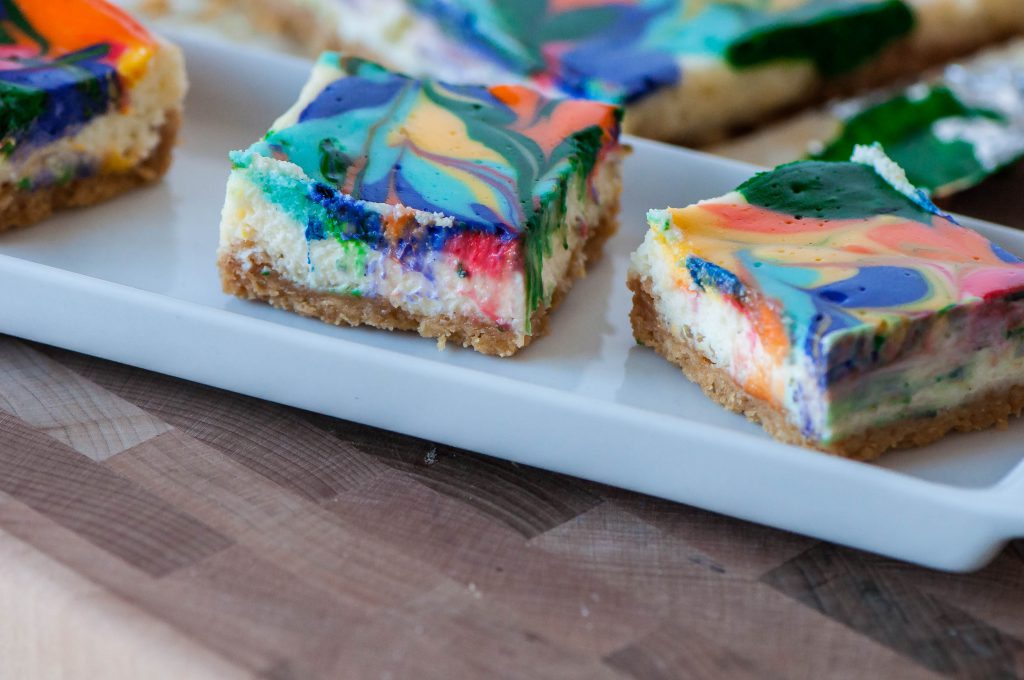 I'm not a corned beef and cabbage kind of gal so I went the rainbow and leprechaun route. That's more fun anyway. So today I'm bringing Rainbow Lemon Cheesecake Bars to the table. Aren't they so fun?
They get a double dose of lemon starting in the crust which is made from lemon Oreos. Yep, you didn't think a cheesecake crust could get better but it totally does.
Lemon zest and juice are folded into the cheesecake layer to pack an extra little pucker. The lemon tastes like Spring making these a great option for Easter too (just switch to pastels food coloring). The cheesecake layer is incredibly creamy and is in perfect proportion to the crust.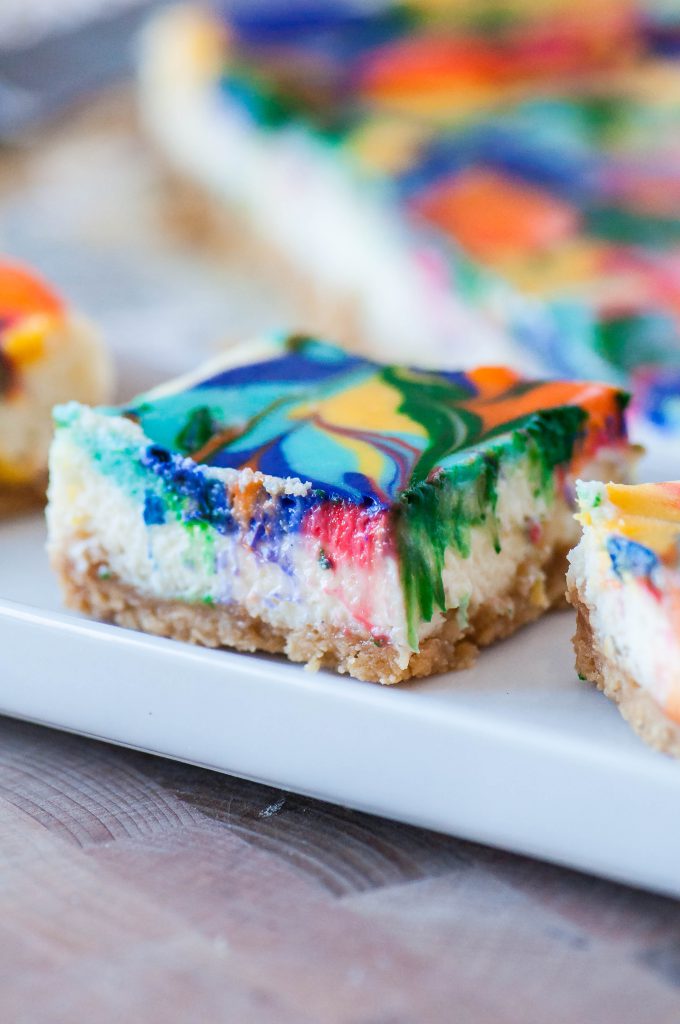 When you are making cheesecakes, or any dessert really, it's incredibly important for all your ingredients to be at room temperature. If anything is cold, it won't cream correctly and will leave you with weird chunks of cream cheese throughout the cheesecake and we don't want that. I always remember to get out the dairy in time but I the eggs? I forget them EVERY time. If you are like me, you can place them in a bowl of warm water for 5 minutes to bring them up to room temperature fast.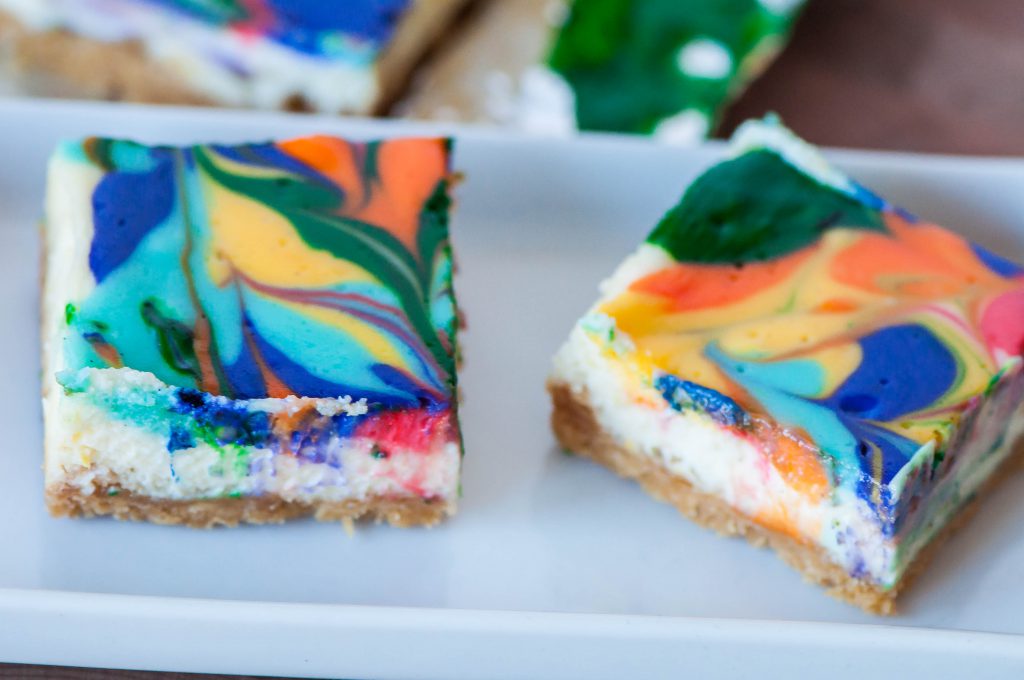 Not only are they pretty to look at but they are so much fun to make, especially with the kids. They can divide the batter, add and stir in the food coloring (throw one of your old t-shirts on them), dollop it on and swirl it around. You really can't mess these up so let them go for it. The more random and wild the better.
I can't recommend gel food coloring enough. They give incredibly vibrant colors with a very small amount of food coloring and they don't mess with the texture of the final product. When you use liquid food coloring you have to use way more to get the desired effect (and in my opinion you can never get the same vibrancy) and that in turn creates a much runnier batter that doesn't bake up as light and creamy. Gel food coloring is a bit more expensive but you use such a small amount that they end up lasting way longer than the liquid stuff.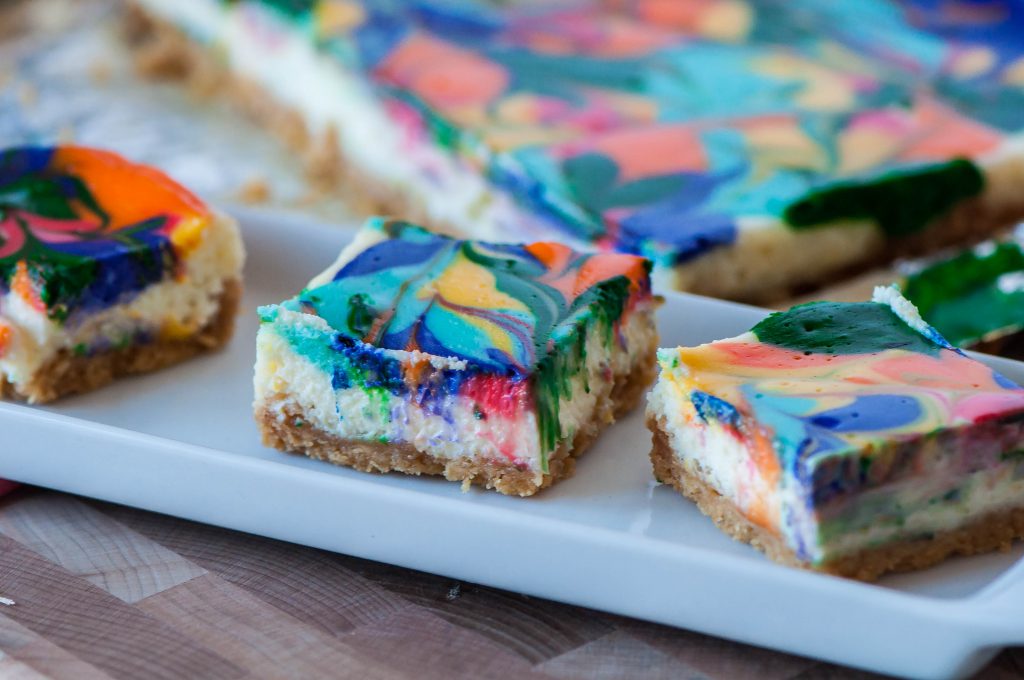 Don't limit yourself to St. Patrick's Day for these treats either. Use pastels for Easter, your favorite sports team colors for game day or red and green for Christmas. Cheesecake is my all-time favorite dessert so I can find any excuse for you. You're welcome.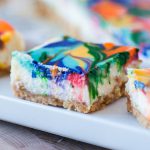 Print
Rainbow Lemon Cheesecake Bars
Rainbow Lemon Cheesecake Bars are a fun, festive way to celebrate St. Patrick's Day. Simple cheesecake is colored and swirled to make an adorable dessert.
Ingredients
For the Crust:
18

lemon Oreos

2

Tbsp.

melted butter
For the Cheesecake Filling:
2

(8 oz.) packages

cream cheese, room temperature

1/4

cup

sour cream, room temperature

2

eggs, room temperature

1

lemon, zested and juiced

1/2 cup + 2

Tbsp.

sugar

1

tsp.

vanilla bean paste (or vanilla extract)

Red, orange, yellow, green, blue and purple food gel coloring
Instructions
For the crust: preheat oven to 325 degrees F. Crush Oreos into fine crumbs (I use my food processor). Combine with the melted butter and press into a foil lined 8x8 pan. Bake for 10 minutes. Remove from oven and make the cheesecake filling.

In a stand mixer, cream the cream cheese and sour cream together until smooth and well combined. Add eggs, one at a time, until combined. Add lemon zest, lemon juice, sugar and vanilla bean paste and mix until just combined.

Add 3 tablespoons of the cheesecake mixture to 6 separate small bowls. Color each bowl with the food coloring to make red, orange, yellow, green, blue and purple. Pour the remaining uncolored cheesecake mixture to the prepare crust and smooth out. Dollop the colored cheesecake mixtures all over the cheesecake in random patterns. Using a toothpick, swirl to create patterns. Be careful not to mix up too much or the colors could be muddy looking.

Once you are happy with your rainbow, place back in the oven for 30 to 35 minutes, until just barely golden at the edges and the middle has a very slight jiggle. Allow to cool completely at room temperature then keep covered and refrigerated.
If you want more Irish inspired recipes, check out these:
Individual Irish Lemon Pudding