With St. Patrick's Day this month, I thought it was a good time to try some Irish recipes and share them with you all. I wanted to share some less, common but more traditional Irish dishes that you may not have tried before. The first I'm sharing this month is this Individual Irish Lemon Pudding.

The name may be a little deceiving. This dish isn't like the pudding Americans think of but rather more of a cake with a baked custard texture on the bottom. It's not too sweet, tart from the lemon juice and zest and has a lovely airiness due to beaten egg whites in the batter.
When you mix up this pudding, don't be alarmed by how liquid-y it is. You'll probably think you screwed it up then read over the directions about 10 times to check then bake it anyway thinking it will be a disaster but then it will turn out just right. Not that I speak from experience or anything.
What I love most about this recipe is the fact that it uses simple ingredients you probably already have in your house to make a unique and delicious treat. If you guys have been around for awhile, you know that's my main goal and mantra around here so naturally I had to share this one with you.


I chose to make these in individual ramekins because the only thing better than a huge, delicious dessert is a cute, tiny version that's all for you. If you want to make it larger and slice it, you can bake it in a cake or pie pan and double the baking time.
This would be the perfect way to end your St. Patrick's Day meal. And keep an eye out for another fun, festive dessert I'm sharing on Monday.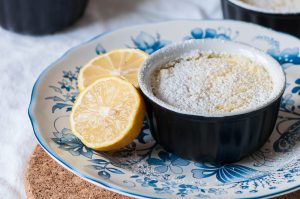 Individual Irish Lemon Pudding
2016-03-02 02:15:49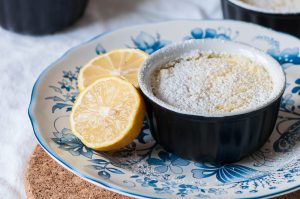 Serves 6
Ingredients
2 tablespoons butter
1/4 cup sugar
2 eggs, separated
1/2 cup flour
2 lemons, zested and juiced
1 1/4 cups milk
Powdered sugar, for serving
Whipped cream, for serving
Instructions
Preheat oven to 350. In a stand mixer, whip the egg whites until stiff peaks form. Pour into a bowl and set aside.
Cream the butter and sugar well. Add the egg yolks one by one, then add the flour. Add the lemon zest and juice, followed by the milk, and mix well. Gently fold the egg whites into the lemon mixture until incorporated.
Divide evenly between 6 ramekins and place them on a baking sheet for an easier transfer. Bake for 20 to 25 minutes, or until very lightly browned and set. Sprinkle with powdered sugar and serve warm with freshly whipped cream.
Adapted from The Baker Upstairs
Meg's Everyday Indulgence https://www.megseverydayindulgence.com/