Pumpkin Chocolate Chip Muffies are the best part of the muffin, the tops. Muffin batter is baked like cookies to create moist, dense muffin tops bursting with pumpkin, fall spices and dark chocolate chips. Topped with Halloween sprinkles to give them a spooky, festive vibe these are perfect for your Halloween breakfast or after school snacks.
It's Halloween week here and we're starting with a fun breakfast treat Noah and I created. We had made mini muffins for Hannah to take to school for snack and he wanted to use the last bit of batter to make what he dubbed "muffies," a cookie and muffin mash up. It bakes up to basically be the top of the muffin, which everyone knows is the best part.
They turned out so well that we decided to bake up a pumpkin version to share with all you lovely people.
These Pumpkin Chocolate Chip Muffies are a little healthier than the average muffin due to the use of some whole wheat flour and maple syrup to sweeten them.
The chocolate chips and sprinkles add not so natural sweetening agents but in comparison they are still a better option than store-bought muffins.
The addition of the pumpkin, olive oil and eggs make them extra dense and moist while the dark chocolate chips add a richness. Cinnamon, nutmeg and cloves brings some much needed warm, spicy flavor.
And though these are a healthier version, you honestly cannot tell. My ultimate test is giving said item to Joel and tricking him, whether it's a healthy switch like ground turkey for ground beef or sneaking in vegetables. He couldn't tell these muffies used whole wheat flour and no sugar. Boom. Tricking my family into healthier eating is a favorite hobby of mine.
We ate these for breakfast as well as snacks after school so they disappeared in a flash.
Stay tuned for a delicious, super kid friendly Halloween dinner idea and a fun, simple homemade candy to round out Halloween week. You don't want to miss them.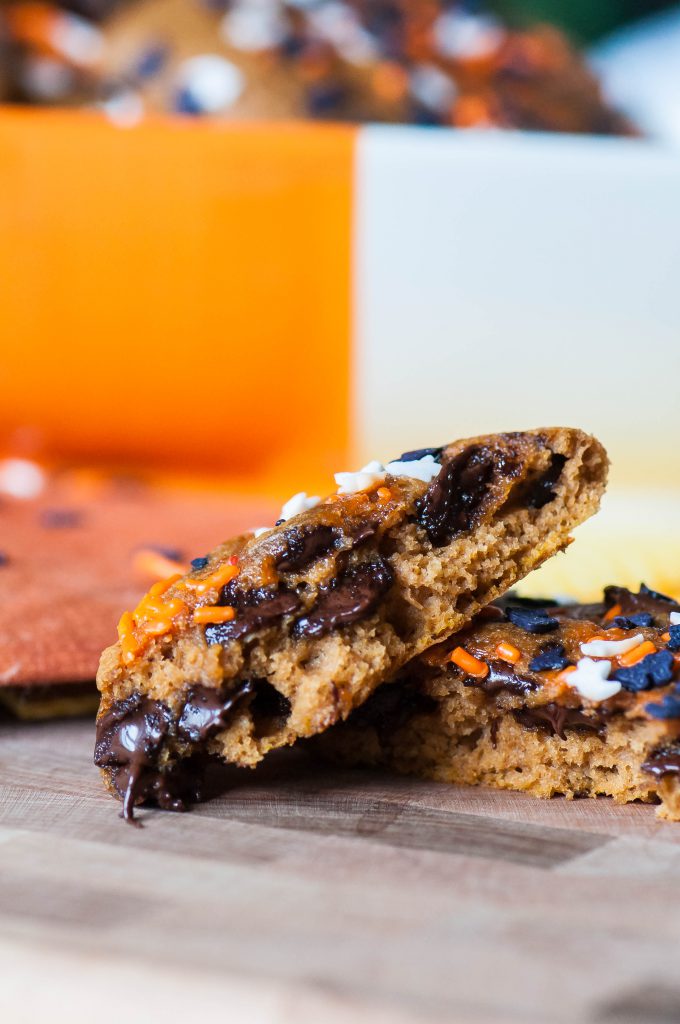 Pumpkin Chocolate Chip Muffies
2016-10-16 19:17:57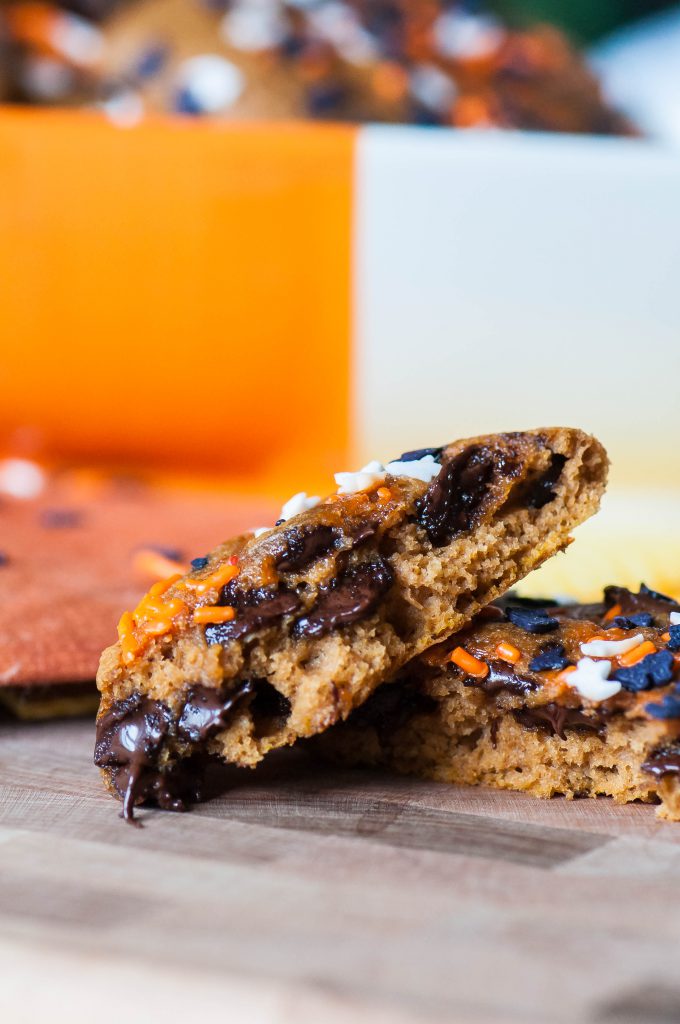 Ingredients
3/4 cup all-purpose flour
1/2 cup whole wheat flour
1 tsp. baking powder
1/2 tsp. salt
1 tsp. cinnamon
1/4 tsp. ground cloves
1/4 tsp. nutmeg
1 cup pumpkin puree
1/2 cup maple syrup
2 eggs
2 Tbsp. olive oil
1 tsp. vanilla
1 cup chocolate chips
Halloween sprinkles
Instructions
Preheat oven to 350 degrees F. Line two baking sheets with parchment paper. In a large bowl, whisk together the all-purpose flour, whole wheat flour, baking soda, salt, cinnamon, ground cloves and nutmeg.
In another bowl, whisk together the pumpkin, maple syrup, eggs, olive oil and vanilla. Pour into the dry ingredients and stir until just combined. Stir in the chocolate chips.
Using a cookie scoop, drop batter onto prepared cookie sheets. Top generously with sprinkles. Bake for 12 to 14 minutes.
Meg's Everyday Indulgence https://www.megseverydayindulgence.com/