This Ghoulish Pizza Pot Pie is an easy, tasty dinner to fill you up before heading out for trick-or-treating with the kids. Sausage, pepperoni and a homemade marinara sauce are topped with puff pastry cut with spooky shapes to make it extra fun and festive. Plus, it's pizza-esque so it will be a big hit with the whole family.
We're to the point in my house that the only foods Noah will eat are bread, fruit, pasta, cheese and hot dogs or any combination of those things. He is literally killing me. Tell me friends, what do you do with your kids? Is it one dinner and you eat it or you're hungry? Or do you make something different? I tried for awhile to always make something he would like but that can only get me so far these days.
So we're currently requiring 6 bites of said dinner then an applesauce or yogurt is allowed. Do I just stick it out, making him try things? Will it get better? Give me hope please.
But this Ghoulish Pizza Pot Pie was something he totally got on board with. Because pizza is always the answer. It combines three of the approved food groups or 4 if you count the sausage and pepperoni as hot dog like. He actually likes any kind of preservative filled, processed meat so, you know. They count I suppose.
I have to tell you, it didn't quite turn out as cute as I had imagined but you still get the Halloween feel and it tasted too dang good not to tell you about. So let me tell you how to make it.


This fun pizza twist on pot pie starts with sausage, pepperoni and a quick, flavorful tomato sauce. Then to create some fun and festive flair, use little cookie cutters to punch out Halloween shapes in store-bought thawed puff pastry. If you don't have Halloween themed cookie cutters, cut the dough out in a jack-o-lanterns smile instead with a sharp pairing knife.
Lay it on top of the skillet of deliciously thick meat and randomly place the cutouts on top as well before brushing the whole crust with egg wash and let the shredded parmesan rain. Bake that sucker to golden, puffy perfection and you basically have an upside down pizza that won't receive any complaints. Hopefully. I actually can't make any promises on the issue of picky eaters.
If sausage and pepperoni aren't your pizza thang, sub in ham and pineapple or a ton of sautéed veggies. You do you.


No matter how you fill it, this Ghoulish Pizza Pot Pie is the perfect way to fuel up for all that trick-or-treating and candy gorging.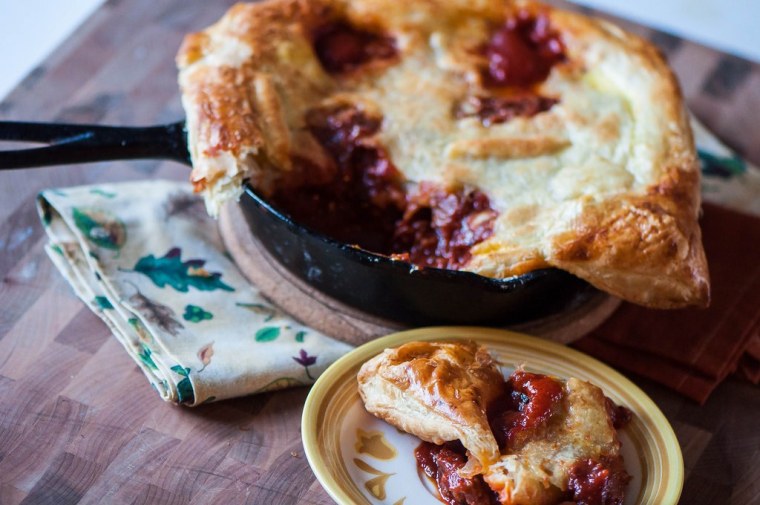 Ghoulish Pizza Pot Pie
2016-10-19 12:19:25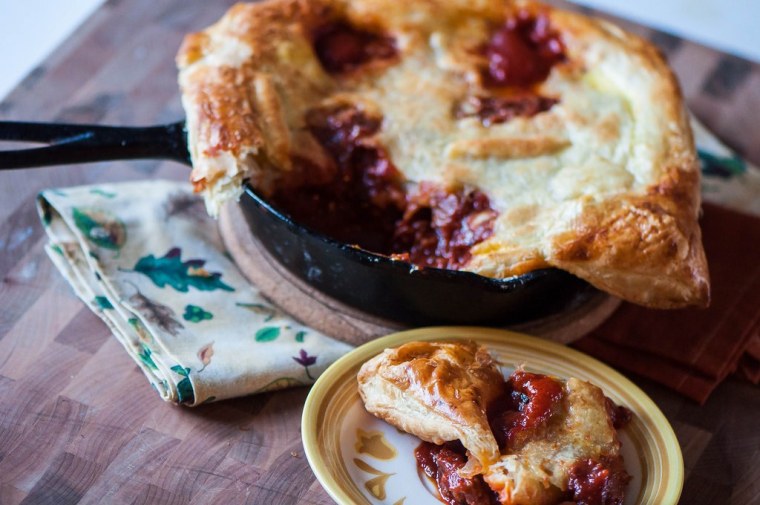 Ingredients
1 lb. ground Italian sausage
4 oz. pepperoni diced
1 garlic cloves, finely minced
2 tsp. dried basil
1 tsp. dried oregano
1 tsp. dried parsley
1 tsp. fennel seeds
Pinch of red pepper flakes
1/2 tsp. kosher salt
Few cracks of fresh black pepper
16 oz. tomato sauce
6 oz. tomato paste
1 Tbsp. brown sugar
1 sheet of puff pastry, thawed
1 egg, beaten
1/4 cup shredded parmesan
Instructions
Heat a large skillet over medium heat. Add sausage, pepperoni and garlic to the skillet. Break up sausage and brown until slightly crispy.
Stir in basil, oregano, parsley, fennel seeds, red pepper flakes, salt and pepper. Cook another minute. Add tomato sauce, tomato paste and fill the tomato paste can halfway full with water and add to the skillet as well. Stir until thoroughly combined and remove from heat. Pour mixture into a cast iron skillet (if you don't have one, use the skillet you cooked it in).
Lay thawed puff pastry on the counter and roll out slightly. Cut out a few Halloween shapes using mini cookie cutters. Place the puff pastry over the meat mixture and press lightly down the edges. Place the cutouts decoratively over the top of the puff pastry. If the puff pastry goes too far down the skillet, fold under a bit. Whisk an egg and a tablespoon of water together and brush over the puff pastry. Sprinkle with parmesan cheese.
Bake for 10-15 minutes, or until browned and puffed.
Meg's Everyday Indulgence https://www.megseverydayindulgence.com/