Mini Spiralized Apple Crisps are the perfect little dessert to satisfy your sweet tooth this fall. Spiralized apples are topped with a sweet oat streusel then baked to crumbly, golden brown perfection. Made with a couple of apples and pantry staples, you can have this dessert in less than 45 minutes.
We went to the Apple Jack festival in Nebraska City last weekend to celebrate it almost being fall. We drank apple cider slushies, perused the craft booths, rode ponies (Hannah that is), went on a hayrack ride and picked apples. It was about 85 degrees so it definitely didn't feel like fall but all the activities got us in the spirit and ready for cooler temperatures.
My favorite variety of apples, Honeycrisp, were already picked for the season so we went with Golden Delicious, Braeburn and a few new to us variety, Pinova and Shizuka.
Braeburns won out for the best baking apple we picked this year so when we got home, I got to work creating these delicious little mini apple crisps using spiralized apples as the base. Aren't they so cute? And the perfect amount to satisfy your sweet tooth without going overboard.


I received a spiralizer as a birthday gift this year and as soon as hints of fall started around me, I wanted to use it with apples to create something fun and a little special.
Sure, everybody loves a big pan of apple crisp but wouldn't it be even better if you have your own cute mini serving with all the crispy edges that you vie for in the original? I thought so.
One of my favorite things about this recipe is that it makes a small batch and is just enough for our family for one night of dessert. Having sweets around the house reeks havoc on my healthy eating plans and drives me totally crazy since the kids ask about every 1.2 seconds if they can have some.


The spiralized apples get sweet and soft as they cook down and the streusel sinks into them creating this delicious little mixture that is about half apple, half streusel. My kind of apple crisp. I mean, I would eat straight streusel if you promised you wouldn't judge me. Maybe I have, maybe I haven't. No, I have. Definitely.


Grab those couple of stragglers you have left and get to work with that spiralizer.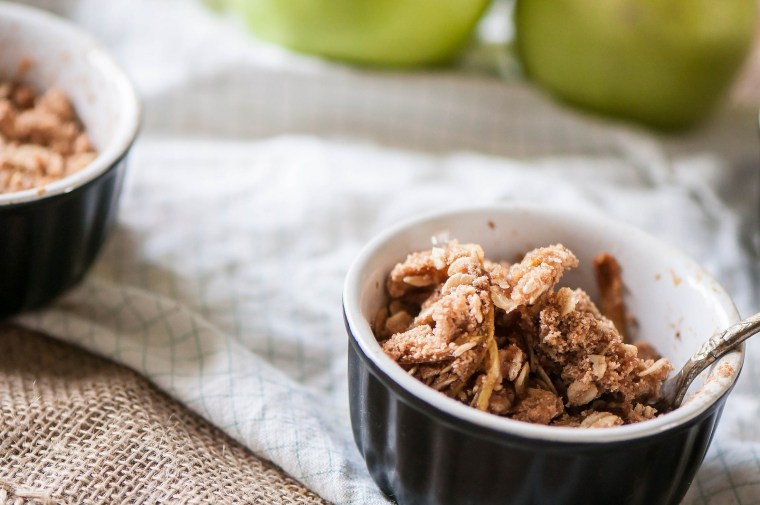 Mini Spiralized Apple Crisps
2016-09-23 01:45:36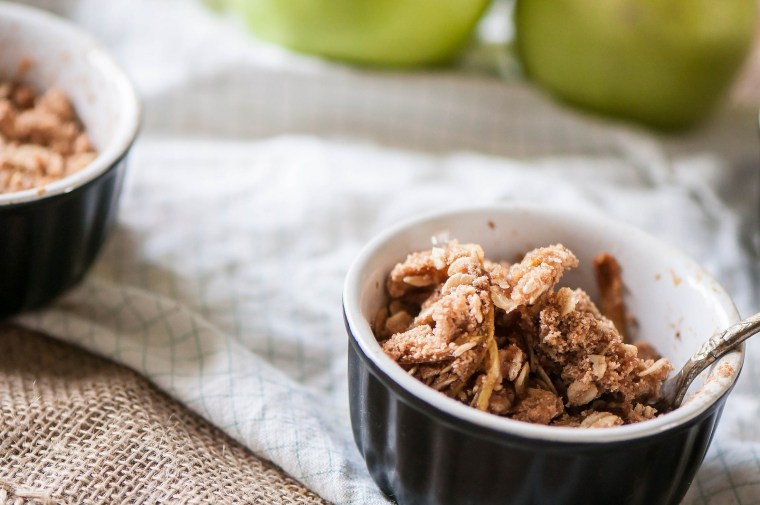 Serves 4
For the apples
2 large apple, spiralized
1 tsp. sugar
For the streusel
1/2 cup old fashioned oats
1/4 cup brown sugar
1/4 cup all-purpose flour
1 tsp. cinnamon
1/4 tsp. kosher salt
2 Tbsp. butter, softened
Instructions
Preheat oven to 350 degrees F. Toss spiralized apples with sugar. Set aside.
In a separate bowl, cut the oats, brown sugar, flour, cinnamon, salt and butter together until is resembles coarse crumbs.
Divide the spiralized apples among 4 ramekins. Top each with an equal amount of the streusel. Place the ramekins on a baking sheet and bake for 30 minutes. Enjoy as is or with a scoop of vanilla ice cream.
Meg's Everyday Indulgence https://www.megseverydayindulgence.com/