Slow cooker chipotle shredded beef is a simple, delicious way to add some spice to your regular dinner routine. Use it in tacos, burrito bowls, quesadillas and more.
So I shared my mom's recipe for banana bread on Monday and today I'm bringing a spin on her famous shredded beef. The lady is known far and wide for her delicious tacos and it's the shredded beef that makes them so cravable.
I know I shouldn't mess with a classic but we are kind of chipotle fiends around here so I wanted to create a smoky, spicy spin on one of our all-time favorite dinners. So I messed with it. And I'm not mad about the results.
Spicing Up An Old Favorite
This Slow Cooker Chipotle Shredded Beef still has the meaty, garlicky taste of the original shredded beef recipe but with a punch of smoky, spicy and bright.
The recipe starts out similarly to the original, only with a blend of Mexican spices rubbed into the chuck roast before searing. Onion, garlic and chipotle peppers are sauted together after searing the meat to add that delicious smoky flavor.
Once the meat is seared and the veggies are softened, it all gets dumped into the slow cooker with a generous squeeze of lime. Deglaze the skillet with some water and scrape off all those browned bits and dump all that goodness in the slow cooker too. There is a ton of flavor in those bits that you don't want to lose. Then put the lid on the slow cooker and let it work its magic.
Once the beef is tender and falling apart, shred it with a fork and toss it around in the liquid remaining in the slow cooker. These are the kind of tacos that when you bite into them, juices run down your arm. That's how I gauge the merits of a shredded beef taco.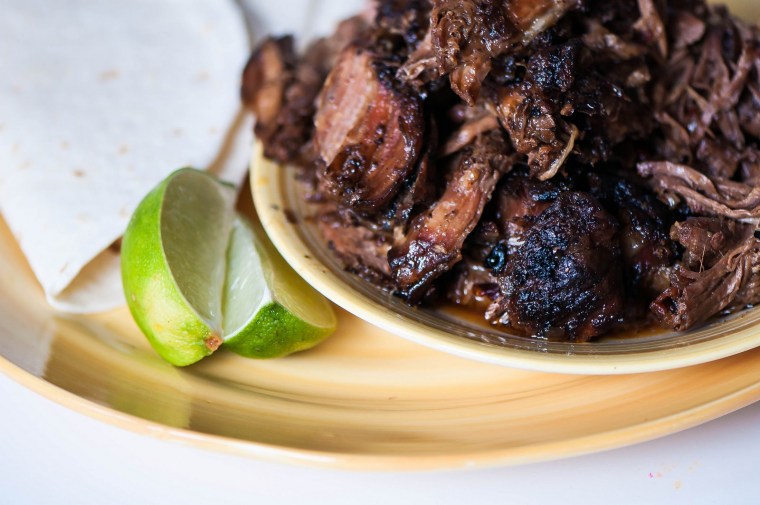 Slow Cooker Chipotle Shredded Beef
2016-09-12 16:26:23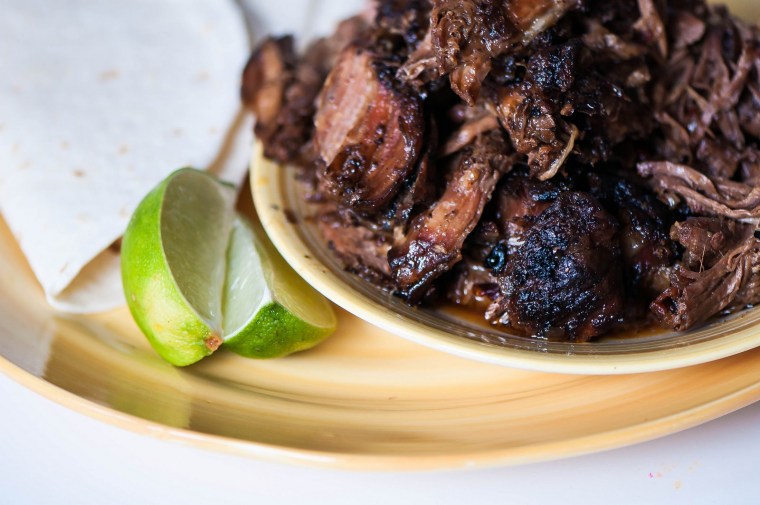 Ingredients
4 Tbsp. vegetable oil
1 white onion, chopped
3 garlic cloves, finely minced
2 Tbsp. chipotle in adobo, chopped
2 lb. boneless chuck roast
2 tsp. kosher salt
1 tsp. pepper
1 tsp. dried oregano
1 tsp. ground cumin
1 tsp. chili powder
1 lime, juiced
1/4-1/2 cup water
Instructions
Heat 2 tablespoons vegetable oil in a large skillet over medium heat. Add onion and cook 1 to 2 minutes, until translucent. Add the garlic and chipolte peppers and cook another 2 minutes. Dump into the slow cooker.
Bump heat up to medium high and add remaining 2 tablespoons vegetable oil in skillet. In a small bowl, mix salt, pepper oregano, cumin and chili powder. Rub generously over the roast then add to the skillet. Sear on each side (about 2 minutes per side) then place in slow cooker.
Pour water into the hot skillet and scrape all the browned bits off the bottom with a wooden spoon (use just enough to get all those browned bits). Add lime juice then pour into the slow cooker. Stir slightly to combine with the onion mixture. Cover with lid and cook on low for 8 hours or on high for 4 to 6 hours. Pull apart meat and toss in the liquid in the slow cooker. Use as desired.
Meg's Everyday Indulgence https://www.megseverydayindulgence.com/