Brown Sugar Pumpkin Spice Popcorn is the new snack for fall. It's warm and spicy from the DIY pumpkin pie spice and brown sugar brings the sweetness. Make a double batch because you aren't going to want to share.
I have been on a major popcorn kick around here lately. It's easy to make, sometimes healthy and so versatile. You can make it savory or sweet, spicy or salty. You can even make it seasonal like this Brown Sugar Pumpkin Spice Popcorn. It totally screams fall and PSL and hopefully you don't hate me because of the fall pumpkin overload berating you from every food blog in the land. But I love pumpkin spice things (except PSL's ironically) so I'm not quitting it.
Sorry, not sorry.
For you pumpkin haters, I have good news for you! This popcorn does not taste like pumpkin but instead the spices used to flavor most pumpkin recipes. I don't understand you people but alas, I still love you so I suppose you can stay. If you like warm cinnamon, nutmeg, cloves and ginger you will love this simple popcorn.
While we're talking about all the pumpkin spice spices, I have to tell you that I never go through a whole container of pumpkin pie spice before it expires so I choose to make my own. It's super simple to mix up yourself and it includes staple pantry spices that I always have on hand.
This recipe will work with the store-bought version or DIY recipe just the same. But seriously, don't waste your money on the premixed stuff if you already have the spices in your cabinet.


The inspiration behind this popcorn was of course fall and also my favorite Pop Tart flavor, brown sugar cinnamon. I rarely buy them but they are one of those things from childhood that I occasionally crave and everyone knows that's the best flavor. Except my family that likes cherry, because once again, they are weird.
This comes together in a snap. Simply mix together melted butter, brown sugar and pumpkin pie spice and drizzle over the popcorn. Stir until coated then pop it in the oven to crisp it up.
If you plan on eating it all in one sitting, you can skip the baking part of the recipe but it might get a little soggy. Totally personal preference but I definitely prefer it baked.


You may want to pre-portion this out instead of just sitting in front of the TV with a big 'ole bowl. Not that I know from experience but it might disappear faster than you expected.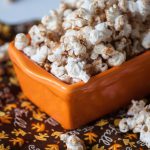 Print
Brown Sugar Pumpkin Spice Popcorn
Bring all the fall flavors to your party with this Brown Sugar Pumpkin Spice Popcorn.
Ingredients
8

cups

popcorn

3

Tbsp.

butter, melted

3

Tbsp.

brown sugar

1/2

tsp.

kosher salt

1

tsp.

pumpkin pie spice
Instructions
Preheat oven to 325 degrees F. Meanwhile, stir together the melted butter, brown sugar, salt and pumpkin spice. Pour over the popcorn and stir until even distributed and coated.

Dump into a 13x9 pan and bake for 10 minutes. Stir and return to the oven for 5 more minutes. Let cool in the pan and enjoy. Store in an airtight container.